Five Things You Need to Know to Start Your Day
Get caught up on what's moving markets.
by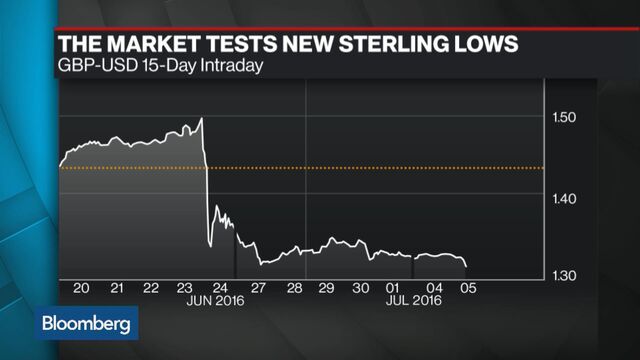 Want to receive this post in your inbox every morning? Sign up here.
Record low bond yields, equities fall, and the pound sets a new post-Brexit low. Here are some of the things people in markets are talking about today.
No Brexit bounce
Hopes that the selloff in the pound following the Brexit vote would be brief are fading this morning as the currency hit a new post-referendum low of $1.3115. At 5:30 a.m. ET the Bank of England published its latest Financial Stability Report where it announced it was cutting U.K. banks' countercyclical-capital buffer from 0.5 percent to zero. The central bank also pledged to implement any other measures needed to shore up Britain's financial stability. Yesterday, Standard Life Investments suspended trading in its 2.9 billion-pound ($3.9 billion) U.K. Real Estate fund after redemptions surged following the referendum result, a move that is hitting British property stocks this morning.
Bonds rally
The uncertainty following the U.K. vote has led to increasing expectations of further global central bank easing and continues to put a bid under bonds. This morning the yield on U.S. 10-year Treasuries fell to another record low of 1.38 percent by 5:55 a.m. ET, while the 30-year yield dropped as low as 2.1436 percent. Yields on U.K., German and French government debt also fell while Spanish and Italian bond yields ticked higher. Japan sold 10-year debt at a yield of minus 0.24 percent, the lowest-ever rate.
Markets
The recent stock rally is fading this morning. Overnight, the MSCI Asia Pacific Index dropped 0.5 percent with Japan's Topix index slipping 0.4 percent. Bloomberg survey data shows that the outlook for Chinese stocks for the coming quarter is bearish, with a yuan devaluation amongst the biggest investor concerns. In Europe, the Stoxx 600 Index was 1.3 percent lower at 5:57 a.m. ET as growth concerns following the release of PMI data add to worries over Brexit. S&P 500 futures were down 0.6 percent. 
Italian problems
Investor concerns about Italy are mounting and problems in the banking system mean the government is considering injecting capital in the country's third-largest lender, Banca Monte dei Paschi di Siena SpA. Shares in the bank fell as much as 7.6 percent in Milan trading, with nervousness pushing down financial stocks across the euro area. The banking system is not Prime Minister Matteo Renzi's only problem, as he is facing a referendum in October on wide-ranging political reform - a vote that he has promised to resign after if he loses. 
Oil price warning
The chief executive officer of the world's largest independent oil-trading house, Vitol Group of Cos., told Bloomberg Television in an interview that he does not see the oil market "roaring ahead" as the amount of crude in the system will take a considerable time to work off. West Texas Intermediate for August delivery was 2.6 percent lower at $47.70 a barrel at 6:22 a.m. ET while Brent futures dropped 2.2 percent to $49.00.
What we've been reading 
This is what's caught our eye over the weekend.
Before it's here, it's on the Bloomberg Terminal.
LEARN MORE