Pound Tumbles to 31-Year Low as Brexit Starts to Inflict Damage
By
Sterling falls as M&G, Aviva, Standard Life suspend funds

U.K. currency surpassing levels reached in wake of referendum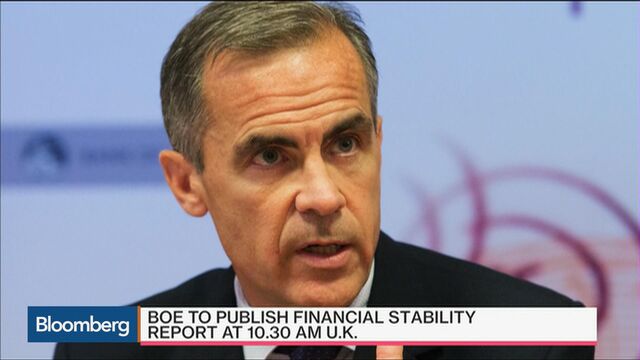 The pound fell to its weakest level in three decades against the dollar, surpassing lows reached in the aftermath of Britain's vote to leave the European Union.
Sterling touched $1.30 and sank to its lowest since 2013 against the euro as evidence piled up that the Brexit vote is hurting confidence in the U.K. economy. M&G Investments suspended a 4.4 billion-pound ($5.7 billion) real-estate fund on Tuesday, following on the heels of Aviva Investors and Standard Life Investments after a flurry of redemption requests.

The U.K. currency briefly pared its losses as Bank of England Governor Mark Carney outlined more tools to contain the fallout from the U.K.'s decision to quit the bloc. Speaking in London, he said his concerns about pound declines had been borne out since the Brexit vote, while adding that the weaker currency should help exporters. The pound soon resumed its drop, setting fresh lows.
"There's a lot of nervousness in the sterling market," said Thu Lan Nguyen, a currency strategist at Commerzbank AG in Frankfurt.
For a story outlining the pound's 100 years of debasement, click here.
The pound dropped as much as 2.2 percent to $1.3000, the lowest since 1985, and was at $1.3015 as of 12:12 p.m. New York time. It slid 1.4 percent to 85.09 per euro, after touching 85.48 pence, the weakest since October 2013.
Almost all the analysts who changed their forecasts since the referendum are expecting the pound to remain weak. Of the 42 new predictions in a Bloomberg survey, all but five are for sterling to end the year at or below $1.30.
QuickTake Why Britain Is Quitting the EU
Data published by YouGov Plc and the Centre for Economics and Business Research on Tuesday indicated that pessimism about the economic outlook almost doubled following the June 23 referendum.
In its bi-annual Financial Stability Report, published Tuesday, the BOE sought to allay those concerns by cutting its capital requirements for U.K. lenders and pledging to implement any other measures needed. In a press conference to explain the report, Carney said the central bank's post-Brexit plan is working but warned that officials can't fully offset the volatility triggered by the referendum result.
Expecting Recession
Almost three quarters of economists surveyed by Bloomberg expect the U.K. to slide into recession. Investors are also digesting weaker-than-anticipated data which suggest the referendum was hindering the economy even before the shock vote to leave.
Reports this week have shown U.K. construction unexpectedly shrank at the fastest pace since 2009 in June, while growth in services output slowed. Shares of real-estate companies and housebuilders fell Tuesday even as the main stock market rallied.
"Carney stands ready to use all available tools," said Nick Parsons, head of research for U.K. and Europe at National Australia Bank in London. "To the market, that means more easing and a weaker sterling."