Obama Makes Case for Clinton After FBI Ends E-Mail Investigation
By and
North Carolina event is first joint appearance of 2016 race

Obama view of FBI findings is 'irrelevant,' spokesman says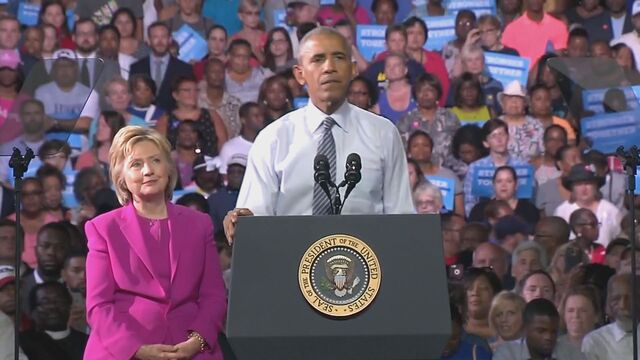 President Barack Obama declared that Hillary Clinton is overwhelmingly qualified to succeed him in the White House, highlighting a joint campaign appearance overshadowed by FBI findings that her handling of sensitive e-mails while secretary of state was "extremely careless."
Obama and Clinton appeared together Tuesday for the first time in the 2016 campaign hours after FBI Director James Comey explained why his agency wouldn't recommend criminal charges for her use of private e-mail while serving as the top U.S. diplomat. After flying to Charlotte, North Carolina, together on Air Force One, Obama and Clinton entered a rally to "Fight Song," by Rachel Platten. Banners on the walls and signs held by audience members read "Stronger Together."
"I'm fired up. Hillary got me fired up. She got me ready to do some work," Obama said at the Charlotte Convention Center. He applauded her work on behalf of rights for women and girls around the world, credited her for the philosophy that led to the Affordable Care Act, and called her "a great Secretary of State."
'Winning Elections'
Neither Clinton nor Obama addressed the FBI findings. Their remarks at the event -- a trip that was scheduled before Comey's announcement -- will be the first of several appearances by Obama on behalf of his former Secretary of State in her contest against her presumed Republican opponent, Donald Trump. Vice President Joe Biden is to campaign with Clinton later this week and First Lady Michelle Obama also is expected to join her on the trail this summer.
"He knows a thing or two about winning elections," Clinton said. "Take it from me."
Obama, without a coat and with his sleeves rolled up, led the crowd in a chant of "Hill-a-ry, Hill-a-ry." The two Democrats used the appearance to to attack Trump.
"This isn't even a choice because the other side's got nothing to offer you," Obama said. He said Trump won't help working families or the economy and that many Republicans aren't familiar with the billionaire's proposals.
'President's View'
Earlier in the day, Clinton's campaign suffered a blow as Comey criticized her e-mail practices while outlining his agency's investigation and its decision to recommend against pursuing criminal charges. Clinton's campaign said it was pleased with the outcome and cast the announcement as the conclusion of the matter.
White House Press Secretary Josh Earnest told reporters traveling with the president and presumptive Democratic nominee that Comey had given the White House no notice before his statement.
"I don't have an official reaction to share," Earnest said. "The reason for that is simply that while the FBI is completing their investigation, the career prosecutors at the Department of Justice have to make a decision about how or whether to proceed."
He added: "The president's view is irrelevant."
Approval Ratings
Obama, who's enjoying some of the highest approval ratings of his presidency as voters consider the candidates vying to succeed him, made both a personal and professional case for Clinton. After starting as his rival for the presidency, Clinton developed a friendship and alliance with Obama, helping him to reshape U.S. foreign policy and the war on terrorism. Obama meanwhile regards Trump as a threat to U.S. national security and to the nation's diplomatic standing around the globe.
"There has never been a man or woman more qualified for this position, ever, than Hillary Clinton," Obama said. "I know Hillary can do the job. That's why I'm so proud, North Carolina to endorse Hillary Clinton as the next president of the United States."
Trump is also campaigning in North Carolina on Tuesday, with an appearance in Raleigh -- a sign of the state's battleground significance to both parties. While North Carolina is home to about 642,000 more registered Democrats than Republicans, there are almost 2 million unaffiliated voters and the state legislature and governor's mansion are both controlled by Trump's party.
Trump's Criticism
Trump lashed out at Comey on Twitter after his announcement that no charges would be recommended against Clinton. "The system is rigged," Trump said, adding, "FBI director said Crooked Hillary compromised our national security."
Obama won North Carolina in 2008, then lost the state to Mitt Romney in 2012, even after Democrats chose Charlotte as the site of that year's party convention. Clinton's strategy this year in North Carolina depends on support from African-American voters; from white, college-educated voters who have indicated they may be less likely to back Trump than a typical Republican nominee; and from out-of-state transplants who work in the technology and finance sectors.
Democrats also hope to take advantage of a backlash by business leaders and mainstream voters against state Republicans' passage of a law restricting the use of public restrooms by transgender residents.
Before it's here, it's on the Bloomberg Terminal.
LEARN MORE