Novo Banco CEO Says Sale to Large Investors Should Be 'Explored'
by
Bank of Portugal to decide on sale method after getting 4 bids

Sale to strategic buyer or institutional investors are options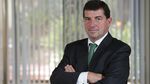 A sale of Portugal's Novo Banco SA to international institutional investors should remain an option for the bank that emerged from the breakup of Banco Espirito Santo SA, Chief Executive Officer Eduardo Stock da Cunha said.
"I'm not saying that it's something that will necessarily happen, but I would say that it's a route that can and should be explored," Stock da Cunha, 53, said in an interview at the bank's headquarters in Lisbon. The CEO said he has doubts that an initial public offering of shares to retail investors could proceed.
The Bank of Portugal is making another effort to sell the surviving business carved out of Espirito Santo after last year's attempt failed due to bids being too low. The central bank will analyze the four proposals it received for Novo Banco and then decide if it will sell the lender to a strategic buyer such as another bank, or to a wider group of institutional investors.
Stock da Cunha acknowledged Novo Banco is being sold in a challenging environment, citing negative interest rates in Europe and the outcome of the U.K. referendum in which a majority opted to leave the European Union. "What's important is that things develop with discretion and flexibility, with the various options open, to make the most adequate decision when the time comes," the CEO said about the sale of his bank.
As investors digest Brexit, banks in the euro region remain in the spotlight after the European Central Bank requested that Italy's Banca Monte dei Paschi di Siena SpA draw up a plan for tackling its bad-loan burden.
'Liquidity Stress'
Stock da Cunha, who will return to work at Lloyds Banking Group Plc in the middle of August after almost two years leading Novo Banco, said his mandate doesn't include the sale of the bank and that he's leaving a viable lender. "The bank was in a very, very critical situation," he said about the time when he took over as CEO in September 2014 when Novo Banco was relying on the Emergency Liquidity Assistance facility for funding.
Novo Banco "proved it's possible to survive a situation of extreme liquidity stress, to deleverage and create competitive cost advantages, preserving the value of its franchise, and that it's possible to ensure the viability of a bank," Stock da Cunha said. The lender has reduced operating costs by 40 percent in two years and is focusing on its operation in Portugal, selling international businesses and a real estate portfolio. Its assets declined by more than 20 percent in two years.
Novo Banco set up a separate division to dispose of non-core assets worth 10.8 billion euros ($12 billion) at the end of last year and aims to trim that to 4.5 billion euros in 2020. Novo Banco's credit-at-risk totaled 23 percent at the end of March, with a coverage ratio of 72.6 percent, according to its first-quarter earnings report.
The loan book is still mainly focused on companies, even though business loans have dropped to 67 percent of total stock from 70 percent and the bank should aim to reduce that to closer to 60 percent, the CEO said. It has also been increasing retail deposits, which now account for almost 75 percent of total deposits from 50 percent previously.
'Fascinating Challenge'
"An institution that centers its deposit activity on the value of its franchise is clearly in a better position than one that depends on only a few clients," Stock da Cunha said. "That's very important to us, to create a sort of community bank." The loan-to-deposit ratio at Novo Banco has dropped to between 110 percent and 115 percent from 140 percent in August 2014.
When investors consider looking at Novo Banco they may have other concerns on their minds, including litigation from former creditors. Investors want to know if Novo Banco will be affected by any negative legal decision regarding the resolution measure imposed on Banco Espirito Santo by the central bank, the CEO said.
While Stock da Cunha will return to a City of London coming to terms with the Brexit vote and the possibility that some financial jobs could move to other cities, he's optimistic.
"Do you know a bigger challenge than coming to Portugal to be at the front of a bank that went through what Novo Banco went through? I sincerely think that I am well equipped to survive Brexit after this absolutely fascinating challenge."
Before it's here, it's on the Bloomberg Terminal.
LEARN MORE