Photographer: Laurel Golio/Bloomberg
At 6 A.m. sharp, Strauss Zelnick's posse assembles at a building on an anonymous block in Midtown Manhattan. It's late May, and we're going to see Rafique "Flex" Cabral, an instructor Zelnick and his crew first met when Cabral was teaching at Equinox Fitness. This morning, Zelnick is paying Flex for his tyranny, meted out in short bursts of jumps, squats, and pushups.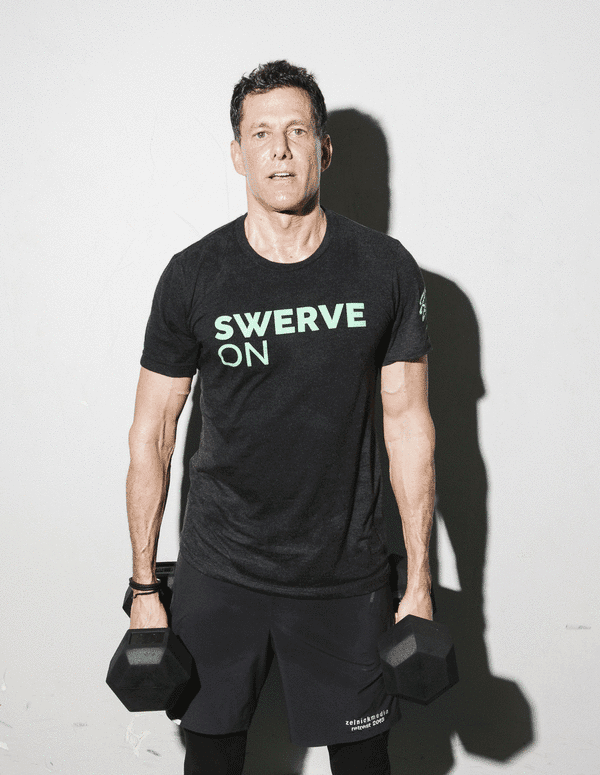 On paper, a session of "high-intensity interval training"—HIIT to the people who love it—seems basic and, frankly, easy. You do a bunch of different exercises for a few seconds at a time, almost none of which requires any equipment other than your body. Flex, a former U.S. Marine, shouts instructions, and we scramble to various stations in the gym, partner up, and then separate. There is no real rest in the 45-minute session.
I'm a runner—and a decent one for a 42-year-old nonprofessional athlete with a wife, kids, and a job. I've qualified several times for the Boston Marathon, which requires me to run close to a 7-minute mile for roughly three hours. I consider that fit. But clearly there's fit, and then there's Flex-fit.
Zelnick, the head of Zelnick Media Capital and the chairman of video game maker Take-Two Interactive, once ran 20th Century Fox, a job he got when he was 32 years old. Now 58, he seems to be Benjamin Button-ing himself through exercise. The group I'm part of this morning is dubbed the Program, an invitation-only, underwritten-by-Zelnick regimen. It has an Instagram account (@the_programnyc), which helps extend its reputation beyond Manhattan. "Someone stopped me in California when they saw my T-shirt," Zelnick says.

The Program, which has a mailing list of about 80 people, evolved from Zelnick's desire to mix it up with his fitness buddies, who rode bikes outside together once a week. They added Flywheel—a high-octane indoor-cycling studio—then hot yoga, then running. Once limited to men, the group now includes women.
Zelnick says he keeps the median age in the Program at about 28, a purposeful attempt to push him into a younger mindset, physically and intellectually. When I first talked to him a couple years ago, he told me all this working out made him think like a 25-year-old. "It drives my investment philosophy," he said.
It's also changed how he runs his firm. Employees know that leaving the office for the gym is encouraged, not frowned upon. Want to get quality time with Zelnick? Meet him for a run or a bike ride.

In researching my book on the business of fitness, I encountered a number of chief executive officers who've integrated athletics into their work lives, sparking a sort of trickle-down mentality at companies across sectors. A toned body and a calm mind are the new metrics for success.
I resist looking at my watch for most of the morning workout, in part out of fear that it will tell me I've only been doing it for 10 minutes. I hold out until we have five minutes left. Those five minutes seem like an hour.
Zelnick, soaked in sweat, is loving it. He thrives on the camaraderie, adding his voice to the shouts of encouragement echoing through the room: "Come on, Marcus!" There's a lot of high-fiving and fist-bumping as we make our way through the exercises—quick bursts that mostly involve manipulating our body weight rather than lifting barbells. A lot of burpees, squats, jumping, and pushups. The relentless pace keeps our heart rate up, and most of us are gasping for air. But there's real joy in the communal struggle and common purpose. "This is a tribe," Zelnick says. "Especially for the younger people here, this is practically their family."

Millennials, particularly in New York, Los Angeles, Chicago, and other cities, have embraced exercise as a social venue, organizing themselves around races such as marathons, boutiques such as SoulCycle, and moblike fitness groups like the November Project. Zelnick's leveraging that enthusiasm for his gain; he's a patron underwriting an endeavor that ultimately accrues to his bottom line, if indirectly.
By the second set of paired pushups, with Zelnick as my partner, I'm struggling to lift myself off the mat and on the verge of vomiting. He's simply crushing me. I slide back into something resembling the yoga child pose, which feels more like the fetal position.
A few minutes later, we're blessedly done. Zelnick hits the showers and heads out, in time for a 7:30 a.m. breakfast meeting. He's sure to eat healthy. And then there's his next workout—a 3 p.m. boxing class.
Fortunately, I'm not invited.
Jason Kelly is the author of Sweat Equity: Inside the New Economy of Mind and Body.

Before it's here, it's on the Bloomberg Terminal.
LEARN MORE