U.S. Stocks Climb, Dollar Slips on Fed Minutes Amid Haven Demand
by and
Resurgent Brexit angst drives gains in yen, precious metals

Asian equity-index futures mixed as S&P 500 resumes rally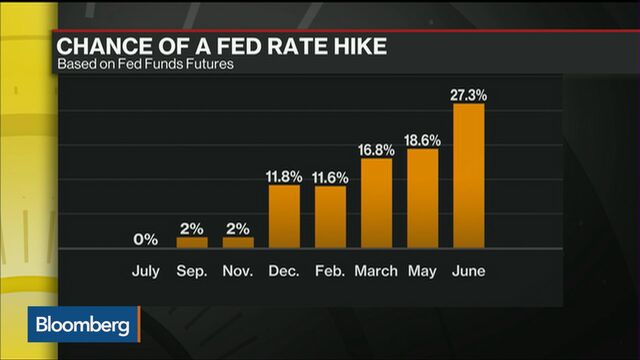 U.S. shares swung back to gains, while the dollar weakened after minutes of the Federal Reserve's last meeting did little to alter perceptions over the timing of interest-rate hikes. Concern the Brexit vote will impact European growth boosted haven assets.
The S&P 500 Index maintained its advance Wednesday as strong data on the services industry countered evidence from the minutes that the weak jobs report in May fueled uncertainty among Fed officials about the economy. The dollar slipped, while Treasuries held their gains after resurgent anxiety over Britain's decision to leave the European Union sent yields from Asia to Europe to record lows. The pound sank to a fresh 31-year low, while gold climbed to its highest price in more than two years. The greenback's drop bolstered oil.

In a meeting held before the U.K.'s June 23 referendum, Fed policy makers kept rates on hold as uncertainty over the labor market and financial stability threatened to derail their economic outlook, the minutes showed. Officials said they were also awaiting the outcome of the British vote, which roiled global markets in its immediate aftermath and continues to dog riskier assets. While the services data signaled the U.S. economy may have been gaining speed before Brexit, payrolls figures due Friday will be key to investors' perceptions of where the Fed stands on its plan to potentially raise rates twice this year.
"Everyone is trying to react to a situation we've never been in before," said Stewart Richardson, chief investment officer at RMG Wealth Management in London. "We've had shocks to the system before, but we haven't had one like this. And we won't know the answers for a long time."
While speculation central banks will work to limit any fallout helped equities around the world recouped much of their losses from straight after the Brexit vote, declines have resumed as the first signs of stress emerge. At least five asset managers have frozen withdrawals from U.K. real-estate funds, and concern is mounting that Italian banking troubles could spread.
Stocks
The S&P 500 climbed 0.5 percent as of 4 p.m. in New York, rising for the fifth time in six days. The benchmark bounced off its average price over the past 50 days, a key level watched by technical analysts.
"The main takeaway from the minutes is the uncertainty in the mind of the Fed has increased, which we can all understand given the weak May jobs data and recent U.K. referendum," said Jon Adams, portfolio manager at BMO Global Asset Management in Chicago, where he helps oversee $217 billion. "This is another sign that the Fed's not going to do too much to upset the apple cart. They're looking for any excuse not to raise rates at this point."
The MSCI All-Country World Index dropped 0.4 percent Wednesday as the Stoxx Europe 600 Index slid 1.7 percent, falling for a third day. MSCI's Emerging Market Index declined 1.5 percent, as shares in South Korea slid 1.9 percent and Taiwan's benchmark dropped 1.6 percent. Equity indexes in South Africa and Poland both fell at least 1.1 percent.
Futures pointed to a mixed day ahead for Asia, with contracts on stocks in Australia and South Korea rising at least 0.5 percent, while those on Hong Kong's Hang Seng and Hang Seng China Enterprises indexes declined more than 0.3 percent. Nikkei 225 Stock Average futures added 0.1 percent to 15,300 as of 3 a.m. in Osaka, while yen-denominated contracts on the Japanese index were down 0.5 percent to 15,370 in Chicago.
Currencies
The Bloomberg Dollar Spot Index, a gauge of the greenback against 10 major peers, fell 0.2 percent, declining for the sixth time in seven days as investors speculated the uncertainty created by the Brexit decision will stay the Fed's hand when it comes to rate increases this year.
Odds on the U.S. central bank raising borrowing costs by December have slumped to 12 percent, according to Fed funds futures tracked by Bloomberg. The probability of a move higher by the end of the year was 44 percent before the referendum.
Sterling briefly fell beyond $1.28 on Wednesday, four cents below its weakest point reached the day after the vote. The yen climbed against all but one of its major counterparts as investors sought out the relative safety of the Japanese currency, which touched 100.20 per dollar, its strongest level since the day the referendum results were announced. The euro rose 0.2 percent to $1.1100, following Tuesday's 0.7 percent drop.
Brazil's real dropped for a fourth straight session, its longest losing streak since February, as the country's central bank once again intervened to weaken the currency. Policy makers have acted to weaken the real every day this week.
Bonds
Yields on 10-year Treasury notes, the global benchmark for sovereign bonds, fell as much as six basis points to 1.318 percent, before closing down one basis point at 1.37 percent.
In Australia, Japan, Germany, France and the U.K., rates on 10-year government debt sank to all-time lows. Securities in the Bloomberg Global Developed Sovereign Bond Index, which have an average life of about 10 years, yielded a record-low 0.40 percent.
Declining prospects of a Fed rate hike have spurred a torrent of demand for Treasuries, generating more than half a trillion dollars in gains for global investors. Economists predict American employers added 180,000 workers to payrolls in June, following an unexpectedly small increase of 38,000 in May, the least in almost six years.
"With Brexit spillovers keeping markets nervous, we believe the risks around nonfarm payrolls are asymmetric," Bank of America Merrill Lynch strategists including Athanasios Vamvakidis wrote in a research report Wednesday. "Jittery markets mean a miss would impact sentiment sharply."
Commodities
Gold climbed 0.5 percent in the spot market to $1,363.78 an ounce, hitting its highest price since March 2014 amid haven-asset demand as UBS Group AG said bullion is probably at the beginning of its next bull run.
Silver for immediate delivery resumed its surge, advancing 0.8 percent to $20.0920 an ounce, taking its rally this year to 45 percent.
Oil climbed as the dollar's drop burnished investor appetite for commodities, and after crude futures failed to break beneath last month's nadir. West Texas Intermediate oil for August delivery rose 1.8 percent to settle at $47.43 a barrel in New York, after earlier touching $45.92, its lowest point since June 27.
Copper dropped to its lowest priced in a week amid the revival in concerns over the global economy. The metal for delivery in three months fell 1.4 percent in London to $4,713.50 a pound.
Corn futures due in September sank to the lowest level ever for the contract after the crop entered a bear market on Tuesday.
Watch Next: Does the FOMC Need More Aggression to Stimulate Economy?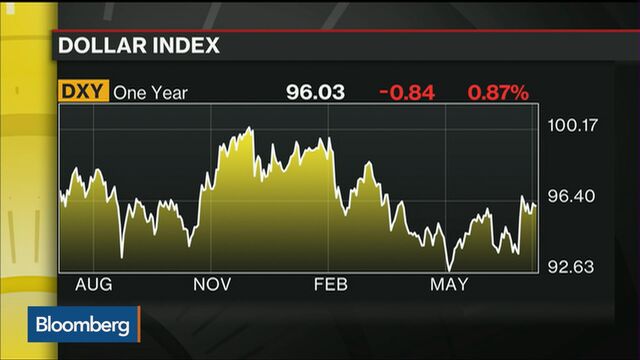 Before it's here, it's on the Bloomberg Terminal.
LEARN MORE