Modi Shuffles Cabinet to Soothe Spats Before India State Polls
by
Junior Finance Minister Sinha moved to aviation ministry

Modi adds 19 new ministers, seven from poll-bound states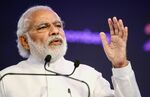 Indian Prime Minister Narendra Modi reshuffled and expanded his cabinet as his Bharatiya Janata Party looks to soothe political tensions and prepares to face as many as seven state assembly elections next year.
Junior Finance Minister Jayant Sinha -- the former McKinsey partner who represented India at several overseas investor meets -- was moved to the Ministry of Civil Aviation, the government said in a statement on Tuesday. Nineteen new junior ministers were added, of which all but two belong to the BJP and seven are from states that will hold elections in 2017.
"It seems like a political exercise," said N.R. Bhanumurthy, an economist with New Delhi based National Institute for Public Finance and Policy, a government-backed think tank. "I am not sure how Sinha's successors will measure up compared to his expertise and reputation in dealing with foreign investors."
This is the second major expansion since Modi swept to office in 2014 with the biggest electoral mandate in three decades. The BJP, which has a majority in the lower house of parliament, now seeks to consolidate power in the states that are crucial to control the upper house.
'Uncomfortable'
Sinha will be replaced by Textiles Minister Santosh Gangwar and new entrant Arjun Ram Meghwal. Education Minister Smriti Irani -- who was criticized for her handling of student politics and was involved in multiple Twitter spats -- will now handle Textiles while former junior minister for environment -- Prakash Javadekar -- was promoted to the cabinet as Education Minister.
Sinha's grasp over finance and economics may have made Finance Minister Arun Jaitley -- a lawyer and key Modi ally -- "uncomfortable" with the stature gained by the younger minister, said Mohan Guruswamy, a former Finance Ministry official and chairman at the New Delhi-based Centre for Policy Alternatives. The move is a "demotion" as Sinha had been doing a good job, he said.
If that's true, Sinha would be the second investor darling India's lost to political spats in as many months. Central bank Governor Raghuram Rajan in June said he wouldn't seek a second term following attacks from a member of Modi's party.
'Minimum Government'
The new members were sworn in earlier Tuesday in a ceremony at the colonial-era presidential palace in New Delhi, taking the total strength to 78 ministers, near the constitutional limit of 82. While previous prime ministers too had bowed to demands from regional allies -- predecessor Manmohan Singh had 77 ministers in 2013 -- the size of Modi's council probably wasn't what investors were expecting from his campaign slogan of "Minimum Government, Maximum Governance."
"There is no evidence that a bigger ministry leads to more efficiency," Pankaj Sharma, head of equities at Ahmedabad-based Equirus Securities Pvt., said in an e-mail. Considering that the publicly stated objective of Modi's administration has always been reduction in the size of government and of the bureaucracy, the number of ministers "would not be looking very good," he said.
Job creation is seen as a major shortfall of the government after two years in office, even though Modi's personal approval rating remains high. Lack of adequate support in the upper house has thwarted Modi's attempts to ease land and labor laws, and a bill proposing a national sales tax is blocked by a political gridlock.
Charge of the government's Parliamentary Affairs portfolio was taken away from Venkaiah Naidu, a senior BJP leader, and moved to Ananthkumar. New entrant Manoj Sinha was made junior minister for Telecommunications.
States due or likely to hold elections next year include Uttar Pradesh -- the nation's most populous -- and Modi's home state of Gujarat. The BJP in May secured a lone election victory among five Indian states holding roughly a fifth of the population, following defeats in Delhi and Bihar state elections last year.
Before it's here, it's on the Bloomberg Terminal.
LEARN MORE