Mobileye Says Assistance Driving Demand Poised to Surge in China
Bloomberg News
Demand may surge 100-fold in three years after rules in place

China government revising rules on adoption of safety features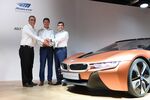 Mobileye NV, which is working with BMW AG and Intel Corp. to develop self-driving cars, says demand for safety features such as collision warning and emergency braking are on the cusp of exponential growth in China once regulators finalize rules governing their use.
Demand in China for the company's advanced driver assistance systems, or ADAS, will probably rise about 100-fold three years after the rules are in place, according to Su Shuping, head of Mobileye in China. Only about 1 percent of new vehicles sold in the country are equipped with ADAS features, presenting huge opportunities for companies like Mobileye, Su said.
"The behavior of drivers and pedestrians in China is complicated," Su said in a phone interview Tuesday. "Our ADAS system will make travel much safer."
Mobileye's assisted-driving technology applies algorithms to video images taken from a single camera to detect nearby vehicles, pedestrians, traffic lights or lane departures. It warns drivers of potential hazards or applies autonomous braking. This class of safety features are seen as an intermediate step toward the ultimate goal of autonomous vehicles.
Mobileye sold about 10,000 ADAS units in China last year, including to commercial fleet operators, Su said. The new Internet-enabled SUV developed by SAIC Motor Corp. and Alibaba Group Holding Ltd. will feature Mobileye's assisted-driving functions, she said.
In China, where annual passenger vehicle sales have doubled in the last six years and led to crowded roads, ADAS proponents argue that these computer-assisted features can cut down on human error and reduce the number of accidents. It is also potentially a very lucrative market, with Citic Securites Co. estimating that ADAS sales may reach 200 billion yuan ($30 billion) by 2020. The brokerage predicts that installation of such products will become mandatory by 2018.
China has proposed that buses longer than 11 meters should be equipped with lane-departure warning and forward collision warning systems, according to draft regulations published by the transport ministry in March. The revised regulation, which should be finalized by the end of this year, haven't been announced.