Theresa May Leads Race to Be U.K. Prime Minister After First Round
by
May wins 165 lawmaker votes, Leadsom 66, Gove 48, Crabb 34

Fox eliminated after coming last and Crabb drops out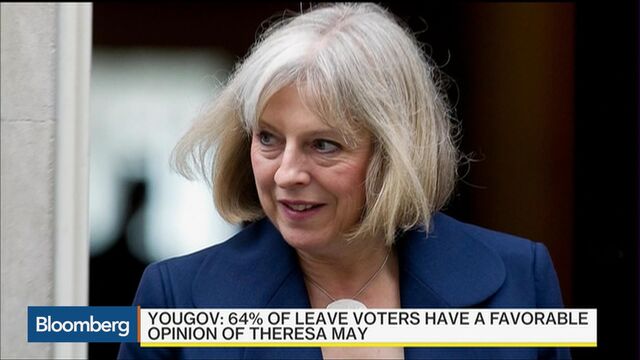 Theresa May took a clear lead in the race to succeed U.K. Prime Minister David Cameron after the first round of voting among Conservative Party lawmakers on Tuesday.

The home secretary won 165 votes, followed by Energy Minister Andrea Leadsom with 66 votes. Justice Secretary Michael Gove got 48, Pensions Secretary Stephen Crabb 34 and former Defence Secretary Liam Fox 16. As the last-placed candidate, Fox was eliminated from the contest and Crabb dropped out. Both endorsed May as did Business Secretary Sajid Javid.
"We need to recognize that there is now one candidate in a position to unite our party and form a cohesive, strong government," Crabb told the BBC. "I'll be lending my wholehearted support to Theresa May."
No Guarantee
Although May is in a commanding position, eventual victory is far from guaranteed. Voting continues on Thursday and the two most popular candidates will then face a ballot of grassroots Conservative members. Tory supporters tend to be Euro-skeptic and May backed staying in the European Union in last month's referendum, albeit reluctantly. Leadsom campaigned for Brexit. The winner is due to be declared by Sept. 9.
"Getting more than half is a real sign," Damian Green, who is working on May's campaign, told reporters after the result was announced in the House of Commons. "Being a hundred votes ahead of the next candidate -- that's a very clear message from the parliamentary party."
Fox, who campaigned to get Britain out of the EU, was swayed by May's experience. After the result, he offered his thoughts on the qualities the next prime minister needs. "It is essential that they have an understanding of the top levels of government and international affairs," he said.
Late Tuesday, May released a summary of her tax records for the last four years and challenged her rivals to do the same by saying "it is clearly important for all leadership candidates to be open and transparent about their tax affairs." Hers showed that in 2014-15 she had a total taxable income of 117,350 pounds ($153,000) and paid 40,023 pounds in income tax.
'Bloody Difficult'
May got a backhanded endorsement from her former cabinet colleague Kenneth Clarke earlier in the day. The former chancellor of the exchequer, who has clashed with May over human-rights issues, was caught on camera by Sky News discussing the various candidates with former Foreign Secretary Malcolm Rifkind. "Theresa's a bloody difficult woman," he said. "But you and I worked for Margaret Thatcher."
About Leadsom, he said: "She's not one of the mindless, tiny band of lunatics, who think we can have a sort of glorious economic future outside the single market. So long as she understands that she is not to deliver on some of the extremely stupid things that she's been saying."
As for Gove, Clarke had this to say: "With Michael as prime minister we'd go to war with at least three countries at once."
Chris Heaton-Harris, who is supporting Leadsom, said her 66 votes show that her candidacy has momentum. She was a surprise inclusion in the race when she declared that she would be running last week.
'Underdog' Gove
"On the weekend, when we were getting 30 people publicly declaring for Andrea, we could feel that there was something going on," Heaton-Harris told reporters.
However, an analysis of those who had publicly declared support for Leadsom found only one person who had worked closely with her in her official parliamentary and government jobs.
Dominic Raab, Gove's campaign manager, put a brave face on the result. The justice secretary torpedoed the campaign of former mayor of London Boris Johnson at the last minute last Thursday, withdrawing his support and declaring that he would stand in his place.
"Michael is the underdog in this race, fighting for the underdog in our society," Raab said. "The more this race goes on, and the more people focus on what really matters, the more that will become clear."
Seeking to broaden his appeal, Gove wrote in Wednesday's Times newspaper that "the collapse of social mobility" is Britain's biggest challenge and that Brexit offers a chance to "forge a new social settlement."
Watch Next: Theresa May Takes Clear Lead in U.K. PM Race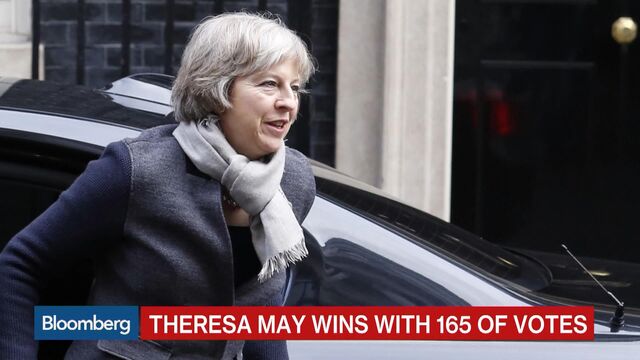 Before it's here, it's on the Bloomberg Terminal.
LEARN MORE