Stock Losses Force World's Biggest Pension Fund Into More Buying
by and
Fund could buy $41 billion in Japanese shares, analyst says

GPIF rebalance could provide floor in stock rout, Resona says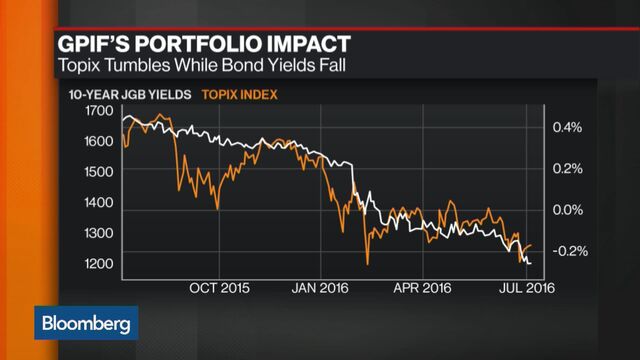 Battered Tokyo stock investors may find savior in an old friend: the world's biggest pension fund.
QuickTake Reshaping Japan's Biggest Bank
Because shares held by Japan's $1.4 trillion Government Pension Investment Fund have suffered such large losses, it will need to add to those holdings to meet targets for their weighting, while selling sovereign bonds whose value has soared. Morgan Stanley MUFG Securities Co. estimates that, assuming no re-weighting was done since Jan. 1, GPIF will need to buy 4.2 trillion yen ($42 billion) of local stocks and sell 9.8 trillion yen of Japanese government bonds to reach its goals. The brokerage didn't give a time frame for this buying.
"Many foreigners think the pension rebalancing story is over," said Yohei Iwao, executive director of the institutional equities division at Morgan Stanley MUFG. "But if we see any confirmation of more buying, it could help sentiment, at least in terms of pensions being there to support the downside."

Japan's Topix stock index surged to an eight-year-high in August after GPIF revamped its holdings to seek higher returns in 2014, and a fresh round of buying would provide welcome relief after the benchmark's drop this year. Selling JGBs would replenish supply for the Bank of Japan, whose debt-buying stimulus is reaching its limits.
'Put a Floor'
GPIF rebalancing "is going to put a floor on stock declines in a market that's full of uncertainty -- it's big," said Koichi Kurose, Tokyo-based chief market strategist at Resona Bank Ltd. "It's also important for the BOJ. A welcome story for them."
GPIF spokesman Shinichiro Mori declined to comment.
Japanese stocks probably accounted for about 22 percent of GPIF's holdings at the end of last month, while domestic debt made up 43 percent of assets, according to Morgan Stanley MUFG's Iwao. He based his calculations on GPIF's 23 percent weighting in domestic shares and 38 percent allocation to local bonds at the end of December -- the latest available figures -- and adjusted for market moves since then. The fund is known as the whale for the size of its assets.
Navigating Markets
The Topix slumped 19 percent this year through June as concerns over global economic growth, the trajectory for monetary policy in the U.S. and Japan, and the U.K.'s decision to leave the European Union damped appetite for risk assets. At the same time, 10-year JGB yields tumbled to as low as minus 0.24 percent in the first half, while the yen gained about 16 percent against the dollar. Japan's 20-year yield dropped below zero percent for the first time on Wednesday, while the Topix stock gauge fell 1.8 percent, the second day of declines.
While its portfolio structure means GPIF needs to buy more Japanese stocks and sell local debt, the pension's managers are facing pressure from opposition lawmakers to do the contrary. The fund probably lost about 5 trillion yen in the year ended March 31, and 4.4 trillion yen last quarter amid declining stocks and strengthening yen, Morgan Stanley MUFG's Iwao said.
Yukio Edano, secretary general for the opposition Democratic Party of Japan, says GPIF has gambled with the state's pension by shifting into stocks from bonds, and called for a reversal of strategy, the Asahi newspaper reported this month.
Taking Time
Resona Bank's Kurose says that's exactly what they shouldn't be doing. The only question is the timing.
"They may take their time," Kurose said, adding it could take between six months to a year to reach their targets. "It may not be enough to chase shares higher, but it's enough to wipe out concerns of shares falling further."
SMBC Nikko Securities Inc.'s chief strategist Hidenori Suezawa estimates GPIF's holdings in Japanese stocks and bonds were 20 percent and 42 percent, respectively. That means the fund would need to increase holdings of domestic equities by 6.6 trillion yen and sell 9.2 trillion yen of local debt to reach its portfolio goal, according to Bloomberg News' calculations using the brokerage's estimates. GPIF targets 25 percent for stocks and 35 percent for bonds at home.
"GPIF is a long-term investor, so it'll probably move to buy stocks, foreign bonds and overseas debt when prices fall," Suezawa said. "They're not extremely out of sync with their targets, so there's no need to rush."
Before it's here, it's on the Bloomberg Terminal.
LEARN MORE