Italy Considers Capital Injection in Monte Paschi
by , , and
Regulator talks may result in Italian bank's third bailout

Paschi tumbles 19% to record low; UniCredit rebounds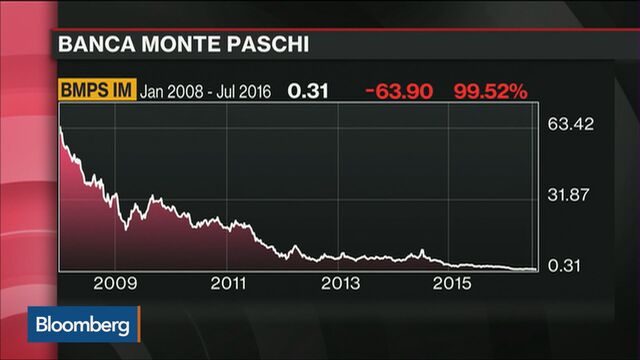 Italy is looking to pump capital into Banca Monte dei Paschi di Siena SpA in what may become the lender's third bailout since the financial crisis, a person with knowledge of the plan said.
The government would invoke a European Union rule allowing temporary state aid if regulatory stress tests uncover a shortfall, said the person, asking to not be identified because the plan isn't public. Talks are underway with European regulators to win approval, the person said.
An Italian bank rescue would evoke the taxpayer bailouts of the financial crisis as well as test the bailout rules, which took full effect this year, forcing bondholders and shareholders to share losses. The present crisis deepened after Britain voted to leave the European Union at the end of June, triggering a fresh share selloff in some of the region's weakest lenders amid concern over a worsening economic outlook.
"A capital injection of size would certainly enable the group to add provisions and help add confidence," said Paul Fenner-Leitao, a credit analyst at Societe Generale SA in London.
Officials for Monte Paschi and the Italian treasury declined to comment.
Bail-in Questions
A European Commission official reiterated that the EU's executive body is in contact with Italian authorities, and said a number of solutions can be put in place. The commission gave Italy permission last week to guarantee as much as 150 billion euros ($167 billion) in liquidity for its struggling banks until the end of the year.
The plan for Paschi includes selling new convertible bonds to the government and injecting at least 3 billion euros through Italy's bank rescue fund Atlante, according to the newspaper La Stampa.
"Are they allowed to do it without bailing in bonds?" said Societe Generale's Fenner-Leitao. "If they bail in bonds, which ones and by how much? What does it mean for other banks?"
The European Central Bank, which took over as the region's bank regulator in 2014, now wants Monte Paschi to offload more than 14 billion euros of gross non-performing loans over three years, which would reduce the burden to 20 percent of total loans, the Siena, Italy-based lender said Monday. The request is part of the central bank's regular supervisory dialogue, a euro-area official said Monday.
Precautionary Instrument
"Brexit has increased volatility in a world which is already uncertain," and "the role of economic policy is to minimize short-term instability," Finance Minister Pier Carlo Padoan said at an insurance industry event in Rome Tuesday, when asked about the situation of the nation's banks and the potential recapitalization of Paschi. "The "precautionary instrument is available if necessary," Padoan said, referring to the liquidity guarantees.
Chief Executive Officer Fabrizio Viola is struggling to restore the bank's finances after accounting irregularities under previous managers prompted two taxpayer-funded bailouts. Monte Paschi built up a pile of soured loans over the last decade as Italy's longest recession since World War II left businesses and households struggling to repay debt.
The bank's doubtful loans, which represent more than a third of total lending, stood at about 47 billion euros at the end of March. Monte Paschi has sold 2 billion euros of bad loans since 2015 as it worked toward a goal of 5.5 billion euros in such disposals by 2018, the target now considered insufficient by the ECB.
EU state-aid rules can be waived in exceptional circumstances, such as when enforcing them would endanger financial stability.

Monte Paschi shares were suspended multiple times and fell 19 percent in Milan trading Tuesday, reaching a new low and pushing the bank's market value below 1 billion euros. The shares have lost 78 percent of their value this year. Paschi's 379 million euros of 5.6 percent subordinated bonds fell 9 cents to 76 cents on Tuesday, near the lowest since February.
Some other Italian bank stocks rebounded Tuesday, though they pared gains in afternoon trading. UniCredit SpA, Italy's biggest bank, was up 0.7 percent at 5:20 p.m. in Milan, as Goldman Sachs Group Inc. analysts upgraded their recommendation on UniCredit to buy.
Mediobanca SpA's Andrea Filtri said recapitalizing Paschi could boost stronger players and stop the collapse by other Italian bank stocks. Intesa Sanpaolo SpA, Italy's second-biggest bank and an investor in the Atlante fund, could also become directly involved in the Paschi rescue, Filtri said, comparing the current talks between banks, regulators and politicians to a poker game.
In January, depositors at Monte Paschi and other struggling lenders started moving their savings to stronger banks, and analysts have warned doubts about the firm's future are stoking the risk of a run on the bank.
Monte Paschi remains more resistant to collapse after last week's post-Brexit liquidity guarantee, said Jacopo Ceccatelli, the CEO of Marzotto SIM SpA, a Milan-based broker-dealer.
Before it's here, it's on the Bloomberg Terminal.
LEARN MORE