Iraq War Report Set to Deepen Divisions in U.K. Labour Party
By
Denouncing Tony Blair 'life's mission' for Corbyn, Jowell says

Chilcot defends seven-year wait saying probe faced 'huge task'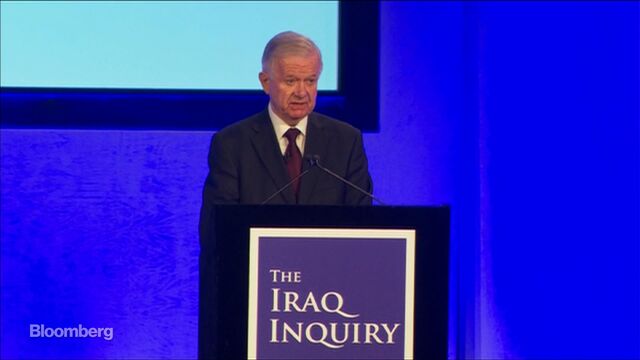 Recriminations over the 2003 Iraq war are set to be revived as Britain publishes its long-awaited report into a conflict that divided the country and led to the political downfall of Tony Blair.
John Chilcot, a former civil servant, is due to announce his findings in London on Wednesday, more than seven years after the inquiry was set up. The report is expected to heap criticism on politicians, officials and the military for their role in the U.S.-led invasion to topple Saddam Hussein and the handling of the subsequent occupation.
"I made very clear right at the start of the inquiry that if we came across decisions or behavior which deserved criticism then we wouldn't shy away from making it," Chilcot said in comments published Tuesday ahead of the report. "And indeed, there have been more than a few instances where we are bound to do that."
The disclosures risk deepening divisions in the opposition Labour Party at a time when its leader, Jeremy Corbyn, is fighting calls from his own lawmakers to resign. While many demanding his ouster backed the decision to go to war, Corbyn fiercely opposed it as did others in the party. He claims the conflict was illegal and has gone as far as to suggest that Blair, the Labour prime minister who committed British troops, could be tried for war crimes.
'Life's Mission'
"It is the purpose of Jeremy Corbyn's life's mission to be able to denounce Tony Blair as a war criminal tomorrow," Tessa Jowell, a Labour lawmaker until last year, told the BBC's Daily Politics show on Tuesday. "I don't believe the evidence will be there."
The inquiry started in 2009 following the end of British combat operations in Iraq, with then Prime Minister Gordon Brown saying it would take about a year. It heard its last testimony in February 2011. Witnesses included Blair, former Foreign Secretary Jack Straw and dozens of other politicians, military leaders, diplomats and civil servants. In addition, the inquiry has scrutinized about 150,000 government documents.
"That's a huge task and takes a great deal of time if you're going to get to the bottom of all of that," Chilcot said. "We've had to get agreement from government to publish some things which are quite without precedent; cabinet discussions, discussions with other heads of state and government."
Tory Backing
The conflict led to the deaths of 179 British soldiers and almost 5,000 U.S. service personnel, and the aftermath unleashed continuing sectarian violence that has killed thousands of Iraqis. Prime Minister David Cameron, whose Conservative Party backed the war, and Corbyn will respond to Chilcot 's findings in Parliament this afternoon.
"There wasn't anarchy when I first arrived but it started to go that way because there was a total power vacuum," Emma Sky, a British diplomat who governed a province in Iraq shortly after the invasion, told BBC Radio 4's Today program Wednesday. "I don't think any country could survive a foreign invader dismissing all their civil servants and dissolving their security forces. It led to civil war in Iraq."
Anti-War Movement
Corbyn, a veteran socialist, won the Labour leadership last year on a wave of support among grassroots members, many of them part of the anti-war movement that took to the streets in 2003 to protest the invasion and never forgave those who backed it. Rebels who voted against the war include John McDonnell and Diane Abbott, who now hold key positions in Corbyn's shadow cabinet.
In a BBC television interview last year, Corbyn said that Blair could "possibly" be tried for war crimes. "I want to see all those that committed war crimes tried for it, and those that made the decisions that went with it."
The Scottish National Party also opposed the war. Its former leader, Alex Salmond, has suggested that the opposition to Corbyn and the Chilcot inquiry are linked. "Indeed many would say that when Corbyn stated that he would be prepared to see a former Labour prime minister tried for war crimes, then he sealed his fate as leader of the Labour Party," Salmond wrote in the Herald newspaper this week.