Food & Drinks
How Colony Capital CEO Tom Barrack Became a Bordeaux-Style Winemaker
"I knew what I liked to drink, but what I liked to drink was anything with a cork."
By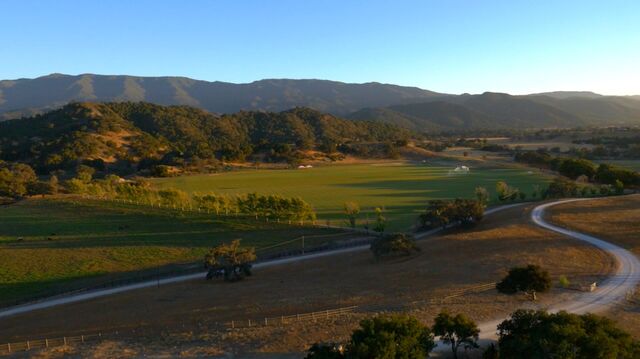 Billionaire Tom Barrack made his fortune making contrarian bets in real estate. So when it came to getting his family into the wine business, he saw no point buying a trophy property—at trophy prices—in Bordeaux or Napa, Calif. Instead, he bought a 1,300-acre ranch an hour north of Santa Barbara, Calif., and planted his own vines.
"I'm not interested in having an ego contest by saying I bought the best vineyard," he said.
Barrack acquired the land 30 years ago after helping its previous owner divide an even bigger estate into smaller parcels. About a decade later, he decided he wanted to grow grapes but didn't know what, when, or how.

"I was the most ignorant guy on the block," he said, walking along the rows of vines on one of his south-facing slopes. "I knew what I liked to drink, but what I liked to drink was anything with a cork."
The solution turned out to be easy. The firm Barrack runs as chief executive officer, Colony Capital Inc., had previously owned Château Lascombes, a grand cru winery in Bordeaux that predates the 17th century. He brought over experts from the château to choose the appropriate grape varieties and lay out the vineyards.
Similar to Bordeaux
Today, Happy Canyon Vineyard grows the principal red grapes of Bordeaux—cabernet sauvignon, merlot, cabernet franc, and petit verdot—on about 60 acres; more recently, it has planted sauvignon blanc.

"This little appellation has exactly the same characteristics as Bordeaux: soil, temperature, sugar content," Barrack said. "So we were lucky."
Happy Canyon sells its top wine, Barrack Family Ten-Goal, for $78 a bottle. The Piocho Reserve, a name inspired by American Indians who occupied the land centuries ago, goes for $39.
Barrack treats the ranch as a family property and Happy Canyon as a family business. His daughter Jodi and her husband Sean operate the winery and live there, and his other five children come often.
A Beautiful Escape
Driving to Happy Canyon from Los Angeles can take four hours with traffic. So Barrack, who lives in Santa Monica, often travels by helicopter. It's a 30-minute ride, and the chopper can land on one of his two polo fields.

Barrack, a star rugby player at the University of Southern California in the late 1960s, said he used to think of polo as "the ultimate sissy sport," played by "a bunch of trust fund guys." Then he tried the game and fell in love with it.
"It was like rugby on horseback and bridge," he says. "It's the most complicated sport I've ever played or seen."
Happy Canyon hosts three matches a week during the polo season, from May to September. Barrack, a grocer's son who learned to ride as a kid in exchange for mucking out stables near one of L.A.'s old movie studios, still plays at the age of 69.

"The game itself became a place for me to practice risk," he said. "If you're not prepared or too boastful, you can die. If you don't take enough risk, you're going to be embarrassed, because you're going to lose."
Barrack said he doesn't mind that the winery doesn't make money yet and acknowledges that polo is an elite, expensive pastime that few can afford. But he rejects the notion that it's all easy come, easy go for a billionaire investor.
"If you can keep up with me doing what I do to make a living for a week, you can then be here and think that you're a rich dilettante," he said. "Business is a physical sport. You better wake up everyday and get out there and compete, because if you don't, somebody with cleats on is going to run right over your back. I'm not planning on letting somebody run over my back, and I'm not at the point of take anything for granted. So I'm— I'm very thankful."
Before it's here, it's on the Bloomberg Terminal.
LEARN MORE