Grade-Grubbing Oil Producers Are Threatening to Boost U.S. Output Yet Again
Rig counts are rising in productive locations, says Morgan Stanley.
by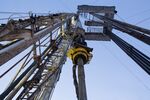 Shale producers are tapping their crown jewel assets in response to the latest oil price rally, according to Morgan Stanley.
The recovery in crude to close to $50 per barrel has encouraged shale producers to double down on their most profitable fields — a process known in oil country as high grading. 
This new trend threatens to force analysts to revisit calls for declining U.S. production, warned Morgan Stanley Commodity Strategist Adam Longson, and thereby constitutes a downside risk for prompt prices.
"The rig count in the highest initial production counties of the Permian Midland continues to march higher and is not far from its 2015 peak," writes a Morgan Stanley team led by Longson. "Since May 6, the Midland has added 13 horizontal rigs in top tier counties versus only eight for the entire play."

In other words, capital is returning to the oil patch, and it's being invested in new projects that will allow firms to boost production in an expeditious manner once the taps are turned on.
The collapse in headline oil rig count, as such, continues to provide only a partial picture of the outlook for U.S. production.

If this trend towards new fertile plays continues, it could alter the downwards trajectory for U.S. production in about four to six months, said Longson.
"It's also important to consider that the rigs are going into the most prolific areas, the decline curve for shale wells is flattening, and completing drilled-but-uncompleted wells could slow declines in as short as one to two months," he added.
Before it's here, it's on the Bloomberg Terminal.
LEARN MORE