FBI Recommends No Clinton Charges Despite Carelessness on E-Mail
By and
Clinton's campaign says that 'this matter is now resolved'

Trump tweets after decision, 'No charges. Wow! #RiggedSystem'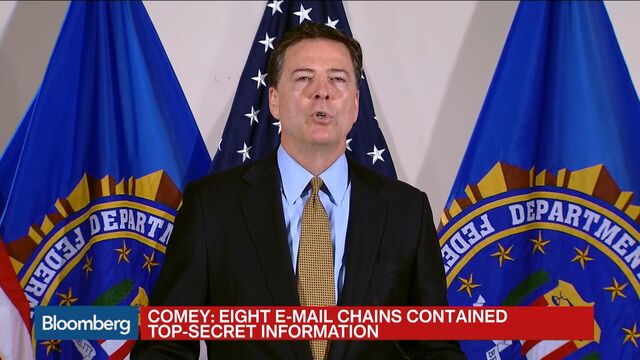 The FBI recommended that no criminal charges be filed against Hillary Clinton over her use of private e-mail while secretary of state, even as the bureau found that her careless handling of official communications could have exposed classified information to hackers.
In announcing the recommendations Tuesday, FBI Director James Comey said the U.S. Justice Department would make a final determination on any possible charges against Clinton or her associates. Still, his findings mark a new turn in an inquiry that has cast a long shadow on Clinton, the presumptive Democratic presidential nominee.
Comey said "our judgment is that no reasonable prosecutor would bring such a case" despite evidence that Clinton and her staff were "extremely careless in their handling of very sensitive, highly classified information."
While Comey isn't recommending prosecution, his statement amounted to a damning portrayal of sloppiness in handling official information by Clinton and her aides. That's sure to keep alive the politically sensitive issue that's become a focus of Republican attacks on her, including by Donald Trump, the party's presumptive nominee.
Clinton's campaign portrayed the issue as settled, with spokesman Brian Fallon saying "this matter is now resolved."
"We are pleased that the career officials handling this case have determined that no further action by the department is appropriate," Fallon said in an e-mailed statement. "As the secretary has long said, it was a mistake to use her personal e-mail, and she would not do it again."
Trump sharply criticized Comey's recommendation, tweeting: "FBI director said Crooked Hillary compromised our national security. No charges. Wow! #RiggedSystem."
House Speaker Paul Ryan said Comey's announcement "defies explanation" and that "declining to prosecute Secretary Clinton for recklessly mishandling and transmitting national security information will set a terrible precedent." The Republican leader said "Clinton misled the American people when she was confronted with her criminal actions."
For a QuickTake Q&A explaining the e-mail dispute click here.
Comey's announcement came hours before Clinton was to appear in Charlotte, North Carolina, alongside President Barack Obama.
White House press secretary Josh Earnest told reporters on Air Force One, which carried Obama and Clinton to Charlotte, that he wouldn't comment on Comey's statement because "the career prosecutors at the Department of Justice have to make a decision about how or whether to proceed." He said the FBI "looked at this in excruciating detail" so "the president's view is irrelevant."
Comey said Tuesday that he didn't coordinate his statement with anyone else in government. The 55-year-old Republican was deputy attorney general under President George W. Bush and was appointed FBI director in 2013 by Obama, a Democrat.
Lynch's Role
Comey's recommendations now go to career prosecutors, whose determination will be presented to Attorney General Loretta Lynch. Lynch said last week, amid an uproar after a private conversation she held with former President Bill Clinton, "I fully expect to accept their recommendations."
The Justice Department declined to comment on Comey's statement, spokesman Mark Abueg said.
Related Story: Lynch Says She Plans to Accept FBI Advice on Clinton E-Mails
The FBI found that of the more than 30,000 e-mails turned over by Clinton, some 110 e-mails spanning 52 e-mail chains contained information that was classified at the time it was sent. Of those chains, eight contained information classified at the Top Secret level.
Comey said the bureau also found "several thousand" work-related e-mails that weren't turned over by Clinton's lawyers. Those messages, discovered by searching through a computer she used as a server and scanning the archives of other U.S. officials, included an additional three containing classified material.
Clinton Interview
Comey made his announcement just three days after Clinton was interviewed by FBI agents and prosecutors for 3 1/2 hours at the bureau's headquarters in Washington. She has said no e-mails she sent or received were marked classified at the time they were sent.
By not using a government server, Comey said, Clinton increased the risk of her communications being intercepted by hostile nations. "Any reasonable person in Secretary Clinton's position" should have "known that an unclassified system was no place" for the sensitive information she handled as the top U.S. diplomat, he said.
Comey added that "we did not find direct evidence" that Clinton's e-mail was hacked successfully. He said, though, that "we do assess that hostile actors gained access to the private commercial e-mail accounts of people with whom Secretary Clinton was in regular contact from her personal account."
Administrative Sanctions
Comey said Clinton's behavior fell short of previous cases pursued by prosecutors because there was no evidence that she intended to mishandle classified information, exposed a vast quantity of materials, or attempted to obstruct justice. He stressed that under similar circumstances, other employees would often be "subject to security or administrative sanctions."
The outcome of the FBI probe shows "there is a wide gap between that which is stupid and that which is illegal," said Stephen Vladeck, a professor of national security law at the University of Texas at Austin.
Vladeck said he'd believed all along that the filing of any criminal charges against the presumptive Democratic presidential nominee was "a real long-shot," even if Comey's announcement underscored her carelessness in the handling of sensitive information.
"We don't have a criminal statute that generally prohibits the mishandling of government communications," or the mishandling of classified information, the professor said in an interview. "Maybe we should, but the FBI can only look at the laws that are on the books."
Espionage Act
The felony-level federal Espionage Act requires a showing of gross negligence, Vladeck said. "Simply using an unsecured system has never been understood to rise to that level," he said. Charging Clinton under that law "would have been a novel application of an already controversial criminal statute."
About 2,000 of Clinton's e-mails were classified during the investigation, as agents flagged their contents for departments and agencies, according to Comey. They didn't include material that was considered classified at the time they were sent or received by Clinton.
"None of these e-mails should have been on any kind of unclassified system," Comey said. That Clinton used a private server without full-time security monitoring was "especially concerning," he added.
Before it's here, it's on the Bloomberg Terminal.
LEARN MORE