Comey's Independent Streak Mutes Attacks Over Clinton Case
By
Republicans cricitize e-mail decision without naming Comey

FBI director served under Bush; donated to McCain, Romney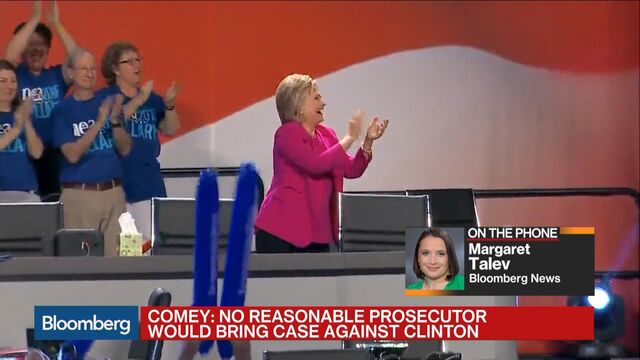 Within minutes of the FBI director's announcement that he wouldn't recommend criminal charges be brought against Hillary Clinton, Donald Trump decried a "rigged system" and Speaker Paul Ryan said the decision "defies explanation."
But neither of them mentioned James Comey by name, a measure of how the long-time Republican's well-established record of independence from partisan politics could insulate him from charges of political favor.
Comey on Tuesday announced his decision not to recommend criminal charges against the presumptive Democratic presidential nominee or her aides for her use of a private e-mail server while secretary of state.
Appointed to head the FBI by Obama, Comey, 55, is a registered Republican who donated to the presidential campaigns of John McCain in 2008 and Mitt Romney in 2012, Federal Election Commission records show.
During the George W. Bush administration, he was appointed deputy attorney general. In that role, Comey famously raced to the hospital bedside of then-Attorney General John Ashcroft in 2004 to prevent Bush from obtaining reauthorization for a warrantless NSA surveillance program many considered unconstitutional.
The e-mail probe isn't the first time Comey has investigated the Clintons. As a U.S. attorney, he probed the pardon of financier Marc Rich and others by President Bill Clinton. Comey, who also was the prosecutor in the original Rich case from 1987 to 1993, declined to prosecute over the pardons.
Before becoming Obama's FBI director in 2013, Comey served stints as a prosecutor under the prior four presidents, culminating in the deputy attorney general post he held under Bush.
10-Year Term
The FBI is designed to be separated as much as possible from politics for just these sorts of decisions, with Comey serving a 10-year term that expires in 2023, well after the next two presidential elections.
Only a single senator voted against Comey's confirmation: Kentucky Republican Rand Paul, who has had concerns about the government's surveillance programs.
The White House defended Comey Tuesday, with Press Secretary Josh Earnest telling reporters that the FBI director served "in a prominent role in a Republican administration" and has a "well-established reputation" of being able to set aside politics.
Indeed, many Republicans, including Ryan, are on record expressing confidence in Comey's ability to manage the Clinton probe.
Even so, Comey's bipartisan credentials didn't stop the second-guessing.
"This announcement defies explanation," said Ryan of Wisconsin. "Declining to prosecute Secretary Clinton for recklessly mishandling and transmitting national security information will set a terrible precedent."
The strongest criticism came from House Judiciary Chairman Bob Goodlatte of Virginia, who said the decision "defies logic." Goodlatte said he spoke to Comey immediately after his statement and demanded answers.
He followed up with a letter asking Comey why the FBI wasn't recommending charges when others previously accused of mishandling classified information had been prosecuted. He also called Comey's decision to make a public announcement of his findings "incredibly unorthodox."
'Glaring Indictment'
Other Republicans pointed to Comey's blistering attacks on Clinton's decision to use a private e-mail server, which the FBI found contained many emails with classified information at the time they were sent.
"The FBI's findings are a glaring indictment of Hillary Clinton's complete lack of judgment, honesty, and preparedness to be our next commander-in-chief, and they confirm what we've long known: Hillary Clinton has spent the last 16 months looking into cameras deliberately lying to the American people," said Republican National Committee Chairman Reince Priebus.
Priebus, like Ryan, didn't criticize Comey by name.
"As the Obama administration has repeatedly shown throughout this process, they were never going to prosecute Clinton's criminal behavior because they are counting on her to deliver their failed agenda a third term," he said. "Between the attorney general's private meeting with Bill Clinton last week, to President Obama's active support for Hillary Clinton's candidacy, the American people will rightly be left second guessing whether justice was really served."
But other Republicans issued statements expressing extreme disappointment with Comey's decision.
"To not hold her accountable will further erode the public's trust in our legal system and will erase the notion that even those in power -- especially those in power -- should be held to a higher standard," said Senator Jim Inhofe of Oklahoma.
And Representative Ted Yoho of Florida called the situation a "travesty of justice."
"Charges should be brought up against her and her negligent actions. She felt she was above the law and now she is getting away with it," he said.