China Rising Yield Premium Spurs Global Funds to Boost Holdings
Bloomberg News
Gap with 10-year U.S yield widest since August last year

Overseas buyers adding to holdings for eighth month in a row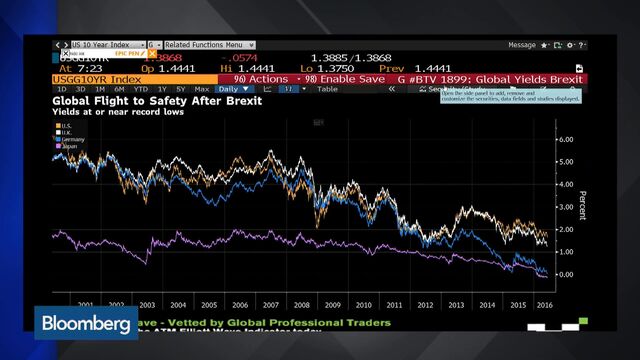 Tumbling bond yields in the world's major economies are helping boost the attraction of China's sovereign debt, with foreign investors adding to their holdings for the eighth month in a row.
The yield advantage of China's 10-year debt over U.S. Treasuries rose to 147 basis points on Tuesday, the widest since August last year, data compiled by Bloomberg show. Overseas institutions increased their ownership of Chinese government debt by 7.7 percent in June from the previous month to 318 billion yuan ($48 billion), according to figures from the China Central Depository & Clearing Co.
The U.K.'s vote to leave the European Union spurred a global rush for havens, driving bond yields in Australia and Taiwan to record lows and giving China room to ease monetary policy. A mixed bag of economic data and a lack of easing so far have limited the downside of Chinese yields, with a gauge of manufacturing retreating to the dividing line between expansion and contraction and a measure of services edging higher.
"The moves lower in developed-market bond yields post-Brexit are providing more room for Chinese government bonds to perform -- both onshore and offshore," said Becky Liu, Hong Kong-based senior rates strategist at Standard Chartered Plc. "For foreign investors, it makes a lot of sense to diversify into China onshore markets now, given much higher yields and expectation for capital gains."
Yield Rises
The yield on notes due May 2026 rose one basis point on Tuesday, taking a two-day advance to five basis points, the most since the notes were issued, according to National Interbank Funding Center prices. The People's Bank of China drained a net 320 billion yuan via open-market operations in the first two days of this week, after injecting a total 625 billion yuan in the last three weeks to meet higher quarter-end demand for cash.
The central bank is likely to fine-tune monetary policy in the second half with targeted reserve-requirement-ratio cuts or possibly across-the-board reductions as growth still faces "relatively large" pressure, according to a front-page commentary in the China Securities Journal.