business
Canadian Aid for Bombardier Said to Be Stalled Through Summer
By and
Trudeau's lead minister to meet executives next week in U.K.

Company on better footing after inking Delta, Air Canada deals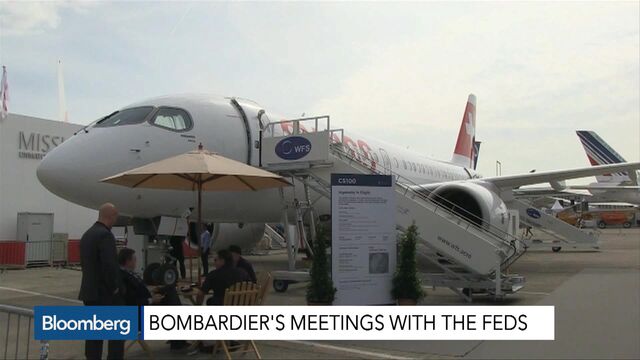 Canadian Prime Minister Justin Trudeau's government doesn't expect to reach an aid deal with aircraft manufacturer Bombardier Inc. before the fall, according to officials familiar with the talks.
Bombardier sought help for its C Series jet program late last year. The province of Quebec has invested $1 billion, putting the company on more solid footing as Trudeau is said to be seeking concessions on corporate governance in exchange for aid.
Innovation Minister Navdeep Bains, the government's point-person in negotiations, is due to meet with Bombardier executives next week at the Farnborough International Airshow. Negotiations, however, remain stalled and Trudeau's team expects no developments this summer, believing Bombardier has a year or more before it faces a serious cash crunch, the officials said, speaking on condition of anonymity as the talks are private.
Bombardier has made crucial strides in recent months to shore up its finances and demonstrate the C Series program -- which is more than two years late and $2 billion over budget -- has a long-term future. That gives it more leeway to decline a federal aid package for now. Besides closing the deal to sell 49.5 percent of the C Series program to Quebec, the Montreal-based company has landed firm orders from customers including Air Canada and Delta Air Lines Inc.
Both sides believe it's now up to the other party to make the next move in negotiations, the officials said.
'Staying Engaged'
Bombardier said last week talks with the Trudeau government are continuing. Chief Executive Officer Alain Bellemare told reporters on June 29 there was "a lot more runway" for the C series project, suggesting federal aid isn't urgent though still desired. "We're in an excellent position today. We have excellent projects ahead. This support would give us the additional flexibility we need to continue to make Bombardier grow."
Mike Nadolski, the company's vice-president of communications, declined to comment further Tuesday morning.
Philip Proulx, a spokesman for Bains, also declined to comment specifically on the negotiations. "We're staying engaged with the company and we want to be a part of a solution," he said by phone Monday. The minister and the company have met six times since Trudeau's government took power, records from the Canada's federal lobbying registry show.
Bains will spend three days in Farnborough and meet with a dozen major companies, including United Technologies Corp., Bell Helicopter and CAE Inc., Proulx said.
Dragging On
If the standoff stretches until fall, it will mean nearly a full year elapsing since Trudeau's government first learned of Bombardier's desire for aid. The formal request came in December, after Quebec announced its funding at the end of October as the company's shares were sliding. That picture has changed, with Bombardier stock up 46 percent this year through Monday.
Unlike Quebec, which targeted the C Series project specifically, Canada offered a $1 billion investment in the overall company. The deal would have seen the federal government and Quebec each invest equally, with Bombardier issuing a further $1 billion in shares for a cumulative $3 billion cash injection.
That type of arrangement is likely off the table now that Quebec has finalized its C Series investment. The province made its first $500 million payment to Bombardier June 30, and a second installment of the same amount is scheduled for Sept. 1.
The company's founding Beaudoin and Bombardier families oppose the federal proposal because it includes dismantling the dual-class share structure that allows them to maintain control of the company while owning only a minority equity stake. "It's not our intention to change anything in this regard," Executive Chairman Pierre Beaudoin said April 29 at Bombardier's annual meeting in Montreal.
Farnborough International Airshow 2016: Full Coverage
Before it's here, it's on the Bloomberg Terminal.
LEARN MORE