Apple's Results May Be Hit by Brexit Economic Fallout, Citi Says
by
Analyst cites the U.K. referendum in lowing outlook on shares

Customers also seeing less reason to upgrade iPhones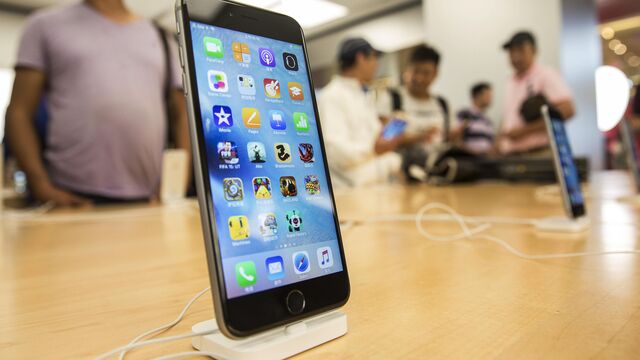 Fallout from the U.K.'s decision to leave the European Union is adding to Apple Inc.'s woes.
An economic slowdown and currency fluctuations following the U.K.'s June 23 referendum are contributing to weaker demand for Apple devices, according to Citigroup Global Markets analyst Jim Suva. The vote result is intensifying a broader challenge facing Apple of customers not upgrading their iPhones as frequently. With the outlook unlikely to improve any time soon, Suva predicts Apple's financial results will come in below Wall Street's projections.
Suva's report shows how the Brexit vote may have economic impacts that aren't yet well understood by companies around the world. Real estate firms, banks, grocers and airlines are among those grappling with the fallout.
Apple reports financial results on July 26. The shares were down 0.8 percent to $95.14 at 9:32 a.m. in New York Tuesday.
The roots of Apple's slowdown go far beyond U.K. politics. With high-end smartphones already available in much of the world, the company is simply running out of new people to sell iPhones to. A lack of fresh high-profile features in the recent models has made it easier for people to hold off on buying a new handset. Suva said the iPhone replacement rate has expanded from 24 months in 2013, to 28 months in 2016 -- and may eventually extend to 36 months. The trend already contributed to Apple reporting its first quarterly sales decline in 13 years in April.
The ripple effect is being felt by the web of suppliers who provide components for Apple's devices. With demand expected to be lighter for the upcoming iPhone 7, Pacific Crest Securities lowered its outlook for a slew of companies within Apple's supply chain on Tuesday, including semiconductor companies Cirrus Logic Inc., Skyworks Solutions Inc. and Qualcomm Inc.
Before it's here, it's on the Bloomberg Terminal.
LEARN MORE