AC Milan Sale Close After Berlusconi Reveals Deal With Chinese
by , , and
Chinese to invest $444 million over two years, Berlusconi says

Sale would mean Chinese control both Milan soccer teams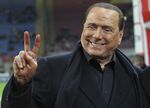 Silvio Berlusconi's long quest to find a new owner for his soccer club AC Milan appears to be close to a conclusion with the former Italian prime minister saying he has agreed to a deal with a Chinese group.
The Berlusconi family's investment vehicle has been in exclusive talks with the Asian investors who have been conducting detailed analysis of the club's finances for several months. Now, a deal in principle has been reached, according to Berlusconi, who spoke to reporters after leaving a Milan hospital Tuesday after heart surgery last month.
"Milan now has chosen this path toward China," Berlusconi said in a video posted on La Gazzetta dello Sport's website. "It's an important decision to give AC Milan to someone able to make it be a protagonist in Italy, Europe and globally. I didn't discuss price, I've accepted what they offered me."
Milan has struggled recently, with the team a shadow of the all-conquering roster that regularly competed for soccer's top prizes. Since Berlusconi took control of the team in 1986, Milan has won eight league titles and five European Cups, marking the most-successful period in the club's history. It hasn't won anything in the past five years.
Berlusconi said a condition of the sale is that the new owners invest at least 400 million euros ($444 million) in the club over the next two seasons. The buying group includes state-backed enterprises, he said.
Should the deal go through, Chinese investors would be majority holders of both Milan teams following last month's investment by Suning Holdings in crosstown rival Inter Milan. The AC Milan deal, for 80 percent of the club, underscores China's push to buy soccer assets across the globe. Some of the country's biggest companies have been on a buying spree for the past two years, picking up teams, media companies and other businesses related to the world's most popular sport. Clubs in China, meanwhile, have been the biggest spenders in the global transfer market this year.
The deal is unlikely to be made official until next week at the earliest, according to two people familiar with the matter. They said that several small details still need to be worked out before an official statement can be made. They asked not to be identified because contracts have yet to be signed.
Berlusconi, the billionaire three-time premier, had been in separate talks with Thai investor Bee Taechaubol since at least last year. Bee failed to find financing after an arm of Chinese conglomerate Citic Group Corp. pulled the funding it was going to provide for the bid. 
Before it's here, it's on the Bloomberg Terminal.
LEARN MORE