Photographer: Hannah Elliott/Bloomberg
Cars
2016's Best Sport Performance Coupe Is the BMW M2
It has precise, energetic handling and an attractive body and interior amenities. You can't do better in the category.
by
Say you want something super sporty and high-end that's also a good value for the money and relatively practical.
Say you want it to look masculine but not obnoxious. And you'd prefer it to have some nice perks (badging, leather, contrast stitching) to complement what will certainly go down in history as iconic performance.
Well, then, I'd like to introduce you to the 2016 BMW M2—the stick-shift version.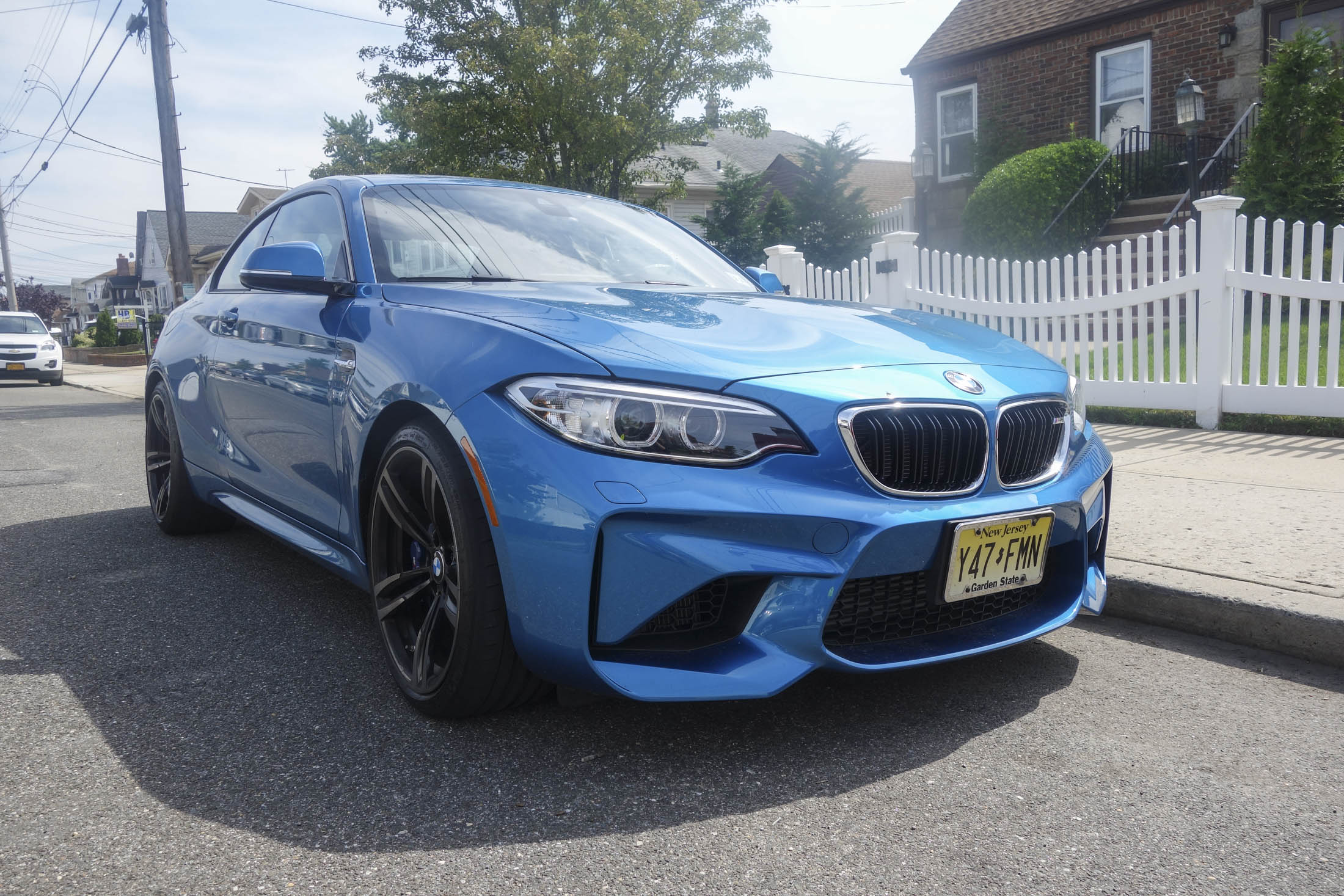 The M2 I drove last week—the new $51,700 compact sports coupe from Bavaria—more than held my attention for the duration of our time together. It quickly proved its mettle, so much that it goes on my short list of luxury cars I've driven (I drive at least one different model every week, year round) that I would actually buy. And not just buy, but love.
BMW gave drivers this car as a counterpoint to the $32,850 2-Series coupe and the $44,150 M235i. It comes with a seven-speed automatic (double-clutch transmission) or six-speed manual transmission on a 3.0-liter, six-cylinder engine, plus M-tuned exhaust, dynamic stability control, brake fade regulation, and active M differential, to balance it all out.
There are similar offerings from Audi and Mercedes (see the $43,425 S3 and $50,425 CLA45 AMG, respectively), but for the tightest chassis and punchiest drive, look no farther than the BMW M2.
The Stick Shift Can't Be Beat

If you do buy this 365-horsepower coupe—and you really should—choose the stick shift. It's a hair slower than the automatic (computers can regulate traction and timing faster than humans can) but what you lose in timing you gain in exhilaration. One quick drift up the highway, or across your back-road route, and you'll treasure the engagement and close road feel of a stick shift every time.
The manual M2's superbly solid M Compound four-wheel, ventilated anti-lock disc brakes and sticky Michelin sport tires instill such confidence that you'll feel as if you could never make a false move behind the wheel. The car never wavers as you wind through traffic; it doesn't hesitate as you punch past too-slow commuters. Driving the M2 makes you feel almost-heroic.

Did I mention that 0-60 miles per hour in the M2 comes in 4.4 seconds? (The seven-speed dual clutch does it in 4.2 seconds.) That top speed is 155pmh? The coupe weighs only 3,450 pounds (a mere 12 pounds lighter than the noticeably slower S3, for instance). Talk about a power-to-weight ratio. The M2 is so fun to drive, you'll want to put those numbers to the test every time you get inside. Oh, and the manual version is nearly $3,000 less expensive than the automatic. Not that you need to save the cash, but why spend money on something that will make you have less fun?
All You Need Is All That's There
 The same thought—why spend when you don't need to—goes for the exterior of the car. The Long Beach Blue paint job I enjoyed on the model I drove does cost extra ($550), but the perfectly fine Alpine White exterior color comes free. Still, white doesn't do the chiseled body of this car justice. Still, the xenon adaptive headlights, retractable headlight washers, shadowline exterior trim, M badging, and that snarling, enlarged, and blown-out front fascia all come blessedly standard.

And I do like that front face—BMW took its signature, muscled, twin-kidney grill and seems to have carved the tight, punchy body of the M2 around it. The curve of the nose and the sculpted side body end quickly (and to the point) at the rear tail lights. The double-spoke black, 19-inch, forged light-alloy wheels and rear lip complete the sportiest body of any performance coupe on the market today.
In fact, the strong, exacting body of this machine looks like shades of the original M car, the uber-cool retro E30 M3. If you have a soft spot for the OG of anything, especially cars, this is a modern car for you.
Sporty Interior, Plus Practicality 
The inside, too, is minimal, but in a good way. BMW doesn't clutter its cars with needless buttons and self-pleasing exercises in superfluous technology. Unlike most of the luxury cars I drive, you don't have to spend thousands of dollars on extras just to make the interior experience seem special. (The fully loaded version I drove cost just $3,000 more than the base version. This car is a very good value for how well it performs.)

Instead, the M2 offers the same orange LED lighting, black buttons, central screen, and black leather that we appreciate in other BMW models. Special to the M line are the blue and red stitching on the steering wheel, contrast stitching on the comfortable (not cushy) leather seats, M badges, and the excellent short sport shifter. (Drive it, and you'll feel like a boss.)
I personally liked the open weave of the carbon fiber details along the door and center console; three young male friends I drove around got into a debate about whether it "looked like wicker." To each his own.

They did approve, however, of the space in the back seat, which is a genuine back seat, not a nod to the idea of a back seat, as you'll find in many sport coupes. It's quiet back there, well-sealed from outside noise—and smooth, despite the tight tight tight suspension. The backrests split and fold to stretch the 14-cubic-foot trunk's cargo capacity, a boon to all involved.
In fact, the inside of this excellent new coupe is much like the exterior and what's underneath the hood. The new M2 doesn't coddle you, but it does take care of you. In a true driver's car like this, that's all you'll ever need.
Before it's here, it's on the Bloomberg Terminal.
LEARN MORE