Third Ex-Citigroup Trader Wins Unfair Dismissal Lawsuit
by
Robert Hoodless said he was made a scapegoat during FX probe

Citigroup spokesman says it stands by its decision to fire him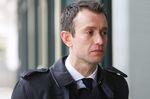 A fired Citigroup Inc. currency trader, who claimed his bosses made him a scapegoat for the foreign exchange market-manipulation scandal, said he won a ruling that he was unfairly dismissed.
The decision makes Robert Hoodless the third London currency trader to successfully sue Citigroup following his firing. Details of the ruling, including any possible financial award, weren't disclosed by the trader or the bank.
The lawsuit is one of a spate of wrongful-termination disputes related to currency-exchange manipulation to be heard in London. Banks have fired dozens of traders in the aftermath of regulatory probes in which they have been fined at least $10 billion.
"The East London Employment Tribunal ruled that I was unfairly dismissed from my role," Hoodless said by e-mail. "I will not be making any further comments at this stage."
Previous cases involving two other Citigroup traders, Carly McWilliams and Perry Stimpson, yielded mixed results. While judges said that Citigroup didn't follow the proper process when it fired them, both failed to win substantial damages as the court ruled that they had contributed to their own demise.
"Citi stands by its decision to dismiss Mr. Hoodless," Citigroup said in a statement. "While we are disappointed by the employment tribunal's decision, individual accountability is important to us and for that reason we defended the case in the tribunal. We expect our employees to adhere to the highest ethical standards and will not tolerate breaches of our code of conduct."
Robert de Groot, former global head of spot trading at BNP Paribas SA and managing director at Citigroup, begins his lawsuit against the French bank Tuesday, according to court records. Jack Murray, an ex-Barclays Plc trader, begins his case in a courtroom a few miles across town.
Before it's here, it's on the Bloomberg Terminal.
LEARN MORE