Telefonica's Futures Suggest Dividend in Danger of Being Cut
By and
Contracts on 2017 payout down 12 percent since Brexit vote

Chairman Pallete left with few options to protect debt rating
Futures traders are bracing for Telefonica SA to cut its dividend, a measure that would preserve cash at the debt-laden Spanish phone carrier and bolster its credit rating after plans to sell the company's British wireless unit fell through.
A German futures contract that measures investor sentiment toward Telefonica's 2017 dividend has slumped 12 percent since June 23, when British voters decided to leave the European Union. That payout hasn't yet been set. Lightly traded futures on the company's planned 2016 dividend of 75 euro cents declined 4 percent in Spain on Monday.
Chairman Jose Maria Alvarez-Pallete is open to reducing dividend payments if it's necessary to preserve cash, pay down the company's 50.2 billion euros ($55.9 billion) in debt and keep its investment-grade credit rating, according to a person with direct knowledge of the matter. The options are narrowing for Pallete to make good on a pledge to maintain Telefonica's debt rating without also resorting to a fire-sale of assets.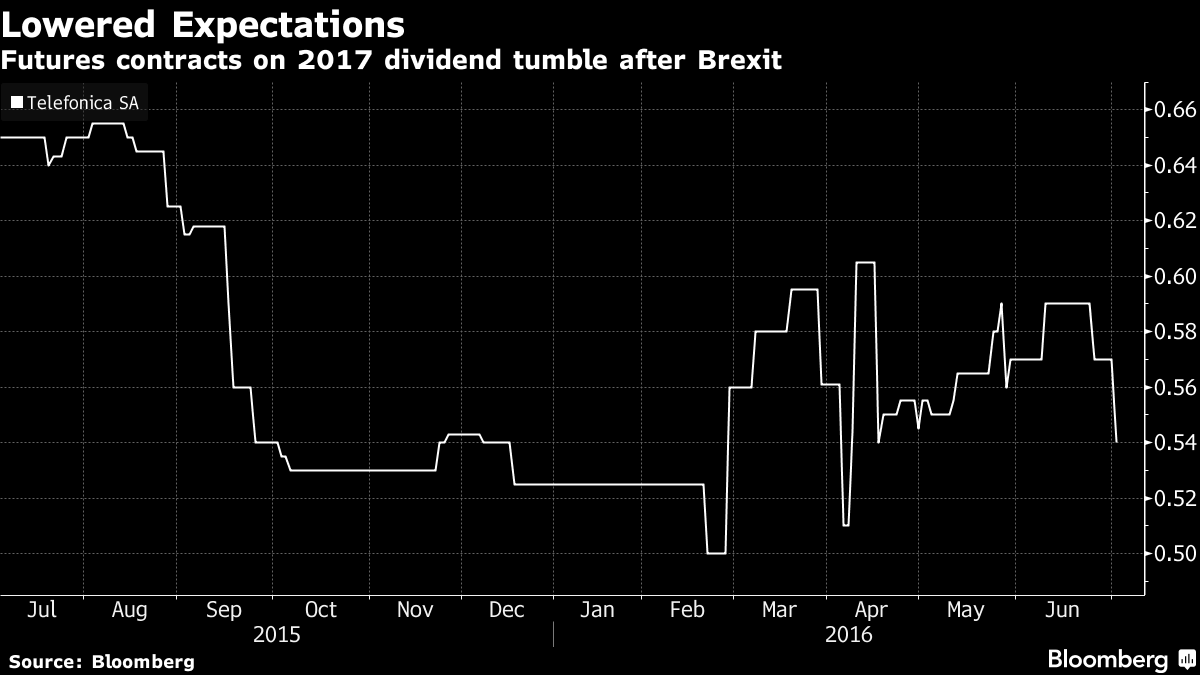 No decision has been made, according to the person, who asked not to be named discussing private deliberations. A Telefonica official declined to comment.
This month could be pivotal. Telefonica scrapped its dividend once before in recent years, in July 2012, when the Madrid-based company faced a financial crisis in Spain. The options this for the 3.7 billion-euro payout this time include less-drastic measures like reducing the payout for this year or next, or paying shareholders in scrip, a substitute for cash like stock for example.
"I wouldn't dismiss that they reduce the 2017 dividend, which is what I have in my estimates. It would be a good sign as they could cut debt and maintain attractive profits" Andres Bolumburu, an equity analyst at Banco de Sabadell SA who recommends buying the stock, said by phone. "I don't think they'll cut the 2016 one," he said. "They don't have to pay the full cash part until at least April, so they have enough time find other options to deleverage."
The company announced the dividend plan for 2016 in February. It hasn't yet set a record or pay date. Telefonica typically declares an interim dividend in November and the rest in May. It has said it may pay the first part this year as a voluntary scrip dividend and the final one in cash.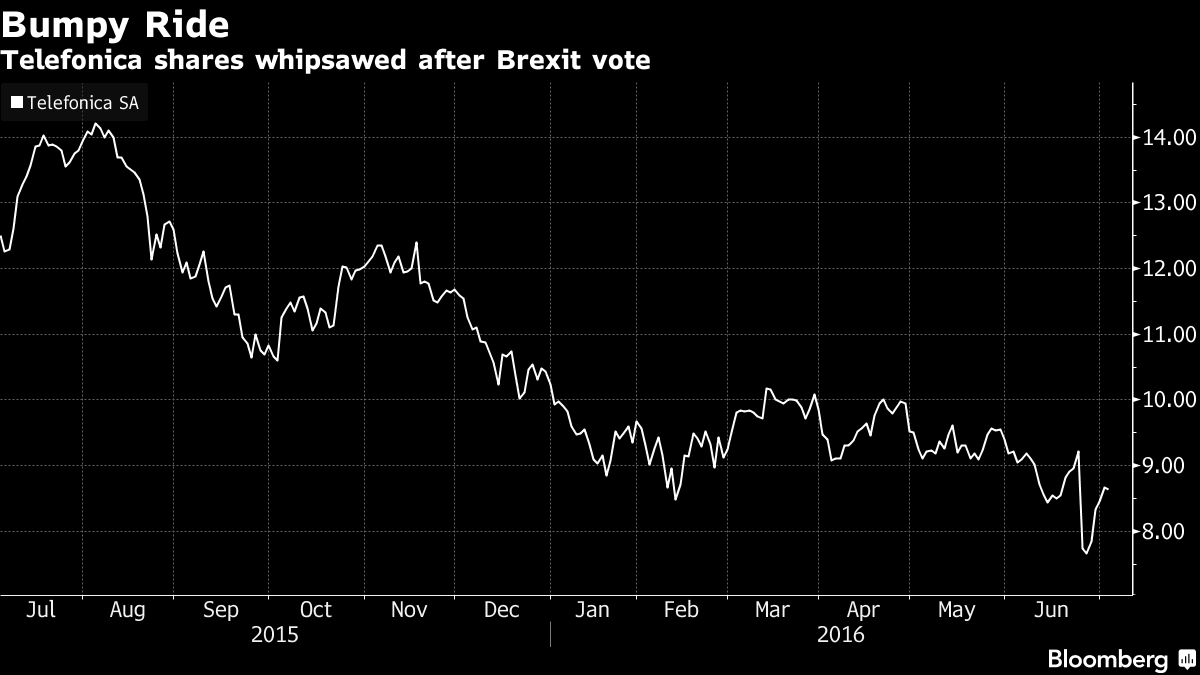 Telefonica fell as much as 1.2 percent. The shares declined 0.2 percent to 8.65 euros at 4:29 p.m. in Madrid, giving the company a market value of about 43 billion euros.
The dividends are in the spotlight following an announcement last week that Telefonica was shelving the sale of its British unit until market conditions "are right." Telefonica had planned to use proceeds from a 10.25 billion pound ($13.6 billion) sale of O2 to pay down debt, but that plan was blocked by EU regulators in May.
On May 12, the day after the O2 sale was blocked, Pallete said Telefonica was still committed to paying the full 75 cents, though part could be paid in scrip.
The decision got more complicated when the Brexit vote roiled financial markets, thwarting backup plans for a new sale or an initial public offering of O2. A plan to offer shares of Telefonica's infrastructure unit Telxius was delayed.
Moody's Corp. has threatened to downgrade Telefonica's current Baa2 rating, two levels above junk, if the company doesn't come up with a solid deleveraging plan by the end of the year.
German futures contracts on the 2017 dividend have dropped to 52 cents from 59 cents before the Brexit vote, according to data compiled by Bloomberg. That includes a 2-cent decline on Monday, when 1,160 contracts traded hands. The futures price on Telefonica's 2016 dividend fell to 72 cents in Madrid on volume of 100 contracts. It had stood at 75 cents, since last trading in May. A similar futures contract in Germany was unchanged.
Dividend futures are derivative contracts that allow investors to take positions on future dividends, pocketing the difference between the amount paid for the contract and the actual amount of the dividend.