Palm Oil Stockpiles in Malaysia Seen Climbing as Demand Weakens
by
Inventories probably expanded for first time in seven months

Demand from China may pick up as lower prices attract buyers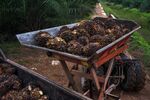 Palm oil inventories in Malaysia probably expanded for the first time since November as demand for the world's most-used vegetable oil slackened and production rebounded from the impact of a drought triggered by El Nino.
Stockpiles climbed 4.2 percent to 1.72 million metric tons by the end of June from a month earlier, according to the median of eight estimates in a Bloomberg survey of planters, traders and analysts. Production of crude palm oil jumped 10 percent to 1.49 million tons, picking up pace from a 4.9 percent rise a month earlier. Exports dropped 5.5 percent to 1.21 million tons, the weakest for June since 2008. The Malaysian Palm Oil Board will release official data by July 12.
Stockpiles are set to swell further as plantations enter peak production season and may weigh on futures, which tumbled 14 percent in the second quarter, the biggest decline since September 2012. Weaker export demand alongside higher output will be negative for prices, which are seen trading between 2,300 ringgit and 2,600 ringgit in July, Ivy Ng, regional head of plantations at CIMB Investment Bank Bhd., wrote in a July 1 note.

Exports from Malaysia fell in June from a month earlier as the Muslim fasting month of Ramadan failed to stoke demand and importers led by India bought less, according to data from cargo surveyors. Indian purchases slumped 46 percent to 195,105 tons in June, data from Societe Generale de Surveillance showed.
Higher crude palm oil production may also signal that "the worst of the El Nino impact on yields may be over," CIMB's Ng said. Lingering effects from the weather phenomenon showed that while higher than May, June's output may still be 15 percent lower than June 2015. Sime Darby, the world's biggest oil-palm grower by acreage, expects Asian production may be slow to recover even with wetter weather as ongoing tree stress from El Nino may last for 15 months.
The contract for September delivery on Bursa Malaysia Derivatives closed the morning session on Tuesday down 1.8 percent at 2,359 ringgit ($589).
China
Demand for Malaysia's exports in coming months largely depends on China, said Phang Loy Fatt, a trader at Malaysian planter Kuala Lumpur Kepong Bhd's marketing division.
"Their palm oil stocks at ports have dwindled below 400,000 tons in recent weeks, below one-month's consumption of about 600,000 tons," Phang said. "There are signs that China has begun replenishing stocks which would support prices."
China National Grain and Oils Information Center said that Chinese companies bought vegetable oils on June 30 after prices fell, including around 100,000 tons of palm oil for July shipment.
Palm oil's recent price slump has made it more competitive and may help it regain market share from rival edible oils, according to Alan Lim, plantations and property analyst at MIDF Amanah Investment Bank Bhd.
Malaysian imports jumped to 30,000 tons in June from 20,024 tons in May, while estimates for domestic consumption ranged between 220,000 tons and 290,000 tons, according to the survey.
June 2016 
(Survey)
   
May 2016 
(MPOB)    
 June 2015 
(MPOB)     
Output
          1.49
        1.36
          1.76
Stockpiles
          1.72
        1.65
          2.14
Exports
          1.21
        1.28
          1.70
Imports 
          0.03
        0.02
          0.10
NOTE: Figures in million metric tons, based on the median of 8 estimates.
Before it's here, it's on the Bloomberg Terminal.
LEARN MORE