Oil Declines to One-Week Low Amid Ample Global Crude Stockpiles
by
Gasoline at 3-month low as U.S. East Coast supplies hit record

Nigerian oil output rose in June after infrastructure repair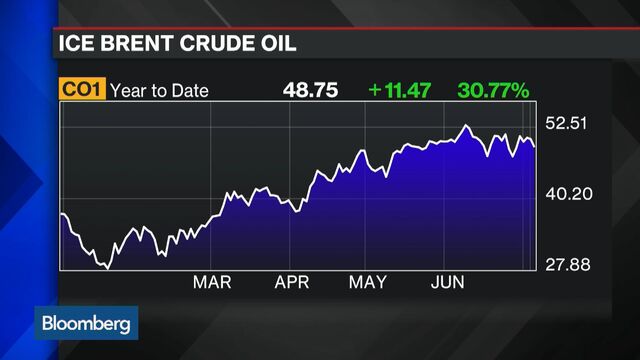 Crude tumbled to a one-week low as the outlook for the world economy darkened while oil stockpiles remain ample.
Futures fell 4.9 percent in New York as the dollar climbed and equities slipped. OPEC output rose in June, lead by Nigeria, a Bloomberg survey showed. Gasoline dropped to the a three-month low after supplies on the U.S. East Coast reached a record, limiting available storage around New York Harbor, the delivery point for the futures contract.

"Concerns about the economy and a rising dollar are having a major impact," said John Kilduff, partner at Again Capital LLC, a New York hedge fund focused on energy. "There's a realization that there's a product glut, especially in New York Harbor. The seasonal leader is pulling everything lower."
Crude has risen about 80 percent from a 12-year low in February amid supply disruptions and falling U.S. output. The price rebound has spurred activity in the American shale patch, where drillers last week brought back the most oil rigs of any week this year.
West Texas Intermediate for August delivery slipped $2.39 to close at $46.60 a barrel on the New York Mercantile Exchange. Contracts for delivery further out fell less than August futures, shrinking contango, the structure where prices for delivery today are lower than those in future months.
There was no settlement on the Nymex Monday because of the U.S. Independence Day holiday. Trades were booked Tuesday for settlement purposes.
Risk Off
Brent for September settlement fell $2.14, or 4.3 percent, to $47.96 a barrel on the London-based ICE Futures Europe exchange. The global benchmark crude closed at a 67-cent premium to WTI for the same month.
The Bloomberg Dollar Index, which tracks the currency against major peers, rose 0.7 percent. A stronger greenback curbs investor demand for dollar-denominated commodities.
Commodity companies accounted for six of the ten biggest losers on the Standard & Poor's 500 Index. The S&P Oil & Gas Exploration and Production Index fell 3.9 percent.
"It's a risk-off day across the markets," said Bob Yawger, director of the futures division at Mizuho Securities USA in New York. "OPEC production estimates are making the rounds and they're showing a rise in Nigerian production, which is negative for the oil market. The contango is coming in, which is the classic sign of oversupply."
Nigerian Production
Nigeria pumped an average of 1.53 million barrels a day in June, up about 90,000 a day from May, according to the Bloomberg survey. Militants have resurfaced this month, with the Niger Delta Avengers group claiming attacks on five crude-pumping facilities overnight Sunday.
Production in Saudi Arabia, the biggest crude exporter, rose by 70,000 barrels a day to 10.33 million last month, the survey showed. The kingdom typically burns more crude in the summer to generate electricity for air conditioners. Libya raised output by 40,000 barrels a day to 320,000.
"The path of least resistance is lower," said Michael Wittner, the New York-based head of oil-market research at Societe Generale SA. "The long-term picture remains bullish but in the short-term, crude is coming back from the disruptions. We have a lot of crude to work off as well."
Record Supplies
Gasoline stockpiles along the U.S. East Coast surged to 72.5 million barrels in the week ended June 24, data from the Energy Information Administration show. Imports to the region jumped to a six-year seasonal high. U.S. gasoline production hit a record the previous week as refineries bolstered operations to meet driving-season demand.
Several tankers carrying gasoline could not be unloaded at the Port of New York and were forced either to anchor offshore or continue on to the U.S. Gulf Coast, Commerzbank AG said in a note Tuesday.
The EIA said in a monthly report on June 30 that gasoline demand in April was 9.21 million barrels a day, down from 9.49 million that had been estimated in weekly data.
"The April data raised questions about the strength of gasoline demand," Wittner said. "While gasoline demand is strong, it's starting to look less spectacular than earlier thought."
August gasoline futures dropped 5.6 percent to close at $1.4287 a gallon, the lowest settlement since April 7.
Three attacks hit Saudi Arabia on Monday: one near a Shiite mosque in the eastern city of Qatif, another near the U.S. consulate in Jeddah and a third outside the courtyard of the Prophet's Mosque in Medina.

Chevron Corp. has decided to go ahead with the $36.8 billion expansion of the Tengiz oil project in Kazakhstan.
Crude prices won't rise much further over the next year and a half as demand growth slows and refiners comfortably meet gasoline consumption, Vitol Group Chief Executive Officer Ian Taylor said in a Bloomberg Television interview.
Before it's here, it's on the Bloomberg Terminal.
LEARN MORE