Netanyahu Roams East Africa to Find Deals, Mark Entebbe Raid
by
Seeking support against UN resolutions condemning Israel

Tanzania tells Netanyahu in Uganda it plans to open embassy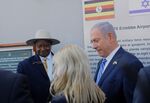 Prime Minister Benjamin Netanyahu opened a four-country Africa trip with a stop in Uganda, where a daring Israeli rescue mission led by his brother 40 years ago played a pivotal role in launching his political career.
Netanyahu is trying to drum up business for Israeli companies during a visit that also takes him to Kenya, Ethiopia and Rwanda. With a delegation of 70 business executives, the African excursion is part of Netanyahu's effort to cultivate growth markets while economies languish in the country's biggest trade partners, the U.S. and European Union.
After arriving early Monday, Netanyahu joined seven African leaders at a meeting in Ugandan President Yoweri Museveni's Entebbe palace, where he said they discussed how Israel could help African countries with technical expertise in areas such as anti-terrorism, water management and high-yield farming. Besides the four countries on his itinerary, leaders from Zambia, South Sudan and Tanzania joined the gathering.
"I believe that this meeting will be seen as a turning point in Israel's ability to reach a broad number of African countries, which is our goal," Netanyahu told reporters on a night flight to Kenya. He said Tanzania's foreign minister told him the country plans to open an embassy in Israel.
Diplomatic Agenda
Companies sending executives with Netanyahu include Elbit Systems Ltd., the country's biggest publicly traded defense contractor; Netafim Ltd., which makes irrigation systems; Magal Security Systems Ltd., a specialist in perimeter security at airports; Israel Chemicals Ltd., a fertilizer producer; and dronemaker Aeronautics Ltd.
While Netanyahu touts Israeli technology, he also has a clear diplomatic agenda. The prime minister said he is pushing for open political support from African countries that have largely sided with Arab nations on resolutions critical of Israel in the United Nations and African Union. Israel also has a common cause with some African countries in battling radical Islamists.
Netanyahu called for a united international front against terrorism at a ceremony at Uganda's Entebbe airport, where his older brother, Yonatan, died on July 4, 1976, leading a raid to free more than 100 Jewish and Israeli hostages aboard an Air France flight seized by Palestinian and German hijackers.
'Devastating Blow'
"Today, in this place, where free people delivered a devastating blow to the forces of terror, we, the civilized nations, must rededicate ourselves to the spirit of Entebbe," he said.
The Ugandan president at the time, Idi Amin, openly supported the hijackers demanding the release of Palestinian militants in Israeli prisons and prisoners in other countries.
Israel dispatched about 100 elite Israeli forces to Entebbe airport 2,500 miles (4,000 kilometers) away. Bursting into the terminal, the Israelis killed the hijackers along with 45 Ugandan soldiers. Yonatan Netanyahu, the only Israeli commando killed, has become an emblem of bravery in his country.
The prime minister has referred to his brother's death as a painful turning point that projected him into politics. At Entebbe airport, addressing an audience including survivors of the hostage-taking and veterans of the rescue mission, he spoke of the operation as a symbol of steadfastness against terrorism.
Rebuilt Alliances

Ugandan President Yoweri Museveni thanked Netanyahu for turning "a sad story 40 years ago into yet another instrument of bonding the Holy Land, Israel-Palestine, with the heartlands of Uganda in Africa, and Africa in general."
The two leaders spoke on a podium set up in front of the old control tower, scene of the firefights between Israeli and Ugandan soldiers in which the prime minister's brother was killed. The terminal where the hostages were held stands nearby, a facility for VIPs.
Israel has a long history of ties with the continent built on exports of arms and agricultural products, and imports of oil, diamonds and other natural resources.
Alliances with Israel unraveled after many African states severed ties to avoid entanglement in the Arab oil embargo following the 1973 Middle East war. Ties grew closer again over the threat of radical Islam and Israel's outreach beyond its traditional Western allies.
While it's not clear the warmer relations will translate into diplomatic support at the UN, "many of these countries can be said to be military allies of Israel because they also have the threat of radical Islam and terrorist attacks," said Emmanuel Navon, a political scientist at Tel Aviv University.
Before it's here, it's on the Bloomberg Terminal.
LEARN MORE