Leadsom Starts U.K. Leadership Bid Vowing Short Brexit Talks
by , , and
Minister touts City credentials in bid to succeed Cameron

Leadsom says she knows 'how to succeed in a man's world'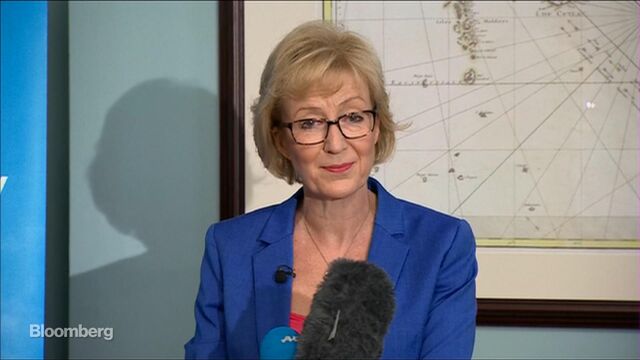 Energy Minister Andrea Leadsom set out her campaign to lead the U.K. as she vowed to push ahead with the process of pulling the country out of the European Union.
"I intend to keep the negotiations as short as possible," Leadsom said in a speech in London, becoming the fifth and final Conservative Party candidate to detail her platform to succeed Prime Minister David Cameron. "Neither we nor our European friends need prolonged uncertainty."

Cameron resigned in the wake of the June 23 vote to leave the EU, leaving the decision on when to trigger Article 50 of the Lisbon Treaty -- the formal process for beginning exit negotiations -- to his successor. Leadsom's tone contrasts with that of her leadership rival Home Secretary Theresa May, who has ruled out doing so before the end of the year, saying Britain first needs to decide on a negotiating strategy.
"Not everything needs to be negotiated" before triggering Article 50, Leadsom said. "I'm not setting a specific time. I'm saying we need to treat this with urgency, we need to get a grip on it. We need to not have a period of uncertainty. We need to work as hard as we can and as fast as we can to achieve the real opportunities from leaving the EU."
Tax Pledge
The shock vote to leave the EU sent the pound tumbling and roiled global markets. In an effort to steady nerves and encourage business investment, Chancellor of the Exchequer George Osborne told the Financial Times in an interview published Monday that he aims to lower the corporate tax rate to 15 percent from 20 percent currently. Ratings company Standard & Poor's on Monday said Britain will "barely" escape a recession because of Brexit.
Leadsom is seeking to hoover up the votes of pro-Brexit Conservative lawmakers. The leadership contest took a dramatic turn last week when Justice Secretary Michael Gove forced former London Mayor Boris Johnson out of the race by withdrawing his support and deciding to run himself. May, who supported "Remain" in the EU referendum, is the favorite to win. Work and Pensions Secretary Stephen Crabb and former Defence Secretary Liam Fox are also standing.
Leadership Bets
Bookmaker ladbrokes are offering odds of 4/11 on May to win, ahead of Leadsom in second place and Gove in third. Conservative lawmakers will eventually whittle the field down to two in a series of ballots starting on Tuesday. The party aims to announce a new leader by September 9.
May is the longest-serving home secretary in more than a century, hanging on to a position that's become known as a graveyard for political careers. She also served as Conservative Party chairwoman in the early 2000s. Leadsom has just over two year's experience as a junior minister, serving first in the Treasury and more recently in the Department of Energy and Climate Change. 
In her leadership bid, she pointed toward her own charitable work and a career working in financial services as evidence she has what it takes to be prime minister. Before becoming a member of Parliament in 2010, Leadsom spent a quarter of a century in finance including stints at Barclays Plc and Invesco Perpetual, where she was a senior investment officer.
Criticism of Carney
"I know from very long experience how our economy works," Leadsom said. "I know how to strike a deal in a tough negotiation, and I know as a woman how to succeed in a man's world."
During the referendum campaign, Leadsom accused Bank of England Governor Mark Carney of making "an incredibly dangerous intervention" and for "provoking financial instability" after he warned that a Brexit could tip the U.K. Into recession. 
In a nod to public distrust of banks, she signaled she'll be tough on her former industry.
"Those people who have become rich by winning boardroom pay rises that bear no relation to company performance should be aware that I find this unacceptable," she said. "Too few people in my old field of financial services were ever brought to book for their part in the 2008 crash."
Leadsom, Gove and Fox, the three pro-Brexit candidates, sought on Sunday to undermine May by saying it would be better if the next prime minister supported leaving the EU. May, who last week said "Brexit means Brexit" as she launched her own bid, backed "Remain," albeit reluctantly, delivering only one major speech.
Berlin Wall
Comparing the magnitude of Britain's decision to quit the EU with the fall of the Berlin Wall, Leadsom sought to reach out to "Remain" supporters, saying "don't be afraid."
She said she'll have a minister dedicated to the renegotiation, and that her team will consult with the regional assemblies in Scotland, Wales and Northern Ireland, as well as everyone from business people and trade negotiators to labor unions and farmers.
In a further differentiation with May, Leadsom said she's committed to "guaranteeing the rights" of EU citizens who already live and work in Britain. May said yesterday that negotiators will need "to look at" their status, along with that of Britons living abroad, while signaling she wants to "guarantee a position."
"There is no way they will be bargaining chips in our negotiations," Leadsom said.
Before it's here, it's on the Bloomberg Terminal.
LEARN MORE