Japan Inc. Pares Inflation Forecasts, Adding Concerns for Kuroda
By
Five-year outlook reduced to 1.1% in Tankan company survey

Midterm inflation forecast lowest since survey began in 2014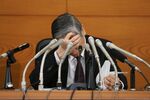 Japanese companies cut their forecasts for inflation for five years' time, dimming the prospects for Bank of Japan Governor Haruhiko Kuroda meeting the 2 percent inflation target during the next fiscal year as he has projected.
Companies expect 1.1 percent of inflation in five years, the lowest estimate since the survey began in 2014, according to a report by the BOJ Monday. In three years, companies also expect 1.1 percent price growth, and 0.7 percent in one year.
The price outlook among companies illustrates a stark contrast with the BOJ's projection of reaching the 2 percent inflation target by March 2018. Japan's inflation has fallen back to where it was when Kuroda began his stimulus program in 2013, with recent economic data offering little signs of improvement before the next policy meeting on July 28-29.
"There is no sign of inflation," said Junichi Makino, chief Japan economist at SMBC Nikko Securities Inc. "Kuroda will continue to be under pressure to ease more."

The yen's appreciation in 2016 will likely reduce the profits of Japan's corporations -- especially exporters -- and also creates deflationary pressures by lowering the costs of imported goods. Without inflation and much boost in profits, wage growth is expected to be tepid.
Japan's core consumer prices fell 0.4 percent in May, the lowest level since April 2013 when Kuroda launched his record stimulus, a report showed last week.
Barclays Plc. and JPMorgan Chase & Co. are among those forecasting further stimulus at the policy meeting later this month, when the BOJ also will update its inflation outlook.
Before it's here, it's on the Bloomberg Terminal.
LEARN MORE