Emerging Stocks Extend Rally to Fifth Day; Real, Zloty Retreat
by and
Real falls as Brazil steps in to weaken world's best currency

Polish assets drop on plans to dismantle private pension funds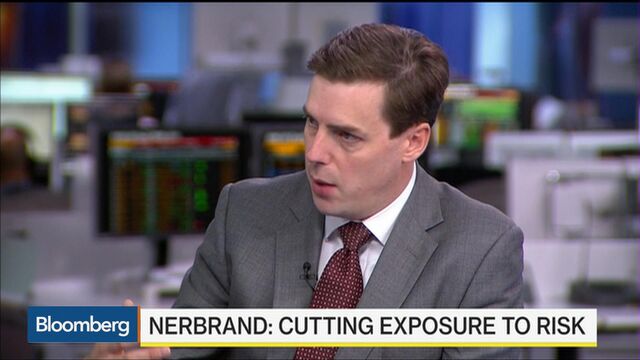 Emerging-market stocks rallied for a fifth day on speculation central banks will boost stimulus after the U.K. voted to leave the European Union.
Raw-material and energy producers led stocks to the best performance for the period in almost four months as metals advanced and Brent crude traded above $50 a barrel. The extra yield investors demand to hold developing-nation debt declined for a fifth day. Brazil's real dropped as the central bank intervened to weaken the currency, while Polish assets retreated on government plans to dismantle privately owned pension funds.

More than $500 billion has been added to the value of emerging-market equities since June 27 amid expectations that global central banks will add to monetary stimulus to counter any contagion from Brexit. At the same time, bets that the Federal Reserve will increase interest rates this year have evaporated.
"People have woken up to the fact that Brexit is going to be yet another catalyst for global monetary policy and that conquers all," said Peter Attard Montalto, senior emerging markets strategist at Nomura International Plc in London, who favors Polish, Turkish and Mexican assets. "The flow picture for emerging markets this year has turned out to be very different than we thought it would be."
Stocks
The MSCI Emerging Markets Index rose 0.4 percent to 842.73 at 4:04 p.m. in New York. It has climbed 6.1 percent in five days, the most since the period ended March 7. The rally has left the gauge up 6.1 percent this year. That compares with a 5.7 percent, five-day gain for the MSCI World Index of developed markets, which is down 0.1 percent in 2016.
The Ibovespa rallied to an eight-week high in Sao Paulo as iron-ore producer Vale SA rallied and steelmaker Cia. Siderurgica Nacional SA climbed. Power utility CPFL Energia SA rallied the most since February 2015 after State Grid Corp. of China agreed to acquire Camargo Correa SA's 23 percent stake in the company.
Industrias Penoles SAB, the Mexican company that owns the world's largest silver mine, jumped 7.1 percent, bringing its gain this year to 179 percent.
The Shanghai Composite Index led gains in Asia with a 1.9 percent jump to a two-month high. The Hang Seng China Enterprises Index of mainland shares traded in Hong Kong rose 1 percent as trading resumed following a holiday on Friday. Nickel producer MMC Norilsk Nickel PJSC and Energy producers Gazprom PJSC and Lukoil PJSC contributed the most to lifting Russia's Micex Index to the highest since June 23.
Poland's equity benchmark dropped 1.2 percent to the lowest since January. Deputy Prime Minister Mateusz Morawiecki said assets held by privately-owned pension funds would be transferred to private-pension accounts and a state fund as part of a plan to overhaul the pension system. The pension funds, set up in 1999 to provide long-term financing for the nation's companies and make Warsaw into a regional capital hub, own a fifth of the shares traded on the Warsaw stock exchange.
Some Arab markets will close this week for a religious holiday. Saudi Arabia is shut all week, while the U.A.E., Oman and Kuwait will close from Tuesday. Turkey stopped trading Monday afternoon and will reopen on Friday.
Currencies
The MSCI Emerging Markets Currency Index retreated 0.1 percent after jumping 2 percent in the four days through Friday. The Philippine peso advanced 0.2 percent.
Brazil's real slid 1 percent, the most among major currencies. The monetary authority placed all 10,000 reverse swaps auctions offered this morning, a move equivalent to buying $500 million in the futures market. In 2016, the currency tops gains among major major currencies with a 21 percent advance. The yen is second year-to-date, up 17 percent.
The zloty weakened 0.3 percent versus the dollar. South Korea's won fell on speculation the central bank will intervene, after a 3 percent advance last week.
"I expect Asian currencies to gain in the third quarter," said Gao Qi, a foreign-exchange strategist at Scotiabank in Singapore. "The market has priced out Fed rate hikes, so generally speaking the Brexit will see capital inflows into Asia. Meanwhile, we have to stay cautious because risk sentiment is still fragile."
Bonds
Bonds were mixed, with the yield on South Africa's 10-year security dropping two basis points to 8.69 percent. Polish debt fell for the first time in six days, sending the yield on five-year notes up one basis points to 2.2 percent. The rate on similar-maturity Turkish notes increased seven basis points to 9.09 percent after inflation accelerated more than forecast in June.
The premium investors demand to own emerging-market bonds rather than Treasuries narrowed one basis point to 382, according to JPMorgan Chase & Co. indexes.
Before it's here, it's on the Bloomberg Terminal.
LEARN MORE