Five Reasons Why Australia's PM Is in Deep Trouble
by
Coalition needs several seats to form a majority government

Vote counting resumed Tuesday with no winner yet apparent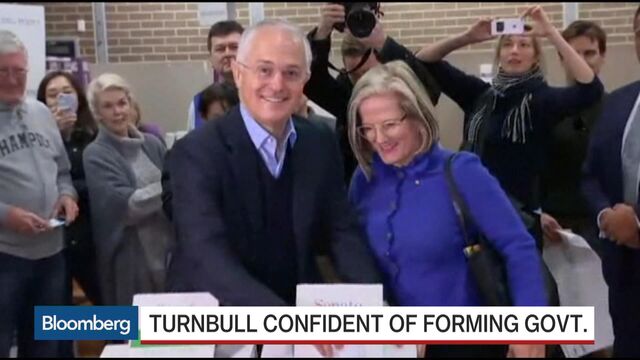 Malcolm Turnbull's stock last September couldn't have been higher.
The former Goldman Sachs banker had just seized the prime ministership from Tony Abbott in a party coup, blindsiding a conservative bloc within Australia's ruling coalition. The government quickly surged in opinion polls along with his own popularity rating, as Australians looked to him to find new drivers of economic growth and end an almost unprecedented era of political instability.
"The prime minister has not been capable of providing the economic leadership our nation needs," Turnbull said as he mounted his challenge. "We need a different style of leadership."
Nine months later, his grip on power hangs by a thread after voters turned against the Liberal-National government in Saturday's election. Neither the coalition nor main opposition Labor party has yet won the 76 seats needed to form a majority government.
While Turnbull says he's "quietly confident" he'll get across the line as vote counting resumes Tuesday, that's far from certain. The outcome hinges on votes in a handful of marginal seats and he may be forced to govern with the help of independent lawmakers determined to make him bend to their own agendas.
'Unmitigated Disaster'
Criticism is surfacing over the urbane Turnbull's judgment and leadership, and some conservatives are calling for his head.
"This has been an unmitigated disaster for Mr. Turnbull," said Zareh Ghazarian, an author and politics lecturer at Monash University's School of Social Sciences. "He is severely weakened and really a lot of his supporters, a lot of those within the Liberal Party who backed his cause, are now seeing red and are very very upset with this result."
So how did it come to this? Five key missteps contributed to the crisis now embroiling Turnbull and his government.

1. Early Election Wasn't Early Enough
In the weeks after he seized the leadership, the coalition surged to an election-winning lead in polls and Turnbull's personal rating soared. He could have created a constitutional trigger and called a vote last year, said John Warhurst, an emeritus professor of political science at the Australian National University in Canberra.
"If he'd gone early, there's no doubt he would have won," said Warhurst. "By sitting through his honeymoon period, his popularity slowly withered away and created the sense that he was dithering."
2. Hamstrung by Conservatives
Turnbull was handicapped from the outset by a conservative rump within the coalition that wanted to stick with Abbott as prime minister, according to former Liberal leader John Hewson.
To win the leadership from Abbott, Turnbull assured this bloc he wouldn't pursue a more socially progressive agenda including legalizing same-sex marriage and taking tougher action against climate change. "There was a clear commitment to stay with the Abbott position on a lot of policies, including climate," said Hewson. "He did deals with the conservatives for their support to take the job."
That frustrated some Australians who'd expected him to deliver on such issues.
3. Policy Vacuum
Turnbull raised hopes in September with a promise to restore "economic leadership" and boost growth through innovation as the mining-investment boom waned. Real economic reform could finally be on the table. Then...nothing.
Turnbull confused voters by mooting and then withdrawing plans to increase a Goods and Services Tax, and shelving a proposal to give state governments the power to raise taxes to fund schools and hospitals. The government's main economic reform it took to the election -- a tax cut for small businesses -- was used by Labor as an example of Turnbull being out of touch with ordinary Australians.
"He didn't have enough specifics to campaign on and he didn't have any achievements as prime minister to point to, so he was left exposed," said Martin Drum, associate professor of politics and international relations at Notre Dame University in Perth.
4. Longest Campaign in Half a Century
The eight week campaign was long for an electorate already cynical about the main parties after years of internal feuding and leadership battles. The campaign was unusually lengthy because Turnbull had created a constitutional trigger to hold a so-called double-dissolution election, where all the seats in both houses of parliament are up for grabs.
"The lengthy campaign certainly didn't do him any favors," said Stephen Stockwell, an analyst at Brisbane's Griffith University and author of "Political Campaign Strategy." Labor leader Bill Shorten "made very good use of that extra time."
5. Underestimating Your Enemy
Turnbull could have been forgiven for underestimating Shorten. The former union leader was questioned by a royal commission probing union graft last year and his popularity with voters was low. But Shorten ran a disciplined campaign that arrested the opposition's poll slump. He also released policies that resonated with voters, including stripping away tax perks for landlords and pledging an inquiry into the probity of the financial system.
"Turnbull seemed to always think he could knock Shorten off because he was a lightweight," said Warhurst. "Shorten campaigned better than most people expected, and certainly better than the government expected."
Before it's here, it's on the Bloomberg Terminal.
LEARN MORE