China Sentences Ex-Presidential Aide to Life for Corruption
By
Ling convicted of obtaining secrets, abusing power in trial

Ex-aide to Hu Jintao among officials linked to security czar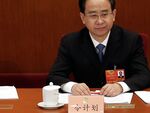 A Chinese court sentenced a former top aide to retired President Hu Jintao to life imprisonment in a closed-door trial, capping a series of prosecutions against top Communist Party officials under Xi Jinping.
Ling Jihua, 59, who once served as Hu's chief of staff, was convicted Monday of taking bribes, illegally obtaining state secrets and abusing power, the official Xinhua News Agency said, citing the verdict from Tianjin's No. 1 Intermediate People's Court. He pleaded guilty June 7 during a one-day trial that was held in secret because the charges involved state secrets, said the court, which handed down a life sentence in a similar case last year against former security czar Zhou Yongkang, a retired member of the Politburo's supreme Standing Committee.
The sentence comes almost a year after the party expelled Ling and accused him of corruption and discipline violations, including carrying on extramarital affairs. He was formally charged in May, having previously been stripped of his post as Minister of the United Front Work Department and vice chairman of the Chinese People's Political Consultative Conference. Ling said he wouldn't appeal, Xinhua reported.
Ling was among the most high-profile targets of an anti-corruption campaign that has ensnared more than 100,000 officials since Xi came to power more than three years ago. He was considered a top candidate for the ruling Politburo before his rise was cut short by claims he tried to cover up details of the March 2012 death of his son in a Ferrari crash. 
'Helpful to Hu'
Ling led the the General Office of the Communist Party's Central Committee for five years under Hu, a powerful position with access to information on everything from personnel decisions to top leaders' health and schedules. The court, however, convicted Ling of illegally obtaining secrets after his transfer in late 2012 to head the United Front Work Department, which oversees outreach to non-party members.
"It would be difficult to pin a charge of 'illegally obtaining state secrets' on him during his time as head of the General Office, as he would be seen to have had legal access generally," said Steve Tsang, a professor of contemporary Chinese studies at the University of Nottingham. "It is certainly helpful to Hu that the charge against Ling focuses on Ling's time at the United Front Work Department, not at the General Office, when Ling worked very closely with Hu."
Ling's wife, Gu Liping, served as a conduit for much of the bribe money, which totaled 77.1 million yuan ($11.6 million), the court said. In return, Ling granted favors to a number of senior party officials including Li Chuncheng, a former deputy provincial party chief from Sichuan and close ally of Zhou's. 

Also among those that the court said Ling helped was Huo Ke, a former chief for the General Office division that assists top leaders in their day-to-day affairs. The court concluded that Ling "illegally obtained a large number of state secret materials and severely breached state confidentiality system" through contacts such as Huo, who had worked under Ling for 12 years.
"The bribes Ling Jihua received were enormous," Xinhua cited the court as saying. Obtaining the secrets and abusing power was "serious and caused extremely bad social impact." The court decided to be "lenient" in its verdict in part because Ling was found to be repentant during proceedings.
Ling's youngest brother, Ling Wancheng, has been living in the U.S. In January, Chinese anti-graft authorities acknowledged for the first time they were "investigating the case and negotiating with the U.S." about the younger Ling.