China's Yangtze Basin Flooding Kills 186 With More Rain Forecast
Bloomberg News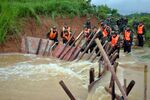 Flooding along China's Yangtze River has killed at least 186 people, destroyed crops and disrupted rail and air traffic at critical cross-country hubs, officials said, as heavy rain was forecast through the middle of the week.
The country's meteorological center has maintained a storm emergency alert at the second-highest level as 10 to 50 centimeters (4 to 20 inches) of rain was recorded in seven provinces over the past five days. Storms stretching nearly 1,000 miles were moving across central and southern China, affecting major transportation centers from Chongqing to Shanghai and from Nanning to Nanjing.
The government-run China News Service showed pictures of people wading waist-deep through flooded streets and being rescued on boats from inundated farmland. One sports stadium in Hubei province was dubbed a "bathtub" after it filled up with water.
State media reported at least 23 people killed in a landslide in southern Guizhou Province. Eight people died in Wuhan, the capital of Hubei Province, when a section of a wall collapsed.
Dozens of flights were delayed or canceled across the affected region, and critical north-south transit points for passenger and freight trains were disrupted.
The Ministry of Water Resources said the flooding had caused $7.6 billion in damages as of Sunday, affecting as many as 30 million people. It said 3 million hectares (7.4 million acres) of cropland flooded and 56,000 buildings destroyed.
Heavy rain is expected to continue through Wednesday, with new storms forecast for the following week, the meteorological center said early Monday. Meanwhile, forecasters said a typhoon approaching from the east may make landfall next week in the already drenched central coastal area.
— With assistance by Ken Wills
Before it's here, it's on the Bloomberg Terminal.
LEARN MORE