Brexit Strategies to Decide Race to Be Next U.K. Prime Minister
By
Tory candidates disagree on timing and targets for EU talks

Leadsom joins May, Crabb, Gove and Fox bidding for leadership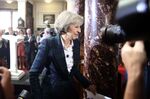 The race to succeed David Cameron as U.K. prime minister effectively became a proxy for the broader battle over how to manage withdrawal from the European Union, with Conservative Party candidates setting out their positions on what can be achieved and how fast.
Pitches from all five candidates have focused on when Britain should trigger Article 50 of the Lisbon Treaty -- the formal start of two years of negotiations with the EU -- and what level of single-market access Britain should seek, as well as how much control it will have on migration and the fate of citizens of other EU countries who are already in the U.K. They have to appeal to party lawmakers and activists, many of whom want a full and rapid departure from the EU, while avoiding too many promises they'll struggle to keep.
Home Secretary Theresa May, who supported "Remain" in the EU referendum, is the favorite to win, with bookmaker Ladbrokes Plc offering odds of 4/11, ahead of Energy Minister Andrea Leadsom in second place and Justice Secretary Michael Gove in third. Conservative lawmakers will eventually whittle the field down to two in a series of ballots starting on Tuesday. The party aims to announce a new leader by September 9.
Short Negotiations
"I intend to keep the negotiations as short as possible," Leadsom, the last to outline her leadership challenge, said in a speech on Monday. "Neither we nor our European friends need prolonged uncertainty."
Defence Secretary Liam Fox was more specific. "I would like to see us leaving the EU on January 1, 2019," he told reporters. "That means we will have to activate the Article 50 process by the end of this year."
Their Cabinet-level rivals for the post -- May, Gove and Work and Pensions Secretary Stephen Crabb -- have all urged caution, saying the U.K. needs time to establish its negotiating position and to hold preliminary talks with other European countries.
There's also significant disagreement over the EU single market, and whether retaining at least a degree of access would also mean retaining freedom of movement for EU citizens entering the U.K.
"We need to retain as much of that access as we possibly can, thus minimizing any damage to our economy from leaving the European Union," Foreign Secretary Philip Hammond, who is backing May, told the BBC. He said that effort would be damaged by blocking immigration from the EU.
'Protectionist Cartel'
That kind of compromise would be seen as "backsliding," Nigel Farage told reporters after resigning as leader of the U.K. Independence Party on Monday. He described the single market as a "big business protectionist cartel."
"I will watch the renegotiation process in Brussels like a hawk," he said, calling for negotiators to lobby German car manufacturers and French wine makers ahead of general elections in both countries next year. "We need a prime minister who recognizes that we've got the trump cards."
Leadsom, Gove and Fox, the three pro-Brexit candidates, have sought to undermine May by saying it would be better if the next prime minister supported leaving the EU. May, who last week said "Brexit means Brexit" as she launched her own bid, reluctantly backed "Remain" during the referendum, delivering only one major speech.
Setting out her differences with May, Leadsom said she's committed to "guaranteeing the rights" of EU citizens who already live and work in Britain. May said on Sunday that negotiators will need "to look at" their status, along with that of Britons living abroad, while signaling she wants to "guarantee a position."
"There is no way they will be bargaining chips in our negotiations," Leadsom said on Monday.