Brexit Delays U.K. Sale of RBS by at Least Two Years, CEO Says
By
McEwan says investment will be held back as economy slows

Bank on track to make 12% return by 2018, despite lower rates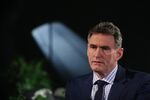 The British government's sale of its stake in Royal Bank of Scotland Group Plc has been delayed by at least two years after the U.K. voted to leave the European Union, according to Chief Executive Officer Ross McEwan.
"This will be a setback, let's be quite honest, I think at least a couple of years we'll be pushed back because of it," McEwan, 58, told LBC radio in an interview on Monday. "You are seeing a slowdown. We're predicting growth in GDP will slip this year."
A Brexit-induced economic slump is the latest headache for Chancellor of the Exchequer George Osborne, who has planned to raise about 25 billion pounds ($33 billion) disposing of the U.K.'s stake in RBS by 2020. The bank has been hampered by billions of pounds of misconduct costs, a delayed spin out of its Williams & Glyn unit and a plunging share price. The U.K. owns about 72 percent of the lender, which has made a loss every year since receiving a 45.5 billion-pound taxpayer-funded bailout amid the 2008 banking crisis.
RBS gained 1.3 percent to 172 pence at 10:13 a.m. in London trading, paring its retreat this year to 43 percent. The bank is trading at less than half the government's 407 pence a share break-even price.
'Hold Back'
McEwan said his economists estimate GDP growth falling to 1.6 percent this year from a previous estimate of 2 percent, dropping to 0.8 percent in 2017. While he doesn't predict a recession, "until we get certainty in the economy, people will hold back on investments," he said.
"We have been knocked around by interest rates lower for longer, therefore investors are saying 'your returns won't be as good,'" McEwan said. "This bank will produce a very good return as we go into 2018, we'll get ourselves up to a 12 percent-plus return on equity, even though we have got more capital."
McEwan said he "welcomed" the government's proposal to lower the corporate tax rate to 15 percent to mitigate the economic impact of Brexit, after the pound lost 11 percent of its value since the referendum and as other EU nations seek to lure business from the U.K.
"One of the key things to me is holding onto passporting," McEwan said, referring to the agreement that lets companies based in London do unrestricted business throughout the single EU market. "If we don't get passporting it's inevitable some jobs will disappear, but from our perspective it will only be tens" because the bank is focused on the U.K. and Ireland, he said.
JPMorgan Chase & Co. has said it may have to move as many as 4,000 jobs from the U.K. after Brexit, while HSBC Holdings Plc could transfer up to 1,000 investment bankers to Paris after the decision.