Australia's Election and Sovereign-Rating Implication: Primer
By
Windfall mining-boom revenue disappeared; policy didn't change

Net debt is projected to climb; lawmakers divided on taxes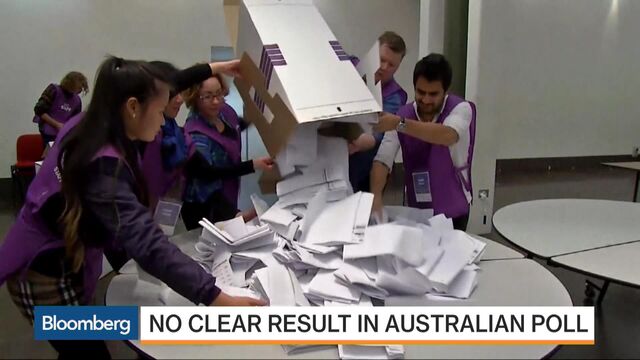 A national election result leaving Australia without a strong majority government threatens to undermine the nation's top credit rating.
The danger stems from an intractable budget gap that, to reverse, would require tax increases, spending cuts or structural reforms to boost underlying economic growth. Any of those three options would present political challenges even for an administration with a clear majority in parliament.
In the immediate aftermath of the Saturday election results, which have yet to be finalized, Moody's Investors Service said there were limited implications for now for Australia's Aaa grade, while Fitch Ratings said a wider deficit could put downward pressure on the score. S&P Global Ratings said it could lower the rating if parliamentary gridlock on the budget continues. The following explains why some economists see the rating in particular danger:
Revenue vs Spending
The underlying problem is that in the five years to 2008 -- during Australia's mining boom -- the then-coalition government used the windfall of extra revenues to cut income taxes to levels that wouldn't provide sufficient revenue during "normal" fiscal times. 

The ruling coalition parties continue to reject the idea that there's a revenue problem, despite extensive academic research pointing out otherwise, insisting instead that spending is to blame. The electorate is unwilling to give up the services that would have to be cut to fix the budget, meaning the coalition isn't in a position to return the books to the black.
Tax Impasse
The main opposition Labor party, in contrast, is prepared to raise taxes and accepts the revenue problem, but insists on spending any extra revenue on strengthening public services, rather than paring the deficit. It argues that the growth achieved will then generate the funds needed to shrink the budget gap. With an impasse over how to spend money derived from additional taxes, there tends to be parliamentary opposition to increasing them.
Persistent Deficit
Prime Minister Malcolm Turnbull's government in May forecast Australia's budget deficit at A$37.1 billion ($27.8 billion) in the 12 months through June 2017, wider than predicted six months earlier. This deterioration from earlier forecasts has been a constant fiscal feature in Australia since deficit spending began in 2008-09 to combat the global financial crisis and keep the economy out of recession. 
Polarized Electorate
The pre-election government predicted a return to surplus by 2021, yet that forecast appears fanciful in an environment of electoral polarization that was demonstrated in Saturday's election. The movement to minor parties was strong and the incumbent government's best outcome is a slender majority, with neither major party able to build support in the community for deficit reduction.
Rising Debt
Net debt, meanwhile, is predicted to climb to a record 18.9 percent of gross domestic product in the fiscal year through June 2017, and rise again to 19.2 percent in the ensuing 12 months, according to Turnbull's administration. While that compares favorably with the International Monetary Fund's 69.3 percent forecast for Europe this year, the trajectory of Australia's debt is worse.
Reaction So Far

Moody's said "the electoral outcome would affect the sovereign credit profile only if it changed broad policy priorities and the effectiveness of their implication."
Fitch said it "views Australia's overall credit profile as still consistent with a AAA rating, but political gridlock that leads to a sustained widening of the deficit would put downward pressure on the rating, particularly if the economic environment deteriorates."
S&P Global Ratings said: "Irrespective of the political composition of any new government, we could lower the rating if parliamentary gridlock on the budget continues and Australia's budgetary performance does not improve broadly as we expected a year ago."
"The election outcome bodes poorly for the nation, growth and prosperity and it likely increases the risk of a risk of a persistent and deteriorating structural budget deficit, further weakening Australia's AAA stable sovereign rating," said Su-Lin Ong, head of Australian economic and fixed-income strategy at Royal Bank of Canada in Sydney and a former Treasury official. "Instability and uncertainty are set to characterize this term of government."