Asia Dollar Bond Sales See Worst Start Since '08 Amid Maturities
by
Offerings declined 24 percent to $77 billion in first half

BlackRock expects 2016 dollar bond sales to be lower than '15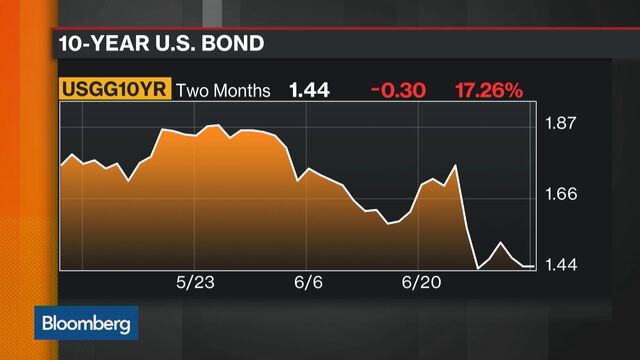 Asian dollar-denominated bond issuance outside of Japan is faltering just as companies face record debt repayments.
Sales in the first half slumped 24 percent from the year-earlier period to $77 billion, the first decline from January to June since 2008's global financial crisis. Offerings by Chinese companies, the region's biggest dollar debt sellers, slid 21 percent as a weakening yuan and lower onshore yields kept the nation's issuers from borrowing offshore. Goldman Sachs Group Inc., BlackRock Inc. and Pacific Investment Management Co. expect lower dollar bond sales in the second half.
In the Asian high-yield market, there may be some Indonesian or Malaysian issuance while Chinese property firms will be "largely absent" in the second half, said Julian Trott, the head of debt syndicate for Asia-Pacific ex-Japan at Goldman in Hong Kong. "For the most part it will be minimal in comparison to the impending maturities coming due, which will be a problem for portfolio managers."
The shock depreciation of the yuan in August and another batch of exchange-rate swings at the start of 2016 sent many Chinese firms back home for funding, with China's domestic note sales jumping 24 percent this year. Companies in the region excluding Japan face $25.4 billion of dollar bond maturities by the year end, led by South Korea with about 32 percent, China 22 percent, India 16 percent, Hong Kong 12 percent and Southeast Asia 18 percent.

BlackRock expects 2016 gross dollar bond issuance in Asia to be lower than last year and "well under" the peak issuance in 2014, said Neeraj Seth, the head of Asian credit at the world's biggest bond manager. BlackRock is keeping risk levels low given macro risks and expected market volatility, he said.
Pimco forecasts Brexit concerns will probably slow the pipeline down over the summer, according to Luke Spajic, the Singapore-based head of portfolio management for emerging Asia at the asset manager.
Default worries in China's domestic market have caused flight to quality, making it harder for lower-rated companies to refinance their debt. Seventeen publicly-traded bonds in China have defaulted so far this year, compared with six in 2015, data compiled by Bloomberg show.
China Fishery Group Ltd. sought U.S. bankruptcy protection four months after defaulting on $300 million of bonds amid investigations by market regulators in Singapore and Hong Kong. China Shanshui Cement Group Ltd. has also been struggling to repay its debts after a refinancing was hurt by a takeover tussle.
For a story about Chinese financing vehicles selling dollar bonds, click here.
The yuan recorded the worst quarterly performance on record against the greenback in the three months ended June 30. China's currency slumped 2.9 percent, the most since the nation unified the official and market rates at the start of 1994, to trade near its lowest level in five years. The yuan has weakened another 0.3 percent this month.
Total debt for listed Asian firms excluding Japan has been on the rise, albeit at a slowing pace. Aggregate obligations rose 4.4 percent to $440.5 billion based on latest filings.
The companies faced an unprecedented $60.3 billion of dollar bonds maturing this year and are due to repay $103.6 billion next year. Average yields for U.S. currency Asian corporate notes dropped 98 basis points this year to a record low of 3.5 percent, according to Bank of America Merrill Lynch indexes. 
"Yield is going to be a huge issue for investors, particularly given how government yields have lurched lower," said Trott at Goldman Sachs. "But I don't think investors will go down the rating scale in search of yield."
Before it's here, it's on the Bloomberg Terminal.
LEARN MORE