RBA Seen in Wait-and-Watch Mode as Vote, Brexit Unrest Play Out
by
Economists see no rate cut Tuesday, but forecast August easing

Business confidence may deteriorate on global turmoil: NAB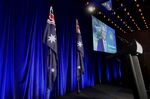 Australia's failure to make a decisive political choice coupled with ongoing Brexit fallout point to the central bank waiting a month to assess the implications before resuming interest-rate cuts.
Reserve Bank of Australia Governor Glenn Stevens is expected to stand pat Tuesday, but traders see a better-than-even chance of an easing in August following the next inflation reading. Saturday's election failed to produce a clear winner, and whilst Prime Minister Malcolm Turnbull has said he's confident of getting a majority of seats when vote counting resumes Tuesday, he may be unable to form government without the help of independent lawmakers.
The RBA has been content to keep the cash rate at a record-low 1.75 percent as it sought to remain above the election fray and observe how Britain's EU vote played out. Should Turnbull retain office, he faces wage growth and inflation at record lows and a budget deep in deficit, even as economic growth and unemployment remain solid. He'll also confront a Senate where the balance of power is likely to be held by minor parties that will make it difficult to pass contentious reforms and spending cuts.
"There is a significant probability that Australia experiences another three years of fiscal policy paralysis," said Annette Beacher, head of Asia-Pacific research at TD Securities in Singapore. "Hence the RBA remains the only public authority with tools to manage the business cycle, whatever the prolonged fallout of the Brexit vote brings, and work with whatever government is allowed to govern."

Policy makers cut the cash rate by a quarter point at their May meeting, days after the release of first quarter data showing the weakest core inflation on record. The RBA held last month and gave no policy guidance -- probably because the country was half way through its eight-week election campaign and it wanted to remain neutral.
Internationally, while Britain is no longer one of Australia's major trading partners, it is a key foreign investor and the fallout from quitting the EU could spread from financial markets to sentiment Down Under.
"There is a possibility that business confidence will deteriorate on the back of global uncertainty," said Alan Oster, National Australia Bank Ltd.'s chief economist and a former OECD official. The RBA will want "to see how the dust settles," he said.
It's Complicated
The odds of a July cut spiked to 40 percent on June 24 when the results of the U.K. vote came through, and have since dropped to about 12 percent, according to swaps data compiled by Bloomberg. The probability of a reduction by August climbed to 60 percent in the wake of the Brexit vote and remains at about that level.
All 27 economists surveyed predict the RBA will leave borrowing costs unchanged Tuesday. The only one seeing no change at the August meeting is NAB's Oster, who expects the rate to remain at 1.75 percent until at least the third quarter of 2017.
Australia's solid 3.1 percent annual growth in the first quarter was supported by low rates and a currency that's fallen about 20 percent over three years. Slowing mining investment had been largely offset by the strength of resource exports, while industries like tourism and education have been expanding and hiring as they become more competitive. Indeed, services exports have gone from curbing growth to contributing to it.
Stevens has warned that an appreciation of the exchange rate "could complicate" the economy's adjustment away from mining industries, and noted that services are among the most sensitive to currency movements.
Aussie Whiplash
The Aussie has been volatile this year: the currency fell below 69 U.S. cents in January, before rebounding as high as 78 cents in April and then retreating again. It closed at just under 75 cents on Friday and fell to 74.65 cents at 9:07 a.m. in Sydney as economists said the risk of a cut to the country's AAA sovereign rating had increased following the unclear election result.
The country had already been caught in the cross-current of divergent global policies as Europe and Japan run negative rates and bond buying programs and the U.S. tries to tighten. 
Add to that now the risks from Brexit. The shock vote sent a wave of volatility through global markets and will be front of mind for the RBA, according to Australia & New Zealand Banking Group Ltd.
"We expect the bank to indicate that it is watching the evolution of the data and markets closely to assess both the outlook and the case for further easing," said Felicity Emmett, a senior economist at ANZ. "By August, however, we think that the combination of the uncertainty generated by the Brexit vote and another low inflation print in late July will be enough to see the RBA cut the cash rate to a fresh low of 1.5 percent."
Before it's here, it's on the Bloomberg Terminal.
LEARN MORE