Populist Rebuff Sparks Turmoil Amid Deadlocked Aussie Vote
by
Turnbull confident of majority as election results in limbo

Primary vote at lowest level for major parties since 1940s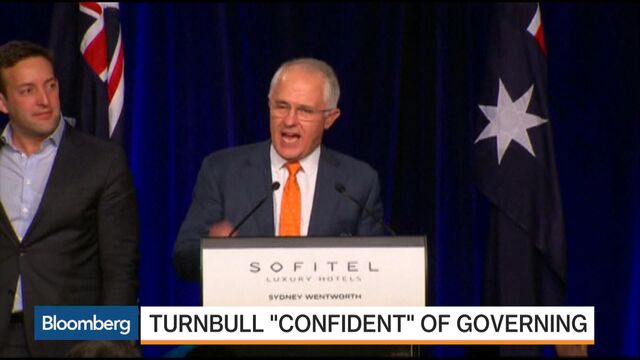 A backlash against mainstream politics has left Australia without a conclusive election result and raises the prospect that Prime Minister Malcolm Turnbull will be forced to work with a handful of disparate independent lawmakers in order to stay in power.
Ballot counting doesn't resume until Tuesday, and for now neither Turnbull's Liberal-National coalition nor the opposition Labor Party can form government. In a nation where voters are tired of years of political discord in the major parties and leaning toward populist, potentially-disruptive fringe groups, the risk is Australia enters a period of drift when the commodities-driven economy can least afford it.
Former banker Turnbull needs 76 lower-house seats to form a majority government. His coalition leads in 66 seats, against Bill Shorten-led Labor's 72, according to the Australian Electoral Commission. Postal votes may decide as many as 12 unclear seats.
While the populist winds of Western Europe and the U.S. have been felt less in Australia, the two main parties garnered their lowest primary vote since 1943, a rebuff of policies that have seen them bunched in the center on economic and social issues. Lacking a strong mandate, whoever leads Australia could be hamstrung in efforts to revitalize the world's 12th-largest economy, and forced to negotiate with individual Senators in the upper house.
"We've been in a holding pattern since September with Turnbull hoping to consolidate and strengthen his position and then implement proper economic reforms," said Shane Oliver, head of investment strategy at Sydney-based AMP Capital Investors Ltd., which oversees about $120 billion. "The prospect of that now seems very bleak. Businesses and share markets don't like policy uncertainty and this election has delivered that in spades."
For a Bloomberg Gadfly column on why investors need not fear the result, click here.
The Australian dollar traded at 74.75 U.S. cents as of 10:52 a.m. in Sydney on Monday, down from 74.98 cents on Friday. Australian bond prices fell even after the U.S. market rallied on Friday, pushing the yield on the benchmark 10-year note up 2 basis points to 1.98 percent. The benchmark equity index slipped 0.1 percent.
Still, the election uncertainty may not mean a lot, according to Jonathan Barratt, chief investment officer at Ayers Alliance Securities in Sydney, "Think of how many prime ministers we've had over so much time," he said by phone. "We're used to this instability."
The central bank, which has cut rates to a record low and meets again on Tuesday, is seeking to shield a local economy already struggling with a decline in capital spending and disinflationary pressures, while the mounting deficit is putting the nation's AAA credit rating under pressure.
Australia, the world's most China-dependent developed economy, is seeking growth drivers after prices for its iron ore and coal exports plunged, cutting government revenue. While annual growth has accelerated toward its 30-year average of 3.2 percent and unemployment has fallen to 5.7 percent, Australians don't feel richer.

"This election result is the worst possible outcome for Australia," John Brogden, managing director of the Australian Institute of Company Directors, said on Sunday in a statement. "We need certainty and an environment for long-term policy making."
The government expected a swing against it as punishment for policy inertia and internal squabbling, after Turnbull, 61, seized power in a September party-room vote, and opinion polls had pointed to a tight outcome. But the magnitude of the voter rebellion surprised pundits and lawmakers alike. Australia has already churned through six leaders in eight years, amid infighting and leadership coups in both major parties.

Turnbull enjoyed a brief honeymoon after disposing of the unpopular Tony Abbott, claiming Australians wanted economic leadership "that respects the people's intelligence." That goodwill faded amid policy dithering as planned tax reforms were mooted and then shelved and he failed to act on policies like same-sex marriage, hamstrung by social conservatives within the coalition.
Turnbull campaigned on a promise of stability in the wake of the market turmoil sparked by the U.K. vote to leave the European Union. But he struggled to convince Australians his coalition could move beyond the years of internal discord that have wracked both sides of politics. That discontent diverted votes to smaller parties.
Senate Seats
A new party formed by South Australian Senator Nick Xenophon looks set to get several seats, and anti-Muslim immigration campaigner Pauline Hanson may snare a Senate spot. The Australian Broadcasting Corp. predicted five lower house seats would go to independents.
Since 2013 a group of independents and micro-parties have held the balance of power in the Senate, blocking A$13 billion ($9.7 billion) of budget savings and complicating government efforts to rein in a deficit forecast to reach A$37.1 billion next year.
"Turnbull may struggle to form a government with any sense of stability," said Stephen Stockwell, an analyst at Griffith University and author of "Political Campaign Strategy." "The effective campaigns of the minor parties undercut the Liberals' campaign for economic and constitutional stability. In a lot of ways, it's Brexit all over again."
Turnbull Confident
Turnbull told reporters on Sunday he's confident the coalition will form a majority government this week. "Australians have an appetite for a step up in political culture, they expect us to have a workable and effective parliament so we can get done what needs to be done."
Still, Turnbull's leadership is tarnished, Shorten said. "What I'm very sure of is that while we don't know who the winner was, there is clearly one loser: Malcolm Turnbull's agenda for Australia," Shorten, 49, told reporters on Sunday.
While Shorten led a disciplined campaign, Labor's share of the primary vote has fallen to the lowest level since the 1930s in the past two elections. The union-backed party flipped through a series of leaders during tumultuous years in power between 2007 and 2013.
"Both major parties are on the nose, there's no doubt about it," said John Hewson, who led the Liberals in the early 1990s. Turnbull missed the chance to call an election earlier and capitalize on his initial popularity, he said. "He's drifted down, he's disappointed people, he's now got to deliver."
Before it's here, it's on the Bloomberg Terminal.
LEARN MORE