New Rio CEO Skirts M&A to Focus on Own Mines and Beat Slump
by
Ex copper chief Jacques replaced former CEO Sam Walsh July 2

Second-biggest miner is expanding in copper, iron ore, bauxite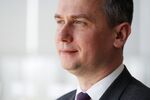 The new Rio Tinto Group chief's approach to navigating the downturn in the mining industry is simple: Keep calm and carry on.
That's the mantra 44-year-old Jean-Sebastien Jacques plans to adopt after just taking over as chief executive officer of the world's second-biggest mining company. Not undertaking a more aggressive approach to mergers and acquisitions will surprise those who predicted his appointment would signal more deals as a commodities rout forces distressed rivals to sell assets.
"M&A is not on the top of the agenda today," Jacques said in an interview at the company's London headquarters on Wednesday ahead of taking the helm on July 2. "We have been very clear with the shareholders and the market that unless we see a way which creates value for our shareholders, so the right price, we will not do it."
Jacques, who was Rio's top copper executive, has taken the CEO role at a time the industry is battling a slowdown in China that sent commodity prices tumbling and left the world awash with supply. With M&A not the focus, Rio's growth plans will center on developing existing projects and cutting costs.
Walsh's Era
The Frenchman's predecessor, Sam Walsh, led the 140-year-old company by reducing spending and stripping out more than $6 billion of costs. He pursued a conservative M&A strategy in the hope the raw-materials rout would make some of the more prized, higher quality assets available at knock-down prices.
That didn't really happen, and Rio has largely waited on the sidelines following a pair of disastrous acquisitions -- a $38 billion takeover of Alcan Inc. in 2007 and a A$3.9 billion ($2.9 billion) coal mine purchase in 2011. The Alcan deal led to billions of dollars of writedowns and loaded the company with debt while the coal asset was later sold at just a fraction of the original price.
Jacques, who last month announced a reshuffle that saw the head of iron ore depart, said recent copper-mine deals had been attractive for sellers, evidence that top assets still can't be bought for relatively cheap prices. Rio would be interested in all commodities other than oil and gas, he said.
Right Price?
"Our priority is quality of assets, it's not about a commodity play," he said. "We know which assets we would love to have in our portfolio. Are they available for sale today? Maybe. Maybe not. Can you buy them at the right price? That's the real question."
Recent history offers two high-profile examples of new CEOs making major decisions quickly. In 2007, BHP Billiton Ltd.'s Marius Kloppers launched an ultimately unsuccessful all-share bid for Rio just months into the job. Earlier that year, Tom Albanese, who had recently become Rio's CEO, oversaw the calamitous Alcan deal.
Rio will focus on existing projects like a $6 billion expansion of its giant Oyu Tolgoi copper mine in Mongolia and building the $1.9 billion Amrun bauxite project in Australia. The second-largest iron ore exporter will soon decide on a new mine in Australia's Pilbara region, which would cost about $500 million.
'Need to Grow'
"Mines are being depleted, we need to grow," he said. "Otherwise you don't have a business very, very fast. We will grow at the right pace."
Profits have been eroded by a more than 40 percent slump in commodity prices in the three years that Walsh was CEO, forcing competitors like Anglo American Plc and Glencore Plc to sell assets to cut debt. In February, Rio reported a 51 percent drop in full-year profit, spurring it to scrap a progressive dividend policy and pledge future payouts at 40 to 60 percent of underlying earnings.

Rio shares gained 1.4 percent by 9:09 a.m. in London. They're up 20 percent in 2016, after sliding 44 percent in the previous three years. The stock has outperformed BHP Billiton and Anglo American since 2011, the year commodity prices began a five-year slump.
Jacques's recent management overhaul sparked Sanford C. Bernstein analyst Paul Gait to speculate that Rio was preparing to spin out a suite of less desirable assets, similar to the South32 Ltd. transaction completed top miner BHP Billiton last year. Jacques rejected that notion, saying: "It's not a South32."
Biggest Challenge
For Jacques, who joined in 2011 after four years as head of strategy for India's Tata Steel Ltd., the biggest challenge remains uncertainty over economic growth and government policy in China, the largest metals user.
"I don't have any doubt in my mind that the political authorities in China have a clear plan to restructure the coal, the iron ore, the steel-making and so on and so forth," he said. "However, there is clearly some uncertainty about the timing, how quickly and how effective they can be and that creates a massive source of uncertainty in the system."
Overcapacity in iron ore means Rio doesn't currently see a way forward for its $20 billion Simandou iron ore project in Guinea, the world's largest untapped deposit, Jacques was quoted Monday as telling The Times newspaper in a separate interview. Guinea's government last year complained over a lack of progress on developing the site.
Before it's here, it's on the Bloomberg Terminal.
LEARN MORE