French Claim Euro-Clearing Business as Brexit Spoils Sought
by and
Paris best venue for the business, Macron says in interview

Germany's Schaeuble seeks 'pragmatism' as EU reacts to Brexit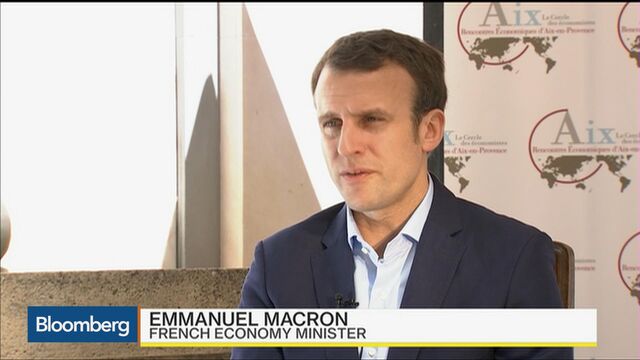 French executives and politicians are circling the U.K. for spoils after last month's shock referendum result as leaders in the rest of Europe urge caution, saying the vote to leave the bloc should be viewed as a "wake-up call" for the region. 
French Economy Minister Emmanuel Macron, speaking Sunday in an interview, said he wants to take the euro-clearing business from the U.K. and move it to Paris. Michelin & Cie. Chief Executive Officer Jean-Dominique Senard and Veolia CEO Antoine Frerot, two of the many executives at a weekend conference in Aix-en-Provence, France, said they saw opportunity in the U.K.'s decision.
While the ultimate implications of the U.K. vote to quit the European Union will take months, or years, to be understood, business leaders are positioning themselves to profit. It may herald growth for euro zone-based market places and players, stock exchange operator Euronext NV Chief Executive Officer Stephane Boujnah said Saturday.
"The British decision makes Europe more relevant, the euro zone more relevant, Euronext more relevant," Boujnah said in an interview at the conference.
Derivatives Market
One of the biggest potential prizes is the $493 trillion derivatives market, where Macron faces an uphill battle -- other euro-area cities from Frankfurt to Dublin are also in the race.
"On clearing, we will have a full discussion on a series of issues," the 38-year-old French minister said in the interview. "We have many more players now in Paris than in Frankfurt, and a much deeper market place."
The vote also must be seen as a call for change, Germany's Finance Minister Wolfgang Schaeuble said. Speaking to Welt am Sonntag newspaper, he expressed frustration that Brussels took too long to respond to the refugee crisis last year and dissatisfaction that rules weren't respected, including by the European Commission in its response to the sovereign-debt crisis.
Schaeuble said he wants national governments to set the pace for future cooperation within the EU, even if that means bypassing the the European Commission, the executive arm of the bloc.
'Pragmatism' Time
"Now is the time for pragmatism," Schaeuble said. "If not all 27 want to pull together from the beginning, then we'll just start with a few. If the Commission isn't along, then we'll take matters into our own hands and solve problems between governments."
The need for reform was a view shared by Italian Prime Minister Matteo Renzi.
"Britons have made a choice that risks breaking up the United Kingdom and that is devastating for them," Renzi said in an interview Sunday on SkyTG24 television. "I hope that the British referendum, with its load of negative consequences for the U.K., can help Europe give itself a wake-up call."
It's an "extraordinary" chance for Europe to redefine itself and develop, said Airbus Helicopters SAS Chief Executive Guillaume Faury, who attended the Rencontres Economiques conference in Aix-en-Provence.
"One should never waste a good crisis," Faury said.
Watch Next: Will Brexit Unite or Divide Europe?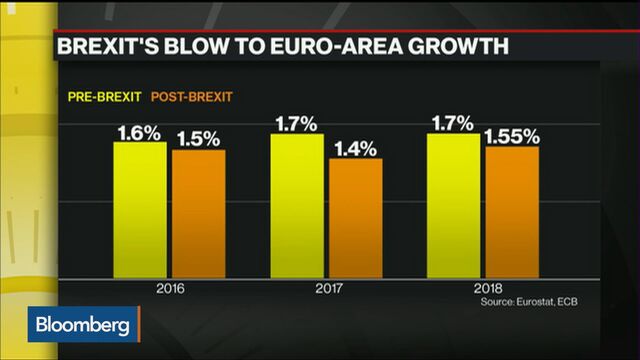 Before it's here, it's on the Bloomberg Terminal.
LEARN MORE