Kuwait's $9.9 Billion Plan Adds to Gulf Bond Sale Frenzy
by
Kuwait also plans to raise up to 2 billion dinars locally

Kuwait looking to plug budget deficit of 9.5 billion dinars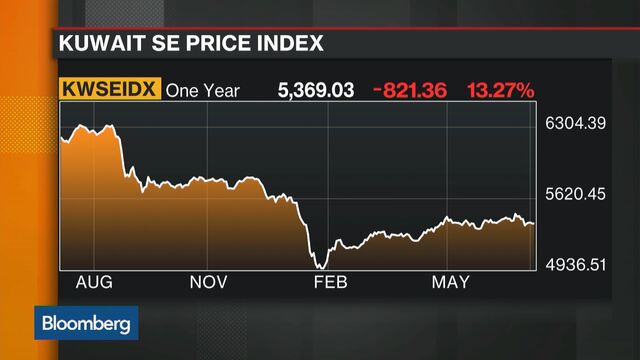 Kuwait plans to raise as much as $9.9 billion from international debt markets to help plug its budget deficit as lower oil prices squeeze public finances.
The OPEC member also plans to borrow as much as 2 billion dinars ($6.6 billion) from the domestic market, Finance Minister Anas Al-Saleh said in speech on Sunday. The budget deficit is expected to widen to 9.5 billion dinars in the 2016-2017 fiscal year, which began April 1, he said.
The plunge in oil prices has prompted a flurry of international bond sales from the six-nation Gulf Cooperation Council to finance widening deficits that the International Monetary Fund says could reach $900 billion by 2021. Qatar raised a record $9 billion in May, following a $5 billion sale by Abu Dhabi. Saudi Arabia, the biggest Arab economy, has hired JPMorgan Chase & Co., HSBC Holdings Plc and Citigroup Inc. to raise at least $10 billion, according to people familiar with the matter.
"Most of the available scenarios suggest that oil prices will remain, for the foreseeable future, lower than the levels required to attain a balanced budget,'' Al-Saleh said. Britain's decision to leave the European Union "has further exacerbated markets' volatility and uncertainty around the growth of the global economy. This may result in the accumulation of fiscal deficits," he said.
Kuwait is rated AA at S&P Global Ratings and Aa2 at Moody's Investors Service, the third-highest investment grade.
"Kuwait has one of the highest credit ratings in the world and I expect its bond to be well received, albeit at a price,'' Anita Yadav, head of fixed-income research at Emirates NBD PJSC, Dubai's biggest bank, said by phone. "Kuwaiti officials may opt to avoid the summer months in order to tap into the European investor base, and therefore will likely come to the market either in late July or early September."
Debt Strategy
Kuwait estimates expenditure for the 2016-17 fiscal year at 18.9 billion dinars, the minister said, while revenue is expected to be at 10.4 billion dinars during the same period. Non-oil revenue will make up 1.6 billion dinars of the total, he said.
Kuwait posted a 5.5 billion dinar deficit for the 2015-2016 fiscal year, Al-Saleh said, below the government's earlier estimate of 8.2 billion. The government hired consulting firm Oliver Wyman & Co. to advise on a debt strategy, the minister said in an interview in May.
Britain's vote may cause "some delays in GCC international issuances," Carla Slim, an economist for Standard Chartered Plc in Dubai, said in an e-mail. "We still see appetite for GCC bonds in general.''
Before it's here, it's on the Bloomberg Terminal.
LEARN MORE