business
Brexit Vote a Wake-Up Call for Asean, Indonesia's Lembong Says
By , , and
Conditions for economic integration will become more difficult

Asean leaders cannot afford to ignore sentiment on the ground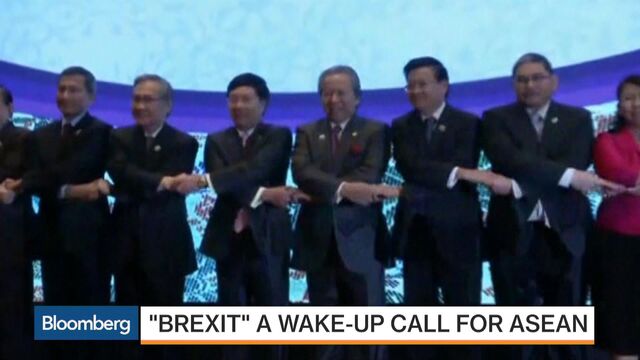 The U.K. vote to leave the EU should be a wake up call for the Association of Southeast Asian Nations to make trade agreements more in touch with the needs of working people and not projects of the elites, said Indonesia's Trade Minister Thomas Lembong.
Having already lifted tariff barriers, with non-tariff barriers inside the 10-nation bloc set to be removed by 2025, Lembong, a former investment banker, urged regional leaders to spend more time and energy with the public. "I worry that within Asean, there is a similar danger that Asean becomes a project of the elites, and we don't spend enough time, money and effort socializing it to the people," Lembong said in a text message.
"Philosophically, Brexit should be a wake-up call to us trade ministers to make economic community agreements, trade agreements and regulations more explicitly pro-people, and rely less on so-called 'trickle-down' to eventually take care of the working classes and the vulnerable," Lembong said.
Often criticized for being too slow to integrate, consistently missing deadlines and dithering on removing costly logistics barriers, Asean has long suffered in comparison to the EU. Yet the adoption of a less stringent timetable for integration, and avoiding decisions on thorny issues such as allowing the free movement of people, could actually help maintain Asean unity.
No Rush
Asean's Director of Community Affairs Lee Yoong Yoong said that with the broader impact of Brexit still an unknown, the British vote reinforced the fact that Asean should keep the speed of integration moving at its own pace. "We do our integration at our own pace, at our own speed. We do not worry what the West or the Europeans tell us to do," Lee said in an interview.
"One of the lessons drawn from Brexit, not just from an Asean angle, is that you can't ignore the sentiment on the ground," Lee said. "This is why Asean has always focused on how with this approach, this exercise, we can benefit the people. We want to form a community first, we want to make sure that everybody is progressing at the same time."
For a quick roundup of the latest news on Brexit, click here.
With Asean representing 630 million people living in an economy with a GDP of $2.5 trillion, and annual trade rising 10 percent last year to $2.28 trillion, including trade valued at $228 billion with the EU, Lee said Brexit would affect future free trade negotiations between Asean and the EU.
"We have to negotiate some of the FTA with the U.K. by themselves, because they are no longer part of the EU," Lee said. "Asean has expressed the intention to resume talks for Asean-EU FTA before Brexit. With Brexit happening, we want to see what would happen in Europe first before our policy makers can adopt the next step."
Significant Risk
Yet there is still the significant risk of a negative Brexit impact for Asean said Bilahari Kausikan, a Singaporean ambassador-at-large, who says that integration is always easier in good times than bad.
"In so far as Brexit makes the world economic environment more uncertain and difficult, it will indirectly impact on Asean's integration efforts by making the political conditions for integration more difficult," said Bilahari.
Adding that Asean always strove to have good relations with the EU and wished it well, Bilahari said he saw the EU more as a "source of negative examples" than a model. "Only the EU deluded itself that it was a model. We have always thought that the EU model was unrealistic, indeed utopian," he added.
Integration Hurdles
China's expansion into the South China Sea has also emerged as a major hurdle to further Asean integration.
"This surprise outcome (in the British referendum) is such an eye-opening development for all of us in Asean that we cannot assume regional cooperation will continue to progress in a positive linear upward trend," Termsak Chalermpalanupap, a researcher at the National University of Singapore's Centre for International Law who recently retired after 20 years of service at the Asean secretariat, said in an e-mail.
Established in 1967, the Asean secretariat in Jakarta is today staffed by only 300 people, compared to the nearly 33,000 employees working for the European Commission in Brussels.
"Over the years the EU has deteriorated from an idealistic grand European design for peace and prosperity into a more or less intractable, unaccountable bureaucratic mess with internal dictatorial tendency," said Ei Sun Oh, a senior analyst with Singapore's Institute of Defence & Strategic Studies.
— With assistance by Chris Blake, Tony Jordan, and Nguyen Dieu Tu Uyen
Before it's here, it's on the Bloomberg Terminal.
LEARN MORE