Bitauto Burns Through Cash as Bears Bet Big Against Turnaround
By
Short interest in 'Craiglist of China' touches all-time high

Backers include Chinese tech companies Baidu, Tencent, JD.com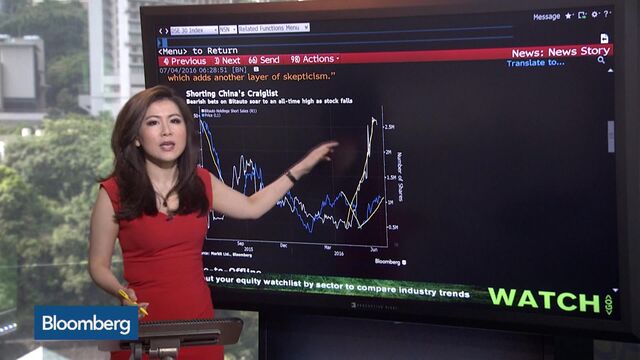 Bitauto Holdings Ltd., the Chinese car-listing website whose rally two years ago lured hedge funds including Tiger Management LLC, is attracting a different kind of investor these days: bears.
Bets that the U.S.-traded stock will decline climbed to a record high last week, according to short interest data compiled by Bloomberg and Markit Ltd. No matter that the shares have already lost about half their market value in the past year as China's economic slowdown crimps the Beijing-based company's sales.
Bitauto's free cash flow turned negative in 2015 as it boosted spending to better compete with its main rival, Autohome Inc. Revenue growth is projected to drop to 35 percent in 2016 from 63 percent last year, according to the average estimate of 10 analysts surveyed by Bloomberg. At the same time, China's economy, which expanded at the weakest pace in 25 years in 2015, is projected to slow even further this year, damping the broader outlook for consumer spending.
"People are not too excited about what Bitauto has been able to achieve," Brad Gastwirth, the chief executive officer of ABR Investment Strategy, who has been covering Chinese stocks for about 10 years and likes travel companies including Ctrip.com International Ltd, said by phone from Florida. "Concern is growing that the rate of economic growth is slower than we think, which adds another layer of skepticism."

Online-to-Offline
Sometimes called the "Craigslist of China" for its similarity to the U.S.-based listings site, Bitauto got its start as a platform to connect auto buyers and sellers. Purchasers use it to find information on promotions, read reviews and leave feedback. Dealers can list their advertisement and create online showrooms after paying a subscription fee.
Lately, Bitauto has focused on expanding its "online to offline" services. Toward that end, managers said in the first-quarter earnings conference call that they had increased the total number of employees by 65 percent in 12 months to 5,692, which was primarily in customer support service teams "as the company expands its offline service infrastructure to enhance the automobile buying experience."
Tiger Global, which in September 2014 held a 14.9 percent stake in Beijing-based Bitauto reduced its holding to zero within a year. The stock rallied 120 percent that year, following a 338 percent surge in 2013. Bitauto's press service did not respond to phone calls and an e-mail seeking a comment on the increase in short interest.
'Strategic Investment'
Bitauto does have its supporters. Baidu Inc., Tencent Holdings Ltd. and JD.com Inc., some of China's largest technology companies, have each pledged to invest $50 million. Together, they'll own almost 34 percent, according to a statement last month.
"To some extent, this is a seal of approval," Derek Yan, a research analyst at KraneShares, which oversees four China-focused exchange-traded funds, said by phone from New York. "When you have some really big firms supporting the company, investors view this as a sign that a period of an online to offline transition will be successful."
On a scale from 1 to 5, Bitauto has a consensus recommendation of 4.1, above the 3.8 average of 10 similar companies worldwide. The shares sell for 17 times projected earnings, the third-cheapest among global peers.
China Slowdown
China's GDP will probably grow 6.5 percent in 2016, according to the average estimate of 51 economists surveyed by Bloomberg. This compares with a 8.3 percent average rate of growth from 2010 to 2015.
For Bitauto, which together with its rival Autohome Inc. dominate China's online auto sales industry, this could mean a blow to the rate of sales growth. The stock has lost about two thirds of its market value since peaking at $96.14 a share in August 2014. Bitauto rose 1.2 percent to $27.27 on Friday.
The stock's slide widened even after Bitauto was named among 14 U.S.-traded Chinese stocks that MSCI Inc. added to is benchmark indexes, opening up a broader pool of investors to buy stakes.
"The automobile category has a high exposure to the economy, and a slowdown in the rate of expansion adds to a negative sentiment," Henry Guo, a a New York-based analyst at M Science, said by phone. "Investors may see a long-term potential in the company, but they don't have high hopes in the short term."