Berenberg Gets $500 Million Private Equity Boost for Ship Loans
by
Hamburg bank goes against tide as peers shrink ship loan books

Further retreat of vessel prices unlikely, shipping head says
Germany's oldest bank has reeled in about $500 million in private equity funding to invest in ship loans as the asset class abandoned by many of its peers regains some luster.
Joh. Berenberg Gossler & Co. KG, based in Hamburg, signed a memorandum of understanding at the end of June with an international investment firm, which declined to be identified, to jointly grant loans to about 400 Berenberg shipping clients. The partners are seeking to fill funding gaps left by Germany's biggest ship financiers, who have turned their backs on new loans as they unwind legacy assets that went sour after the financial crisis, Philipp Wuenschmann, Berenberg's head of shipping, said in an interview.
Prices to charter vessels and transport containers and commodities plunged in the years following the financial crisis as global trade slowed and new ships, many of which had been ordered before the crash, continued to enter a market already suffering from excess capacity, depressing asset prices. With prices now trading close to scrap levels, default risks have shrunk, making loans a safer bet for investors hungry for yield.
Berenberg is targeting "dollar-based funds" and institutional investors, which "are much more familiar with the sector than their European counterparts" and many of whom don't want to employ their own shipping teams, said Wuenschmann, a former Commerzbank AG shipping banker who joined Berenberg a year ago to lead a team of 20. "That's why they need our expertise."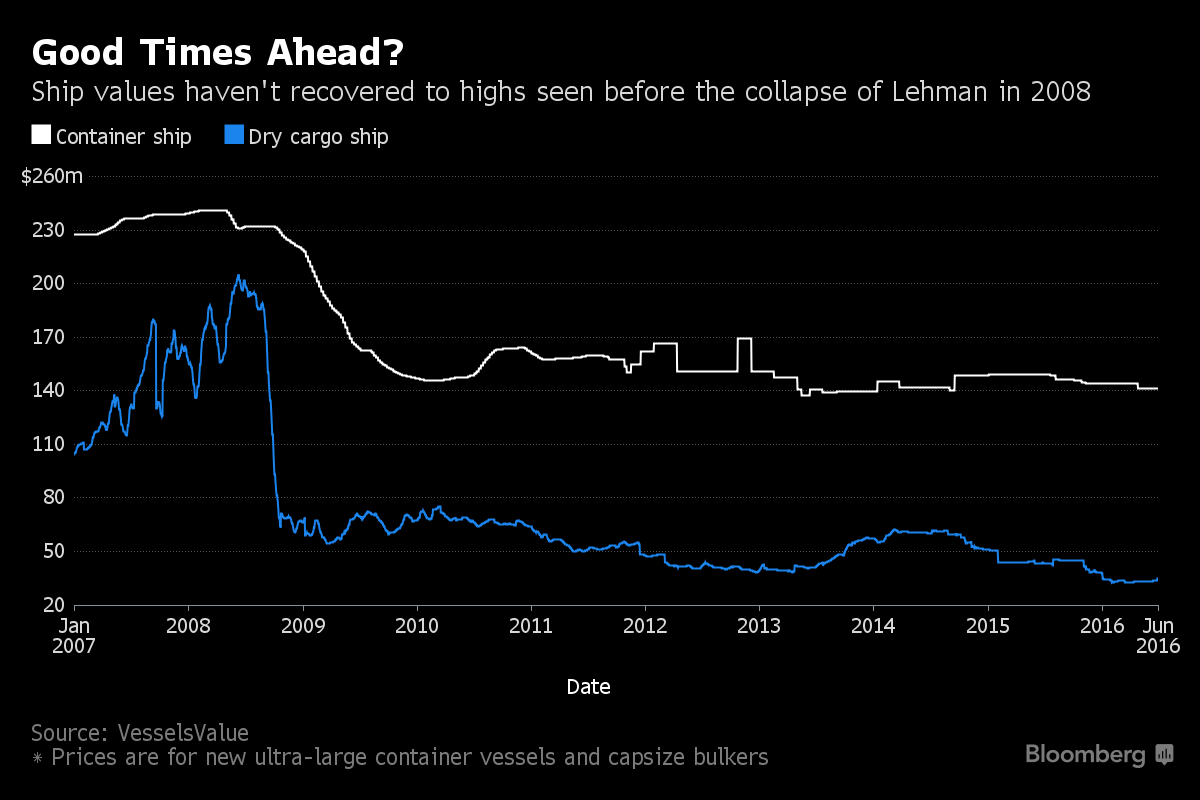 The partners plan to offer so-called unitranche loans that combine senior loan and subordinate debt components in one instrument. That increases the loan-to-value ratio, a key risk factor, to 70 percent compared with about 40 percent on single loans.
The private equity firm is taking a different approach to investment companies in the past, including WL Ross & Co., Oaktree Capital Group LLC and Blackstone Group LP, who sought value in shipping vessels -- not loans -- in the aftermath of the financial crisis, funding new ships and buying second-hand models at low prices. Their intention to ride a global recovery has so far failed to materialize amid a sustained slump in the container and dry cargo markets and the capital influx has only aggravated the excess capacity that's crippling the industry, said Wuenschmann.
"Many private equity firms have burned their fingers in recent years," he said. Investments too often took place "without substantial analysis, solely on the basis that there is a rock-bottom market with a commodity and a China story," said Wuenschmann. "It's time to position shipping in a different way" through more conservative loan investments, he said.
Annual Yields
Berenberg is targeting annual yields of as much as 10 percent compared with as much as 5 percent for credit with lower loan-to-value ratios, said Wuenschmann. "Second-hand vessels are sold near scrap value, so the chances of a further retreat of asset prices are very small and we are seeing the opportunity-risk profile improving."
Since large pension funds and insurers often have a minimum investment size of several hundred million dollars, Berenberg also plans to take over maritime loans sold by peers in Germany and abroad, "mainly performing loans," said Wuenschmann.
He said efforts by some investors to make money with distressed shipping loans are futile. "It's been eight years since the collapse of Lehman Brothers, which means underlying ships are at least eight years old and not necessarily state of the art," he said.
Loan Book
Germany's Norddeutsche Landesbank is trying to sell shipping loans to institutional investors amid efforts to hive off as much as 6 billion euros ($6.7 billion) off its maritime loan book by 2021. Commerzbank intends to shed 8 billion euros in shipping loans still on its books following a 2012 decision to exit the business completely, while HSH Nordbank AG plans to cut its shipping exposure to 8 billion euros in the mid-term from 19 billion euros after the sale of a 5 billion-euro loan package to its state owners last week.
The loans bought from other banks will also be used for a new Luxembourg-based shipping fund, which went live in May following its announcement in February 2015, said Wuenschmann. In that mortgage-backed security fund, Berenberg acts as a middleman between shipowners and institutional investors. The fund will also include of newly issued loans backed by vessels of various sizes and types, he said.
Berenberg, which manages a total 40 billion euros in assets, has in the past focused its shipping business on short-term lending and assisting container shipping companies such as Hapag-Lloyd AG on bond sales and initial public offerings. The bank's default rate on the $1 billion in shipping loans it has provided over the last decade "is way below 1 percent," said Wuenschmann.
Before it's here, it's on the Bloomberg Terminal.
LEARN MORE