Aussie Investors in Flux as Unclear Election Casts Doubt on AAA
by
Yield on 10-year bond climbs; currency fell as much as 0.8%

Election failed to deliver clear winner; counting continues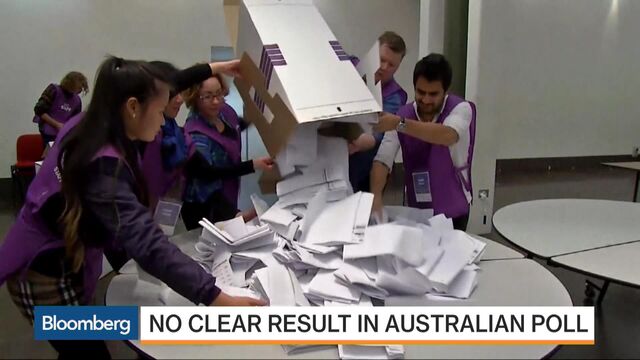 Australian bonds fell after Saturday's election failed to produce a decisive outcome and rating agencies warned the nation's top credit score may be at risk unless the budget deficit is reined in by the eventual winner.
Investors have been left in limbo by the unclear result, with Prime Minister Malcolm Turnbull's Liberal-National coalition and the opposition Labor party both currently short of the 76 seats needed for a majority in the 150-member House of Representatives. Vote counting resumes Tuesday, and Turnbull said the result may be known by the end of the week. The potential for a minority government may damp confidence and the new administration may struggle to push through fiscal policy measures.
Australian bond prices declined on Monday even after the U.S. market rallied at the end of last week, pushing the yield on the benchmark 10-year note up by 4 basis points to 1.99 percent as of 2:12 p.m. in Sydney. That's 55 basis points more than equivalent U.S. debt. While the Australian currency initially fell as much as 0.8 percent to 74.41 U.S. cents, it recovered to be little changed at 74.89 cents. The country's benchmark equity index, the S&P/ASX 200, was up 0.2 percent.

"It looks like another three years of de facto minority government, which is not a great outcome for the economy and investment markets," said Shane Oliver, Sydney-based head of investment strategy at AMP Capital Investors Ltd., which manages more than $110 billion.
The nation's central bank, which meets Tuesday, will need to consider the impact of the result on the economy as uncertainty emanates from a range of global woes, from slowing Chinese growth to Britain's shock decision to leave the European Union.
The Reserve Bank of Australia, which has cut interest rates to a record low, is seeking to shield a local economy already struggling with a decline in capital spending and disinflationary pressures.
S&P Global Ratings, which currently rates Australia AAA with a stable outlook, said that regardless of what shape the new government takes, it could lower the country's credit score if parliamentary gridlock on the budget continues and the fiscal situation fails to improve in the manner it had expected a year ago.
"As we've previously noted, improving budget balances remain important to the 'AAA' rating to offset Australia's high vulnerability to shifts in offshore financial market sentiment," S&P said in a statement.
The country also has top credit rankings at both Moody's Investors Service and Fitch Ratings.
"The electoral outcome would affect the sovereign credit profile only if it changed broad policy priorities and the effectiveness of their implementation," said Moody's analyst Marie Diron, who expects fiscal consolidation to remain a key policy objective for the new government. "Short-lived political uncertainty would have limited credit implications for Australia," she said in an e-mailed statement Monday.
For a primer on Australia's election and sovereign ratings, click here.
Fitch said while the country's current credit profile remained consistent with a top credit rating, the close contest could mean a "significantly different" fiscal outlook and set of policies to what was presented in the May budget.
"Fitch will assess the government's ability to manage public finances prudently following the election result, as well as flexibility in responding to a volatile global economic environment," analyst Mervyn Tang said in an e-mailed statement Monday. "Political gridlock that leads to a sustained widening of the deficit would put downward pressure on the rating, particularly if the economic environment deteriorates."
Corporate Outlook
With the government in limbo, Turnbull's promise to cut company tax rates is under threat.
The inconclusive vote compromises the prospect for a boost to corporate earnings from fiscal stimulus, according to Chris Nicol at Morgan Stanley. He said he maintained a cautious stance on Australian equity-market returns.
"This result will come as a shock to the market," said Nicol, a Melbourne-based analyst. "The election outcome diminishes the prospect of a smooth legislative agenda, leaving fiscal policy options constrained. Uncertainty and instability associated with a more fragmented Senate will likely weigh on consumer sentiment and business confidence."
Watch Next: Australia's Rating at Risk As Election Uncertainty Drags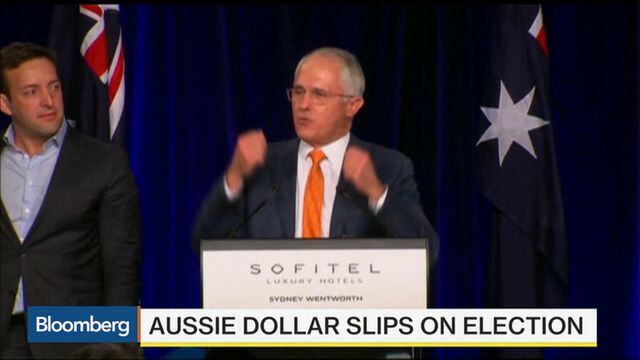 Before it's here, it's on the Bloomberg Terminal.
LEARN MORE