Abu Dhabi Stocks Lead Gulf Equity Gain as Banks Prepare to Merge
By , , and
ADX General Index rises as NBAD, FGB provide merger details

Bloomberg's GCC 200 Index in longest win streak since October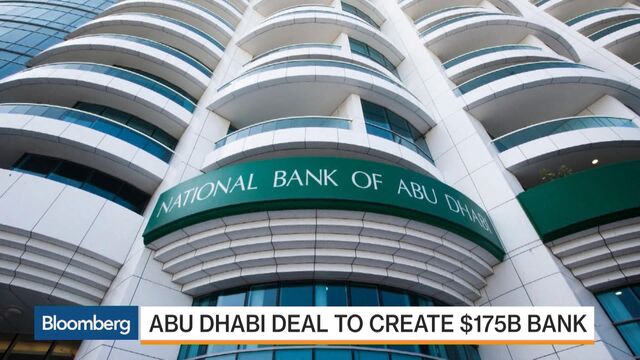 Abu Dhabi stocks led gains across Gulf Arab equity markets as two of the emirate's biggest banks approved plans to merge, stoking investor speculation there will be further consolidation in the sheikhdom.
The ADX General Index rose 1.2 percent to the highest level since April. National Bank of Abu Dhabi PJSC added 4 percent and First Gulf Bank PJSC climbed 2 percent as the lenders plan to merge in the first quarter of 2017, according to a joint statement on Sunday. Dubai's DFM General Index increased 0.8 percent.

Four days after Abu Dhabi said it will also combine two of its flagship investment companies, the banks laid out details of the plan to create one of the largest lenders in the Middle East with $175 billion of assets. The merger of equals, which is expected to deliver cost synergies of approximately 500 million dirhams ($136 million) annually and is subject to shareholder approval, comes as the industry battles falling profits because of lower government spending, slower economic growth and a decline in asset quality.
To read the banks' investor presentation on the deal, please click here.
"Betting for further consolidation is dominating trading sentiment," said Talal Touqan, the head of research at Abu Dhabi-based Al Ramz Capital LLC, a brokerage and investment bank. "The IPIC-Mubadala, NBAD-FGB prospective merger deals are spurring a speculative wave towards identifying other qualified names. Hence, the focus is turned towards banking stocks."
Gulf Gains
The combination may pressure other lenders in the United Arab Emirates to pursue mergers, Dubai-based investment bank Arqaam Capital Ltd. said last month. The following Abu Dhabi shares contributed most to gains on the emirate's benchmark index:
FGB climbed to 12.85 dirhams, the highest level in two weeks
NBAD, the U.A.E.'s second-largest bank by assets, rose to 10.05 dirhams, the highest level since September 2015
Abu Dhabi Commercial Bank PJSC advanced 3.8 percent
Union National Bank PJSC jumped 5.9 percent to a six-month high
Sharjah Islamic Bank PJSC increased 3.3 percent


About 32 million shares traded on Abu Dhabi's main gauge, 38 percent below the average in the past 20 days. The measure is one of three benchmark indexes across the six-nation Gulf Cooperation Council to rise this year, according to data compiled by Bloomberg.

Bloomberg's GCC 200 Index, a gauge of the biggest and most liquid stocks in the bloc, advanced a fifth day, the longest winning streak since October. The measure added 0.3 percent, taking its five-day increase to 0.9 percent.
Oman's MSM 30 Index advanced 0.6 percent on Sunday and Qatar's QE Index climbed 0.4 percent. Kuwait's SE Price Index rose 0.1 percent, and Bahrain's BB All Share Index added 1.1 percent.
Some Arab markets will close during the week for a religious holiday. Saudi Arabia's Tadawul All Share Index is closed all week, markets in the U.A.E., Oman and Kuwait will shut from Tuesday.
Israel Reforms
Israel's TA-25 Index gained 1.1 percent at the close in Tel Aviv, the most in almost two weeks, as 22 companies rose, two dropped and one was unchanged. The Israeli Cabinet approved a draft bill for the reform of the Tel Aviv Stock Exchange which aims to turn the bourse into a profit-making entity. The proposal will now go to parliament for the first of three votes.
Israeli natural gas explorers Delek Drilling LP and Avner Oil Exploration LP advanced after the partners said they are going ahead with a drilling plan at the Tamar-8 field offshore Israel. The Tel Aviv Oil & Gas Index rose 1 percent.
Shares in Delek Group Ltd., the country's largest energy company, rose the most in more than a week. Delek signed a non-binding deal to sell its controlling stake in Phoenix Holdings Ltd. to China's Fujian Yango Group for at least 1.85 billion shekels ($480 million). Phoenix shares rose 4.6 percent, the biggest increase since February.  
Egypt Devaluation
In Cairo, the EGX 30 Index advanced 0.6 percent on trading volume about a fifth below the 20-day intraday average. The market will be closed from Tuesday to Thursday.
Egypt is suffering from a dollar shortage that has caused the local pound to trade at a 20 percent discount on the black market compared with its official rate. A weaker local currency boosts the competitiveness of Egyptian exports, Central Bank Governor Tarek Amer said in an interview with the state-owned Ahram newspaper.
The country can no longer delay the implementation of economic reforms and must "tolerate" its consequences in order to benefit in the medium term, he said.