Barrick Gold's Thornton Named Silk Road Finance Corp. Chairman
by
Former Goldman Sachs Asia chairman known for China connections

Silk Road plans to invest $5 billion of capital in first phase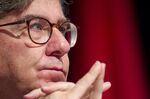 Barrick Gold Corporation chairman John Thornton has been named chairman of Asian investment firm Silk Road Finance Corp., as the company seeks to tap the veteran banker's global experience and boost its reach across Asia and Europe.
Thornton, 62, was one of the founding partners advising the establishment of Silk Road and will oversee the company's strategy, said chief executive officer Li Shan by phone. "He is one of the best bankers in the world," Li said. "He helped build Goldman Sachs' Asia and its European business and has a very good understanding of the belt and road environment."
Chinese President Xi Jinping launched the "One Belt, One Road" infrastructure program in 2013, aiming to deepen China's economic ties across Asia. The program includes plans to build a "New Silk Road" network of roads, railways, pipelines and ports from Asia to Europe, and will include providing legal services, facilitating capital flows and promoting the Chinese yuan's internationalization along the route.
According to Silk Road's website, the company plans to deploy $5 billion of capital in a first phase of investment. Silk Road manages and invests capital from Chinese and international financial institutions, Chinese asset management companies, and sovereign and private wealth funds across Asia and Europe, the website says.
Since it was established last year, Silk Road has named nine partners, with former European Union Secretary General Javier Solana appointed as international adviser.
Thornton, who sits on the board of Ford Motor Company, left Goldman Sachs in 2003 and is known for his solid Chinese connections. He has sat on the boards of companies including mobile phone carrier China Unicom Hong Kong Ltd. and Industrial & Commercial Bank of China Ltd. Last year, the chairman of Barrick Gold partnered with Zijin Mining Group Co. to evaluate opportunities.
As chairman of Goldman Sachs Asia, Thornton was credited with rebuilding the firm's Chinese business in the late nineties. Thornton is also professor and director of the global leadership program at the Tsinghua University School of Economics and Management in Beijing, and is a partner at San Shan Capital Partners, founded by Li in 2005.
Prior to founding San Shan, Li was chief executive officer at Bank of China International Holdings Ltd. He also worked at Goldman Sachs for five years. A graduate of Beijing's Tsinghua University, Li earned a doctorate in economics from the Massachusetts Institute of Technology and later headed China banking for Lehman Brothers Holdings Inc.
Before it's here, it's on the Bloomberg Terminal.
LEARN MORE