Six Williams Directors Resign After Board Fails to Oust CEO
by
Pipeline giant backs CEO Armstrong after failed tie-up

Resigning board member says the company underperformed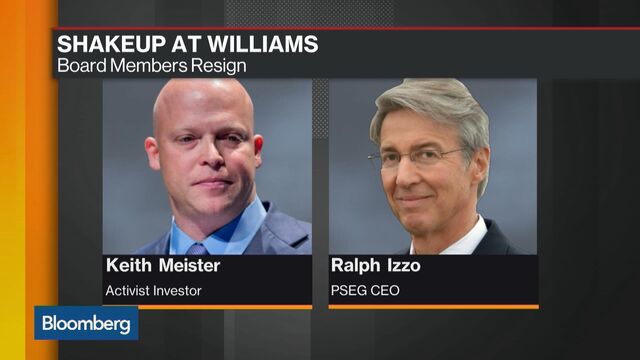 Six of Williams Cos.'s 13 directors, including independent chairman Frank T. MacInnis, resigned after a failed attempt to remove Chief Executive Officer Alan Armstrong.
The board of the pipeline giant has "thoroughly evaluated" its leadership structure and determined that Armstrong is the right chief executive officer, according to a statement on Friday. The shakeup comes after a proposed $33 billion takeover by Energy Transfer Equity LP collapsed this week. Activist investors Keith Meister and Eric Mandelblatt, and Ralph Izzo, chief executive officer of New Jersey's Public Service Enterprise Group Inc., were among board members who resigned.
Meister, who manages the hedge fund Corvex Management LP, and Mandelblatt, a managing partner at Soroban Capital Partners, were instrumental in building support for the takeover, putting them at odds with Armstrong, who had rebuffed the would-be buyer's advances. Their resignations may build confidence in the company's leadership as it works to emerge from a failed fight to salvage the merger that dragged on for months.
"People disagreed with whether the track record being demonstrated warranted the opportunity for Alan to lead the company going forward," Izzo said in a phone interview Friday. "I and others felt that was not in the shareholders' interests. We had underperformed and we needed a change in leadership."
The announcement comes a week after a court ruled Energy Transfer may terminate its deal to buy the pipeline company. Williams has said in statements that it'll appeal. The resignations are effective immediately.
Shareholder Victory

"It's a victory for shareholders," said Skip Aylesworth, who manages $1.5 billion in holdings at Hennessy Funds from Boston. "The people running Williams now are focused on running a pipeline company and not on trying to make a quick profit in an M&A deal."
Meister and Mandelblatt got their board seats under a February 2014 agreement that called on Williams to consider "strategic combinations" Their resignations terminate that agreement, which included a pledge that they would support all the company's board nominees, according to a filing Friday.
"I have resigned because I can no longer in good conscience serve on a Board where a majority of that Board was unwilling to make a change that I felt was critical to the future direction of the Company -- replacing Alan Armstrong as CEO," Meister wrote in a letter to Williams Friday.
In his resignation letter, Mandleblatt described Armstrong as having an "abysmal operational and financial track record."
The other directors who resigned were Steven Nance and Laura Sugg.
Shares Retreat
Williams slid 4.8 percent to $20.60 in New York. The shares are down 20 percent this year.
The division among directors stands in stark contrast to a January statement from Williams in which the company said its board was "unanimously committed" to closing on the Energy Transfer merger.
"One of the questions I and other shareholders have, and the employee bases have, is: Who is leading the company?" Rob Thummel, a managing director at Tortoise Capital Advisors LLC, said Thursday. "It appears to me that they've answered that question. Alan is going to lead the company. He's our CEO moving forward."
Before it's here, it's on the Bloomberg Terminal.
LEARN MORE