U.S. Stocks Rise for Fourth Day Amid Optimism for Policy Action
by
S&P 500 Index marks its best weekly gain since November

Equities nearly erase post-Brexit selloff that reached 5.3%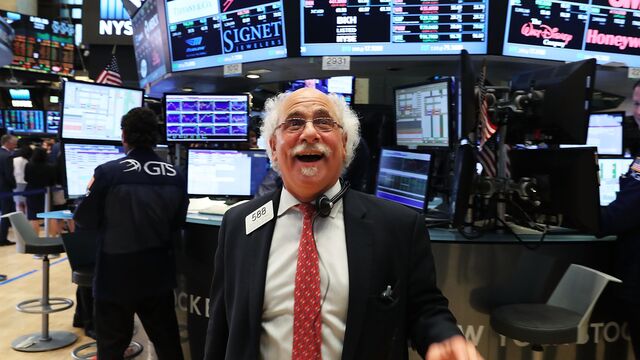 U.S. stocks rose for a fourth day, with the S&P 500 Index posting its best week since November, amid optimism on American growth and as central banks continued to signal support in staving off fallout from Britain's decision to leave the European Union.
Equities added to a raucous rebound, nearly wiping out a Brexit selloff that resulted in the worst two-day losses in 10 months. The longest winning streak for stocks since March was no foregone conclusion today as the Dow Jones Industrial Average briefly erased a 72-point climb. Industrial, energy and financial shares led the comeback since Monday, with General Electric Co. and JPMorgan Chase & Co. rallying more than 6.3 percent in four days. Exxon Mobil Corp. extended an 18-month high.
The S&P 500 advanced 0.2 percent to 2,102.95 at 4 p.m. in New York, bringing its four-day surge to 5.1 percent while trimming its decline since the U.K. vote on June 23 to 0.5 percent. The Dow Jones Industrial Average gained 19.38 points, or 0.1 percent, to 17,949.37. The Nasdaq Composite Index added 0.4 percent. About 6.8 billion shares traded hands on U.S. exchanges, 6 percent below the three-month average. U.S. equities markets will be closed Monday in observance of Independence Day.
"What's driving the market is general dovish statements and comments from central banks across the globe and that's giving investors hope that the global economy will continue to grow," said Tom Wilson, senior investment manager and managing director of wealth advisory at Brinker Capital Inc. in Berwyn, Pennsylvania, which oversees $18 billion. "The central banks are saying they're not going to let it slip into global recession, and that's causing the most bearish scenario to become less likely."

The benchmark index added 3.2 percent this week as the European Central Bank and the Bank of England indicated they are prepared to loosen policy to deal with the fallout of the Brexit vote. Data Friday showed U.S. factory activity expanded in June at the fastest clip in more than a year, underlining recent signs of strength in the world's largest economy.
Still, investors are weighing the possible damage the 'Leave' victory could do to global growth prospects. Almost three quarters of economists in a Bloomberg survey expect Britain will slip into a recession.
The S&P 500 climbed within 1 percent of its all-time high before the U.K. referendum amid signs global growth had stabilized and central banks would remain supportive. Energy producers led the advance in the second quarter as crude had its best period since 2009. The Brexit-induced turmoil had already prompted traders to push back bets the Federal Reserve will raise borrowing costs any time soon. They now indicate a rate boost is unlikely before 2018.
"Central banks have talked about new types of easing -- that's going to keep a bid under equities," said Andrew Brenner, head of international fixed income at National Alliance Capital Markets in New York. "The worse things get, the more potential there is for quantitative easing and the better that is for equity markets."
Anxiety continued to ebb as reflected by the CBOE Volatility index, which sank 5.5 percent to 14.77, holding at a three-week low. The measure of market turbulence known as the VIX is poised for its biggest weekly tumble ever, down 43 percent after a 33 percent jump last week.
Seven of the S&P 500's 10 main industries advanced Friday, led by a 0.9 percent gain for consumer-discretionary stocks. Health-care and industrial shares added at least 0.3 percent. Utilities fell for the first time in seven days, slipping from an all-time high, and banks halted a three-day winning streak to weigh on the broader financials group.
Consumer shares rose for a fourth-straight day, for a total rally of 5.3 percent. Harley-Davidson Inc. soared 20 percent, the most in seven years, as recreational vehicle stocks climbed amid multiple unconfirmed mentions on Twitter of takeover speculation. Polaris Industries Inc. increased 5.6 percent.
Netflix Inc. jumped 5.7 percent, the most in four months, after an analyst at Canaccord Genuity initiated a buy recommendation on the stock, noting that the company's international subscriber growth has been delayed but not derailed.
Health-care stocks had their best week in three months, boosted by a four-day surge in biotechnology shares. Amgen Inc., and Gilead Sciences Inc. added more than 1.4 percent Friday. The Nasdaq Biotechnology Index marked its strongest week in almost a year, up 5.5 percent.
A group of automakers and parts suppliers jumped 2.2 percent, boosted by the gains in Harley-Davidson. June sales figures showed mixed results for General Motors Co., Ford Motor Co. and Fiat Chrysler Automobiles NV. AutoNation Inc. gained 1.8 percent, one of the biggest today among retailers.
Banks sank, trimming their climb for the week with U.S. Treasury yields at or near record lows, as investors worried persistently low rates would continue to weigh on lenders' earnings. Bank of America Corp. lost 1.3 percent, while Regions Financial Corp. fell 1.8 percent.
Among companies moving on corporate news, Micron Technology Inc. dropped 9.2 percent, its biggest slide since October after reporting a loss and predicting another one this quarter. Qorvo Inc. retreated 1.4 percent as semiconductor companies fell for the first time in four days.
Williams Companies Inc. declined 5 percent after six of the company's 13 directors resigned, including Chairman Frank MacInnis, following a a failed attempt to remove Chief Executive Officer Alan Armstrong. The shakeup comes after a proposed $33 billion takeover by Energy Transfer Equity LP collapsed this week. Williams shares are down 20 percent this year.
Before it's here, it's on the Bloomberg Terminal.
LEARN MORE