U.S. ELECTION WRAP: Clinton, Trump Face Shaky Start to July
By and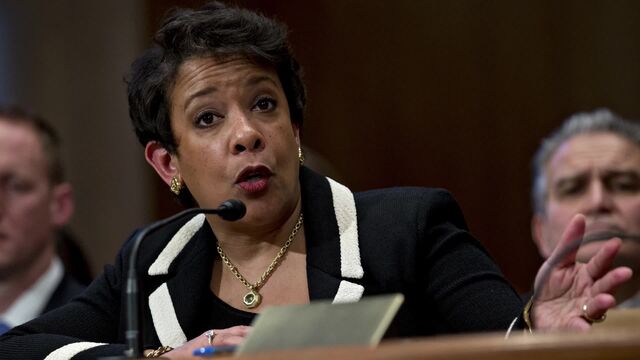 Hillary Clinton and Donald Trump each start the July 4 holiday weekend with campaign headaches amid new controversies, a shifting electoral map and wary voters.
Clinton ends the week with a firestorm brought on by Bill Clinton's impromptu private meeting with U.S. Attorney General Loretta Lynch on an airport tarmac that opened her up to criticism from both Republicans and Democrats

The meeting has overshadowed good reviews from Clinton's appearance earlier this week with Sen. Elizabeth Warren and the buzz her campaign wants to surround her July 5 rally in N.C. with President Obama

"Clinton is going to spend a lot of time talking about that meeting," Cook Political Report Senior Editor Jennifer Duffy said in interview; "The nice thing about long holiday weekends is it gives everyone a chance to reset. I'm sure that's what Clinton is hoping happens"
The meeting was a "mistake in judgment," Clinton surrogate and ex-Pa. Democratic Gov. Ed Rendell told MSNBC

He also said that if anything "nefarious" were going on, the pair would have talked over the phone and not met in public view, he says

Lynch earlier today conceded her chat with Bill Clinton "cast a shadow" over the Justice Dept.'s probe of Hillary Clinton's personal e-mail server, and said she expects to accept the recommendations of prosecutors and FBI investigators on whether charges are merited

In comments at the Aspen Ideas Festival in Colo., she also said she won't recuse herself from he matter, as a chorus of GOP leaders are demanding

As for Trump, he seemingly missed a chance to rally conservatives when he stayed publicly silent for three days about the Supreme Court striking down Texas restrictions on abortion clinics, Bloomberg's Sahil Kapur writes
Meanwhile, the case to "dump Trump" strengthens, Bloomberg View columnist Megan McArdle says
Turmoil within the Trump campaign continued with the departures of two aides who handled surrogate operations quit, including one hired less than two weeks ago, New York Times reports
Some positive news for Trump is outlined in Washington Post story on how an attempt by some GOP convention delegates to stop him from becoming the nominee faces a federal legal challenge
Click here to subscribe to the U.S. Election Wrap



ON THE TRAIL
Amid his struggle to win over conservatives, Trump spoke today at the Western Conservative Summit in Denver, with Sarah Palin also making an appearance 

Trump told the crowd he expects the next administration to appoint at least three Supreme Court justices; claimed that Mexico doesn't respect U.S. leaders or like U.S.

Trump also predicted he will do "great" in Mich. and Ill., states that combine for 36 electoral votes and last backed a GOP presidential nominee in 1988

Trump's focus on so-called Rust Belt states comes as he shreds 30 years of Republican orthodoxy on trade by speaking forcefully against globalization

Chamber of Commerce President Thomas Donohue today excoriated both Trump and Clinton for "anti-trade rhetoric"

"For both parties, turning away from trade is not just a threat to our economy and millions of Americans' livelihoods. It's a threat to our national security as well," Donohue writes in Washington Post op-ed

Trump, discussing in his speech the threat posed by ISIS extremists, said "the thing they understand is strength"

He dismissed Clinton as "a weak person" who ISIS wants to win the White House


PENNSYLVANIA
The Keystone State moves from "Lean Dem" to "Toss-Up" in electoral battleground map analysis by NBC News

"It's not surprising," Cook Political Report's Duffy says
The state, another one that hasn't been carried by a Republican since 1988, "is one of those places where there are pockets of voters that are very receptive to Trump's messages on trade and immigration"
Shift comes as there's some evidence that suburban Pittsburgh is growing more Republican: Duffy
Cook Report currently rates Pennsylvania "lean Democrat"

Overall NBC "Battleground Map" shows Clinton with 255 projected electoral votes to Trump's 190; 93 rated "Toss-Up"
270 electoral votes needed to win the election


THIRD-PARTY EFFECT
Republicans need Libertarian presidential candidate Gary Johnson to "save the Senate," Nathan Gonzales, editor and publisher of the Rothenberg and Gonzales Political Report, wrote yesterday

Republicans should want Johnson on stage when Trump and Clinton face off in Sept. 26 debate in Ohio, he said
While some Republicans won't be willing to vote for either Trump or Clinton, vulnerable GOP senators need those voters to turn out for races down the ballot, and Johnson may be critical to that effort, according to Gonzales
Some polls suggest Johnson may be in position to win a "significant" share of the vote, Wall Street Journal reports today in a look at the Libertarian contender's potential influence on the election

CONGRESSIONAL
CO-SEN: Cook Political Report shifted rating of race to less competitive "Likely D" after Republicans nominated county commissioner Darryl Glenn to oppose Democratic incumbent Michael Bennet

Glenn's supporters include former Alaska Gov. Sarah Palin, who said at Western Conservative Summit in Denver today that he would become "next great senator" from Colo., according to Bloomberg's Kevin Cirilli

FL-SEN: Democratic Rep. Patrick Murphy's campaign contributions from developers who benefited from EB-5 immigrant visa program he supports "have been called into question" by Murphy's political opponents, TCPalm reported

Murphy campaign spokesman attacked "absurd smear" from Rep. Alan Grayson, who's running in Aug. 30 Democratic primary, and Republicans "who also support this program"
Sen. Marco Rubio and homebuilder Carlos Beruff seeking Republican nomination

NH-SEN: GOP Sen. Kelly Ayotte said in interview today on NH1 she's best candidate in Nov. election "because I've proven that I can work across the aisle to get things done"

Ayotte touted work on Budget Cmte advocating for balanced-budget amendment and curbing duplicative government programs; said she has "huge differences" with her Democratic opponent, Gov. Maggie Hassan, on fiscal policy
Full interview will be posted online here

Ayotte called on U.S. Atty. Gen. Loretta Lynch to "formally recuse" herself from investigation into Hillary Clinton's use of private e-mail server, following disclosure of private conversation earlier this week between Lynch and Bill Clinton

Ayotte is a former N.H. Atty. Gen.

NV-SEN: Senate Majority PAC, super-PAC working for Democratic control of Senate, released TV ad saying GOP Rep. Joe Heck puts "big banks before Nevada families," cites political donations from securities and investment industries and his past support for proposal to allow individuals to manage some Social Security tax money in private accounts

Heck's campaign in statement attacked "smear" from "Harry Reid super-PAC," said Heck has worked to strengthen Social Security and introduced legislation to ensure senior citizens receive guaranteed minimum cost-of-living-adjustment
Heck faces Democrat Catherine Cortez Masto, former state Atty. Gen., for seat Democratic leader Reid is giving up

OH-SEN: National Rifle Assn ad that said Democrat Ted Strickland "sold out" and reversed his opposition to some gun-control measures because he "needed money" is "a stretch to say the least," according to Cincinnati Enquirer fact-check of spot airing on statewide cable stations

Strickland challenging Republican Sen. Rob Portman

CO-06: Republican Rep. Mike Coffman's campaign released 60-second TV ad with testimonials from individuals, including women who are members of racial/ethnic minority groups

One woman says Coffman is "not like other Republicans," another says he's "uno de nosotros," Spanish for "one of us."
Ad shows footage of Coffman speaking Spanish; his district, which includes Aurora and Centennial near Denver, is about 20% Hispanic and voted for Obama in 2012 election
Democratic nominee is state Sen. Morgan Carroll

NH-01: Granite Voices PAC, a super-PAC, has begun its spending campaign to aid Republican Rich Ashooh, according to FEC reports

Ashooh, a businessman, seeking to unseat Rep. Frank Guinta in primary in district that includes Manchester and Rochester
Ashooh took 28% of vote in 2010 primary that Guinta won with 32%

NY-19: Republican John Faso in TV interview yday repeatedly referred to Democrat Zephyr Teachout as "professor Teachout," criticized her support for public financing of elections and for lacking deep ties to central Hudson Valley district

Faso, ex-N.Y. Assembly minority leader, and Teachout, a Fordham University law professor, easily won June 28 primaries in politically competitive district of retiring GOP Rep. Chris Gibson
 See 8:40 mark here for Faso's interview with Time Warner Cable News's Liz Benjamin 
Before it's here, it's on the Bloomberg Terminal.
LEARN MORE